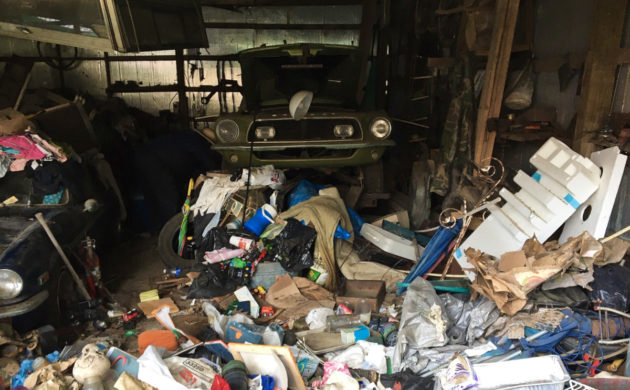 When it comes to the world of barn finds, I'm sure there are more than a few people here that dream of finding a genuine Shelby Mustang parked in a barn. If you are in that category, this find by Reader Andy B will make you more than a little jealous! He had heard stories about what was parked inside this barn, but he hadn't ever actually seen it. That was until his neighbor asked if he would be willing to help him either sell one of his cars or even buy it outright. When he went into the barn, he found a genuine 1968 Shelby GT500 KR! Could this be the ultimate barn find?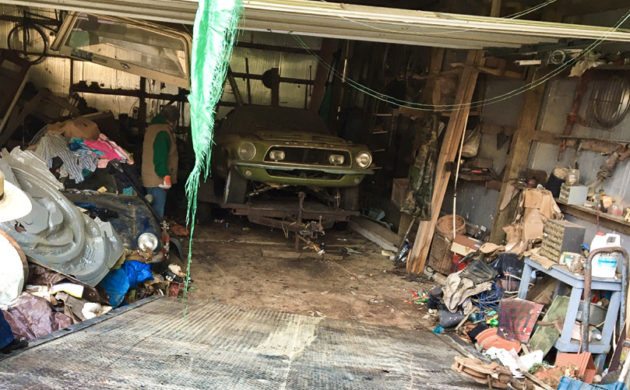 From Andy- Last week my neighbor asked if I wanted to buy his car or help him sell it. I have never seen the car but I have been hearing about it for a long time and as the story goes, it is pretty legendary. My neighbor isn't much of a car guy but knows that I like cars, have a pretty respectable collection and have been through a few restorations, so he assumed I could at least point him in the right direction. The car is a 1968 Shelby GT500 KR and it was my neighbor's uncle's car. The title to the car was issued in 1970 but there is speculation that this car was purchased brand new. This is one piece of the story that we are missing. The Marti Report confirms that 8T02R is, in fact, a built-in 1968, Shelby 2-Door Fastback, 428-4V CJ V-8 Engine GT-500KR, Metuchen N.J., #2423 production, "I" Lime Gold Paint with Saddle Vinyl Luxury Bucket Seats, Tilt-Away Steering Wheel, 3.50 Traction-Lok Rear axle, and the 4-speed manual transmission.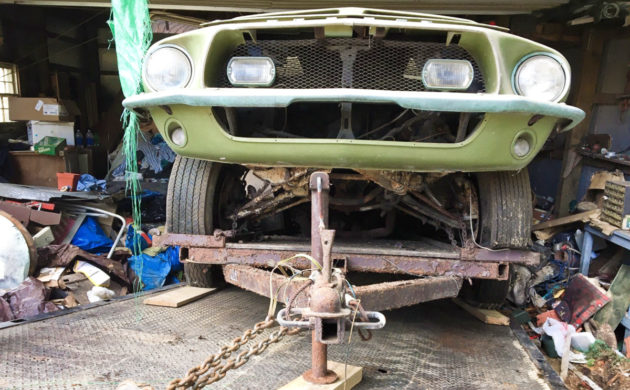 Uncle Tom loved this car and drove it hard. There are plenty of stories of him terrorizing the local towns and would perform the $20 dollar bill challenge by putting the $20 on the dash and if the passenger could grab it before he hit fourth gear, you could have it. I guess he never was out any money. He even painted the inside of the wheel wells white and put green auxiliary lights in there to give the car a green glow. I found evidence of these aluminum "screws" that would screw into the front springs, jacking the front up. I never knew these existed. He completed the aggressive look by dropping the rear springs with the adjustable hanger bracket so that it could fit much larger rear tires mounted on Torq Thrust wheels. There is also evidence of attending car shows with various plaques adorned on the woodgrain dash along with a giant plaster snake that he would set on the roof at these shows.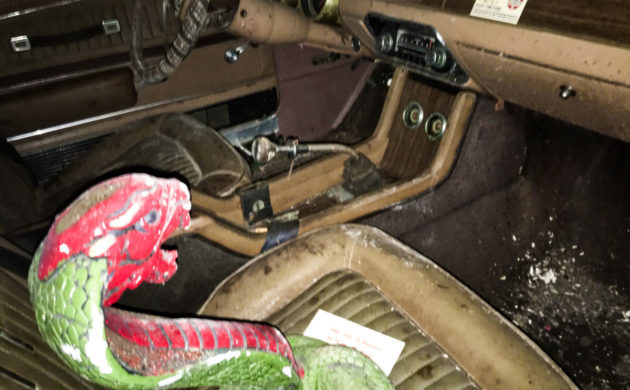 In 1992, there was an exhaust manifold bolt broken, so Uncle Tom had removed the engine to get the block drilled out. While it was out, he went ahead and had the engine rebuilt. He had the car on a small car trailer in the yard so he could quickly get the engine back in just as soon as the rebuild was completed, but things took a turn for the worse. He got sick with kidney failure and he never made it see the engine finished. The car sat on the trailer in the yard for some time.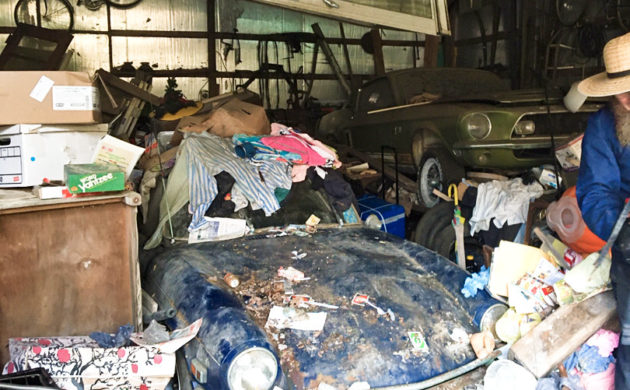 When Uncle Tom passed, he had no wife or children of his own, so he left his house to his niece, his truck and fishing boat to his nephew, and the KR to his other nephew, my neighbor. Now my neighbor may not be the gear head that the rest of us are, but he knew that this car was very special and he needed to be taken care of it. So the car went from the yard to the barn at Uncle Tom's where it was expected to be safe for the time being. My neighbor was working his way through college and had no money to spare. He had made contact with the engine builder, gave him $500 toward the project and they agreed they would stay in touch and he would continue to give the builder money when he could. Well, life happens. My neighbor got caught up with life, bought a house, started a family, started his own business and proceeded to really make something of himself. He is a good friend, the best neighbor I have ever had; he even adopted a child, that's evidence of his respectable character. Except the car was forgotten, or at least put on the way, way back burner.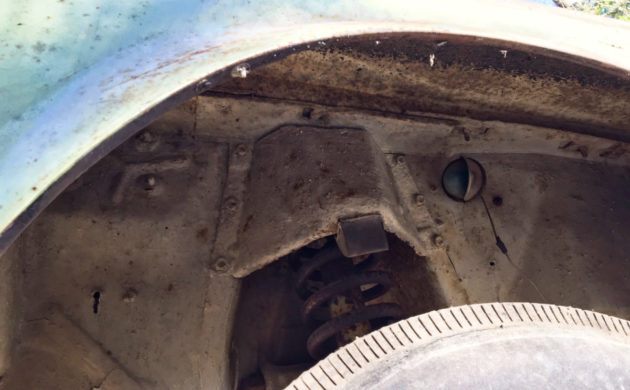 Now it is time to resurrect the car from its 28-year hibernation in that barn, and this isn't the typical barn find, fling the doors open and push the car out, that you might be expecting. We had 6 men moving various household items, tires, gardening supplies and trash for an entire morning before we could really even see the car. The barn is on the bank of a large river with a steep grade behind it. No sun seem to ever hit the barn and the door was jammed up for the last 28 years. Needless to say, everything was wet in the barn and the car did not appreciate this.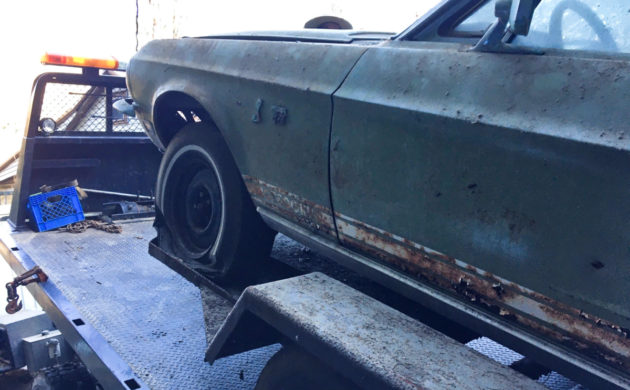 She is rough from sitting in the damp barn but at least it was up off the floor on the little car trailer, which might have helped some, but the rust has been aggressive. Torque boxes are blown out, there are perforations around the rear window, quarter panels are all the way through, rear bumper rotted through, all badging ruined, interior completely moldy, cracked and eaten by critters, wheels and possibly the rear end are locked up, and of course, no engine. Is this project savable? Anything can be saved for the right amount of money, right? To make it worth it, all the numbers better match which leads us back to the engine.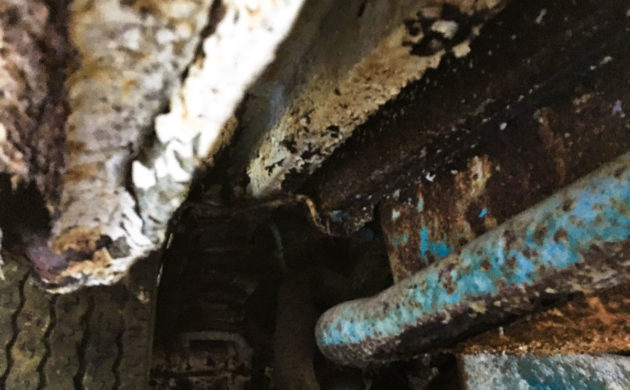 In 1992, a local fellow who was known to be a great engine builder decided to open his own shop. He was also just getting started and money was tight. Uncle Tom was one of his first customers with a project of drilling out a manifold bolt and rebuilding the legendary 428 Cobra Jet. The builder agreed to take on the project and got started on it right away. He broke it down, sent the block out to get it decked, bored, honed, all that fun stuff. He had quite a bit of money into it. Then Uncle Tom passed during all of this so the builder never really got paid.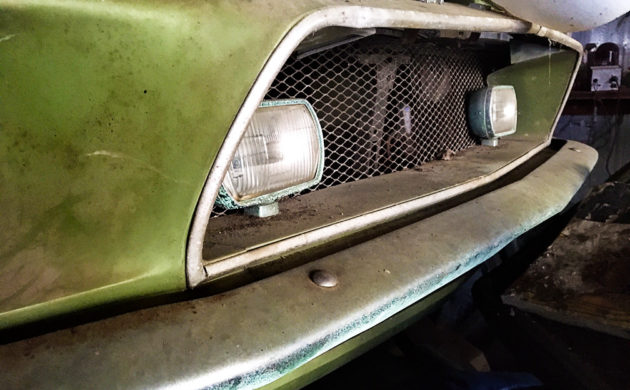 I finally made contact with the builder and he is obviously not happy about the whole situation. That was a tough time in his life to put out that kind of money and he is disappointed in how my neighbor handled the situation. I invited him to come to look at the car and he became even angrier once he saw it. He remembers the car being very nice when the engine was taken out and to see it in its current state makes him think my neighbor didn't do enough to take care of it. He is also angry about how my neighbor didn't stay in contact or attempt to continue to pay him. He doesn't want to speak or even see my neighbor and he certainly wouldn't just hand him back the engine. After all, he has had it for 28 years.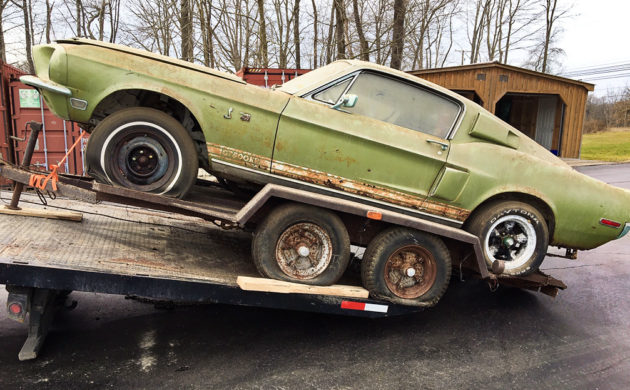 I asked if I could pay for the work, or whatever he wanted to make it right. He laughed and said, "that is MY engine now". And he is right. I'm not even going to argue that. He put money into it, never got paid, and kept it all these years. Of course, it is his engine now. But it just so happens that he is also a Mustang fan having his own 1970 428 drag pack Twister addition. I'm not familiar with that car so I may not have the name correct, but he showed me pictures and it is a beautiful car. He was good friends with Uncle Tom and wants to see the car come back to life. So can I buy the engine? "Yes, but not with cash. Cash means nothing to me these days." Oh boy, what am I getting myself into? "I want MY car finished and you and your crew can get it done. There are a few pieces missing and the engine bay needs to be cleaned up, 428 installed, driveline sorted out and the pieces that I need are rare, specific to this car and I can't find them." The builder is an older gentleman who may not be that internet savvy so I can see how we can really help each other out. A rough calculation of the parts and labor is looking to be about a $15,000 project. I would say that is fair to get the original 428 back to the KR. That deal is for me and me only because he knows that I will see the project through. He would kill me if I did this deal only to give the engine back to my neighbor. I must own it or we are splitting to profits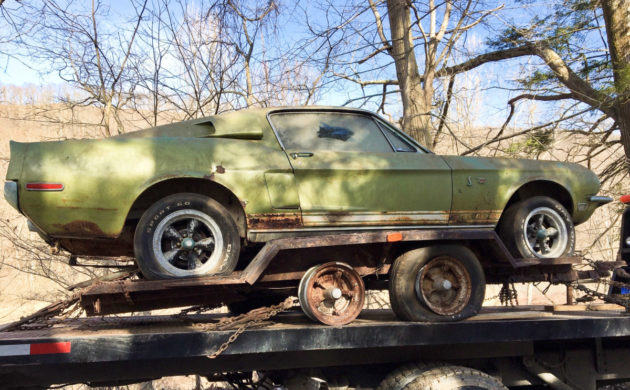 Now I am not much of a Mustang guy, but I could be if I could get this car. This is the Grand Poobah of Mustangs after all. And my neighbor knows what he has. At least he thinks he does. The problem is the amount of money he wants for basically a rusty shell. He has seen these cars go for $200,000+ in 2008 and of course, that is what he is going to base his calculations on. He doesn't understand the amount of money it is going to take to bring this baby back. The market on muscle cars is slipping, and look at what is happening in our lives right now. I think I could easily have $120,000 in it plus the $15,000 engine. I don't want to disclose what he wants for the car as I'm still trying to work the deal; I would love to end up with this car but I can't be stupid about it. I would make sure the story of Uncle Tom lives on through this car and I would be just another custodian in the history of it. If I can't make a deal on the car, I will certainly get it advertised and help my neighbor get what he wants for it. It has been a roller coaster so far and I'm just glad that I could be part of this whole story. But at some point, someone will be heartbroken, and it might just be me.
We want to thank Andy for sharing this incredible find with us and we look forward to future updates! If you have an amazing barn find story you'd love to see posted on the site, send it to us via mail@barnfinds.com.