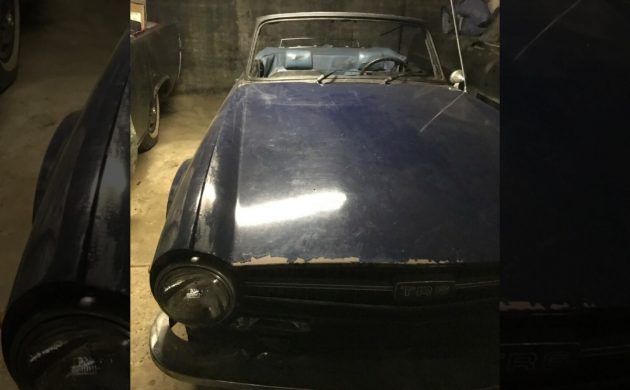 Now here's an honest find. A bargain 1974 Triumph TR6 that's just out of 22 years of indoor storage. The car, here on eBay in Canton, Ohio, is currently at just $1,525 with the reserve met and not much time left in the auction. The owner, Dan Henterly, says in the ad that the motor isn't seized. The car "does not run or drive" but "it does roll". It "needs restoration", but the mechanical health is unknown and they haven't attempted to start it. The photos are the type owners take when they don't roll the car out of the dark garage. Cramped, you could say.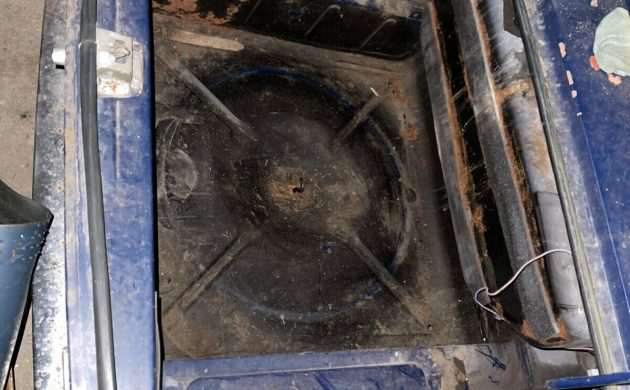 I wanted more, so I called Dan. When I told him that I was from Barn Finds, he said, "I follow you guys—I'm very familiar". So what was the story of this poor Triumph TR6?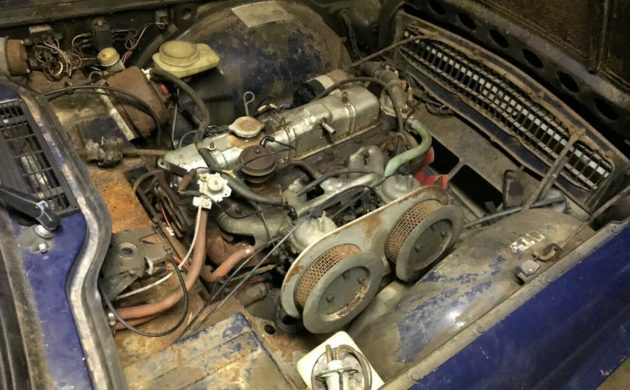 "It's a rescue from Michigan," he said. "It was slated to be crushed, and I saved it. The junkyard guy didn't want to crush it, knew I was into Triumphs, and called me." The story is that the poor thing became a pawn in a nasty divorce. The seats got slashed and the windshield smashed, and then some family member summarily sent it to the crusher.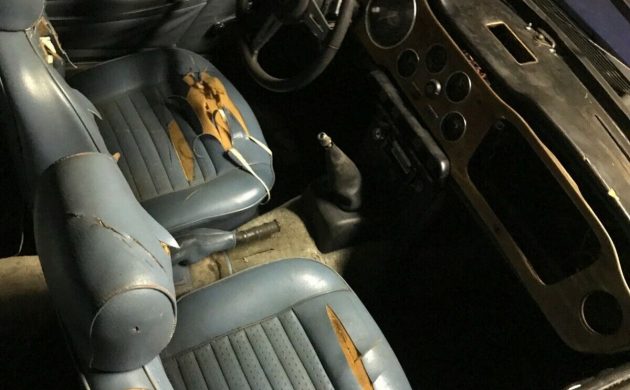 Dan has restored another TR6 and loves them, but the old, familiar story is that he "has way too many cars." He says this blue beauty is "definitely restorable," and isn't significantly rusty. It will need a lot, though.
As stated, the seats are slashed. Too bad, because they're a nice light blue color and were probably halfway decent. A matching blue tonneau cover is in place, probably hiding a baked top. There's no windshield in the car. It's dirty and dusty, and there's surface rust on the wheels and bumpers, but the car is surprisingly decent—and look at that trunk ("boot") floor!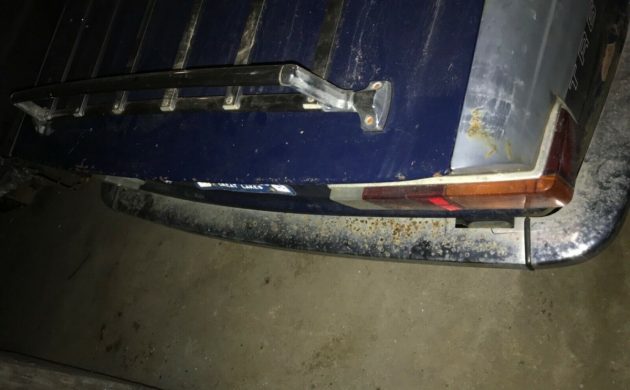 The car looks very complete, right down to the luggage rack on the "bootlid". It's likely it's going to need an engine rebuild, some bodywork and paint, brakes, suspension, a new windshield, an interior, and, of course, tires. Amazing to see redline tires—weren't they original equipment on these cars? The mileage is given as 70,000, which seems likely to be accurate. TR6 fans should jump at this thing.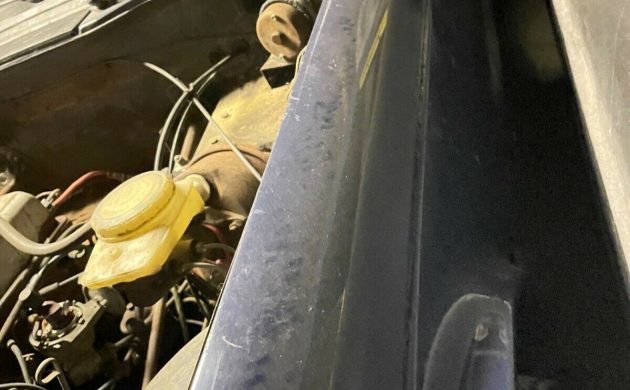 As you probably know, the TR6, introduced in 1969, was closely based on the TR250, a version of the Michelotti-designed TR4 with a 2.5-liter six instead of the earlier car's four. For the TR6, the front and rear were restyled by Karmann in Germany, using a Kamm-style tail that's barely visible on our subject car. The two photos below show how they're supposed to look, via Wikipedia.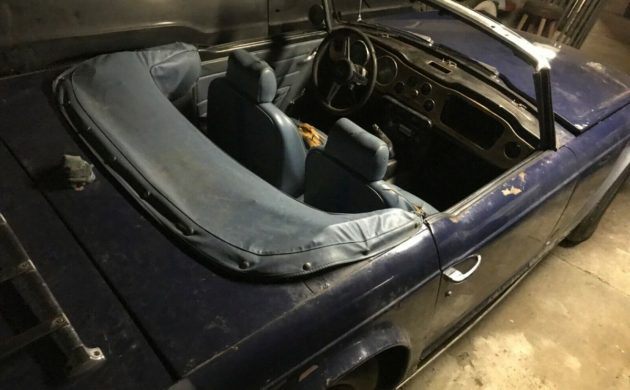 Most of the cars, like this one, came to the U.S. About 91,000 were produced, and 83,480 of them were American models, initially with only 104 horsepower. The last year was 1976, so this is a late-period car. Features of the TR6 are the 2.5-liter inline-six, with Lucas mechanical fuel injection in the UK (for 150 horsepower), but because of smog regulations, carburetors for America. The British version could get to 60 mph in 8.2 seconds, which was quick for the time. A four-speed manual was standard, with optional electric overdrive (which this one does not have). The cars had independent rear suspension, rack and pinion steering, and discs in front. A wood dash was standard equipment, and this one has it. A lot of these cars are now going back to England, where they're thin on the ground. This high-potential but abused TR6 needs a second rescue, from someone able to give it a sympathetic restoration. Is that you? The bargain purchase price makes it easier.