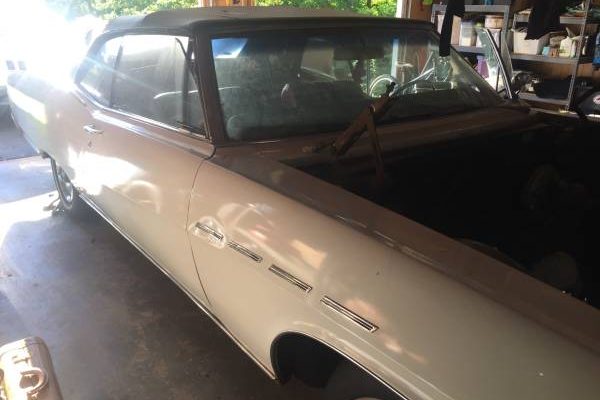 Reader Peter R sent us this for a 1967 Buick Electra convertible, so naturally I took the bait. The first thing I noticed when I opened the ad for this big beautiful Buick was that it is missing a very important component; the engine. However, the seller states that the engine has been rebuilt and is ready to be installed in the car, and has included a picture of said rebuilt engine. For $4,950, I would be tempted to go for it, provided the engine was removed and rebuilt correctly. The car is touted to be a survivor less the rebuilt engine, and is for sale here on craigslist in Madison, Connecticut.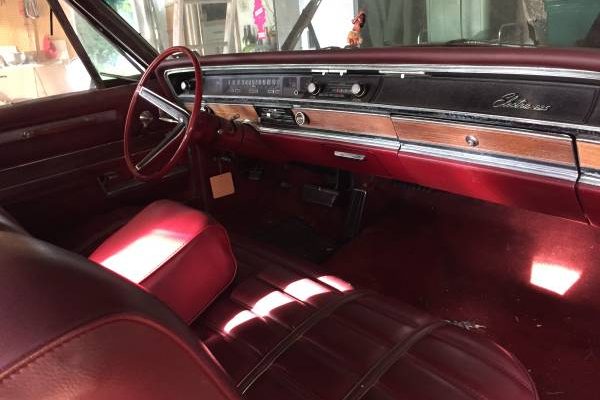 The red interior complements the white exterior very well, and appears to be in near-mint condition. At the worst, this car is in driver condition–at least if it had an engine it would be! It looks to have been very well cared for and doesn't seem to have seen any abuse, which makes me wonder what caused the engine to be pulled and rebuilt. The miles are stated as 21,829, which based on the interior condition I don't doubt it. However, based on having the engine rebuilt, I'm guessing its actually 121,829 which really isn't that much for a car this old. Regardless, the car is in excellent condition.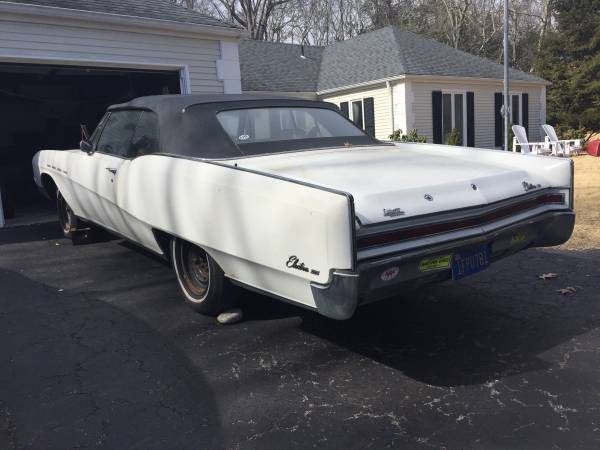 I used to scorn bumper stickers on cars, however when I see them on something of this vintage in this good of condition, it makes me smile because the stickers are a symbol that somebody has loved and enjoyed this car for what it is: a car. The black convertible top appears to be in serviceable condition, and I think any other color may look odd. That said, perhaps a red top that matches the interior would contrast nicely. The wheel covers are not present in this picture, however there is a photo of one on a wheel which suggests that perhaps they are included with the sale, just not on the car.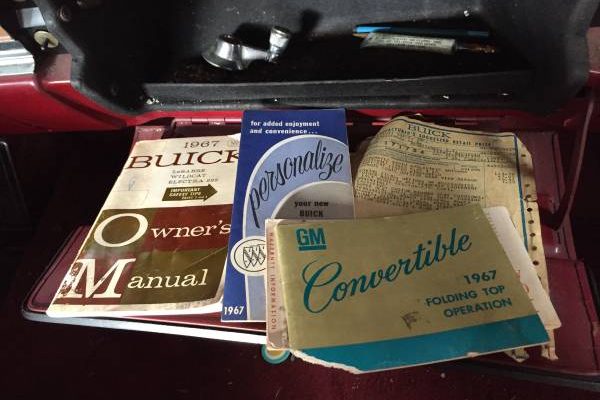 This is the picture I was looking for; the paperwork. Included here is the original owners manual, window sticker, and various other original literature that accompanied the car when sold new. This is the stuff that makes the car worth the asking price, and helps contribute to its survivor status. Whatever the reason for the engine being rebuilt, for under $5,000 this car could be an easy project for the discerning buyer. If I were to buy it, I would spend a weekend putting the engine back in it, and then go cruise with the top down! Do you think it's worth the trouble?