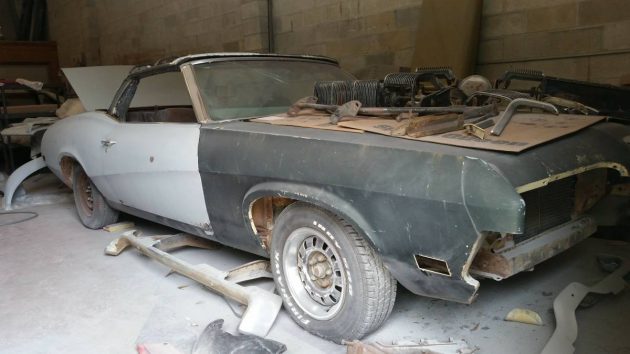 It must be "Sell Your Rare Cougar Month" or something.  I just found another first generation Cougar and this one is quite a collector's dream.  The owner claims that this one was an in-house order by Ford for the 1970 Chicago Auto Show.  To add to the story, it was the 51st 1970 Cougar made and it is both a convertible and an XR-7 model.  The icing on top of this big cake of awesomeness is that all of this has been documented by a Marti report.  But wait , theres more!  This rare cat is currently for sale on craigslist for just $5,000 and the seller, who is located in Tallahassee, Florida, is highly motivated to sell.
This cropped copy of the Marti Report breaks down just how well optioned this car really is.  Under the hood is a 351 cubic inch V-8 engine paired with a FMX Select Shift automatic transmission.  At the rear, it has a standard axle with 3.00 gearing.  Other options included white wall tires, a console, power front disc brakes, power steering, a stereo radio, intermittent wipers, and rallye wheel covers.  The interior was outfitted with dark tobacco leather high back bucket seats and the exterior was a beautiful deep gold metallic paint.  The convertible top had a glass rear window and was black in color.  All in all, minus the peg leg rear end, this one had some really nice options.  To be fair, the high geared rear end would make this car a good highway runner.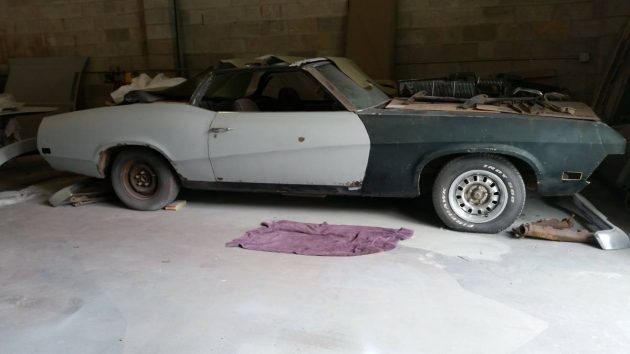 As usual, a good deal comes with a great deal of work needed.  There appears to be rust problems at the bottom of the door and around the rear wheel well of the passenger side.  The owner did not include any pictures of the driver's side.  Barring some strange occurrence, my guess is that the driver's side is in a similar condition.  Of course, especially for Ford products of this vintage, if you see rust, there is likely more that you can't see.  The owner doesn't address the rust issue in the description, but he does say that the car sat in a carport since 1981.  He does add that the car is all original and he has spent a fair chunk of money tracking down date correct exhaust manifolds and a proper four barrel carb intake for the engine.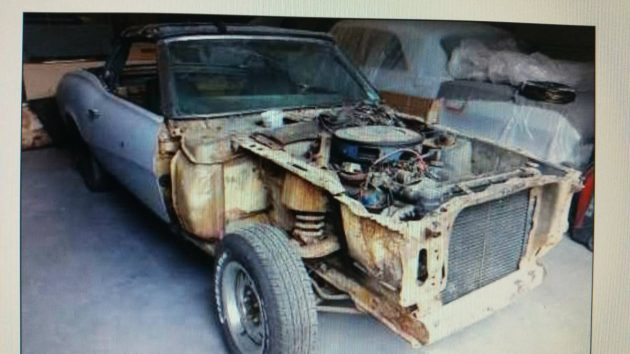 The picture above, which I believe to be a digital photograph of a rather old film picture shows the car with the front clip removed.  The only thing that I see that raises a bit of an alarm is that the metal just forward of the passenger side strut looks separated for some reason.  Hopefully one of our readers can school us on whether this is normal or if it alludes to a problem of some sort.  Other than that one area, I cannot see any accident damage and the rust seems to be just surface rust.  By the way the car sits in the pictures above, the engine may be out.  It does look to be higher in the front than stock, but I would expect it to sit even higher if the engine and transmission were out of the car.  It is just hard to tell based on the small amount of information we have to go on.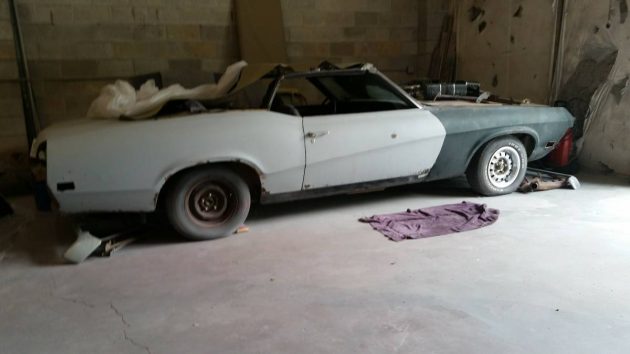 The owner does a lot to push the rarity angle for the car, but I tend to look at a car from a restorer's standpoint.  While I would not buy this car without doing a thorough inspection for rust and missing parts, this one looks to be in good shape on both counts.  Once again, it is hard to tell, but I think I see a little rust damage in the sill area.  Even so, these parts are available and not too tough to cut out and weld in new panels.  If it were mine, I would strip it back down to the bare shell, ruthlessly track down and eliminate any rust, and build it up as a great highway cruiser.  Adding Vintage Air and a limited slip rear end would be mandatory, and covering the floors and firewall with a Dynamat type insulation would go a long way to cut down on heat and road noise.
The owner has priced the car at $5,000, and I think you could probably get it even cheaper if you showed up with a trailer and some cash.  Even at that price, you have a fair amount of distance between the purchase price and what it would go for if it had a good quality restoration.   If you restored it, letting it go would probably be hard to do.  The color combination looks dynamite, and the show car story makes the car an interesting conversation piece.  To add to that, this is a car that you could really enjoy on a multi day tour.  These Cougars are comfortable, reliable, and easy on the eyes.  I know there are a lot of Cougars out there for sale this month, but this one is, at least in my opinion, the best deal of all.