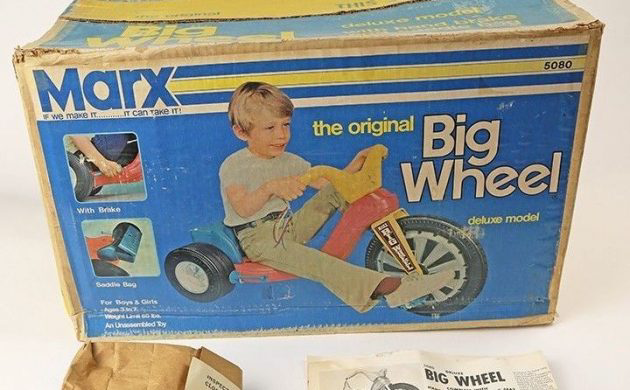 One of my all-time favorite toys as a kid was my Big Wheel! I can almost guarantee that a few of you have memories of sliding around on one of these plastic trikes. Marx claimed they were a safe alternative to two-wheel bikes, but we all know that you could get into just as much trouble. The handbrake made 360s a real possibility and nothing felt cooler than sitting low with that big wheel out front! I still dream of riding that thing, so imagine my surprise when I found one that's still in its original box! Find it here on eBay where you can make an offer.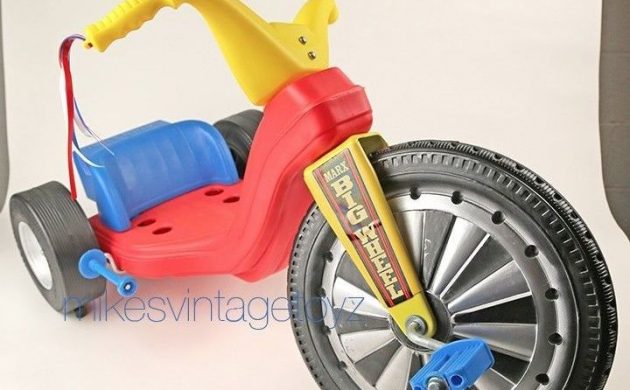 This is the stuff of childhood dreams. Its equipped with handlebar streamers, rear saddle bag, and a handbrake! Later Big Wheels lost the brake and bag, so this is like finding an optioned out car. The year I outgrew my Big Wheel is burned vividly in my memory. What a sad summer that was! Luckily, I had a little brother who still fit, so I would make him pedal while I rode on the back. This toy wasn't just for boys either. My wife has a photo of her riding her pink Hot Cycle!
If you're still not convinced of how awesome these really were, check out the tv commercial above. It's a shame they don't make an adult version of these today because I'd love to relive those memories. I'm sure the neighbors would really get a real kick out of watching my son and I head out for an afternoon ride on our Big Wheels!