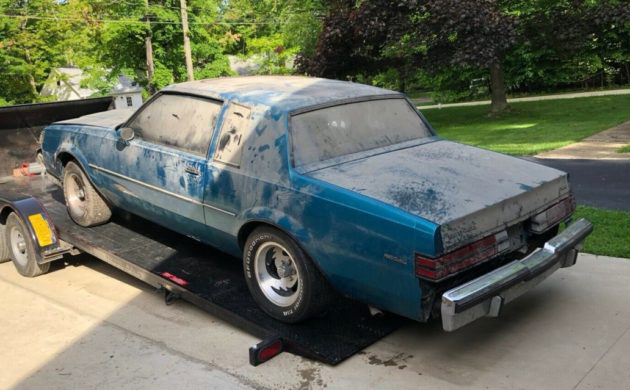 This 1987 Buick Regal Turbo T follows closely on the heels of a recent post for a survivor-grade example we featured. The Turbo T is effectively a Grand National without the attitude despite having just as much performance on-board, and some might say even more due to the use of aluminum components not shared with the GN. This example is extra light because it's a roller with no engine or transmission, which the seller had planned to use for an LS swap. The project hasn't gone past the disassembly phase and is offered up here on eBay with bidding to just over $2K and the reserve unmet.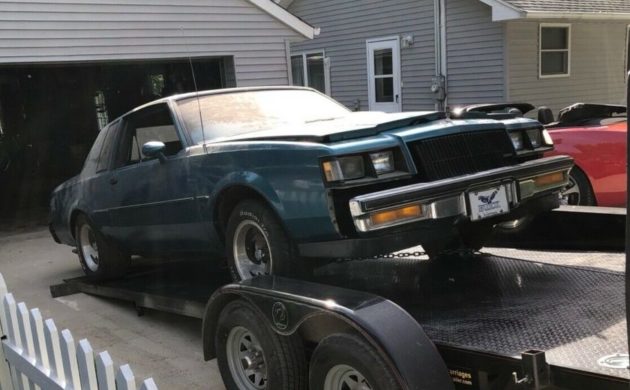 The seller notes the Regal is a factory sunroof car and body color as silver, which hopefully means he was able to verify the factory paint code – I doubt turquoise was an option. The aftermarket wheels and non-factory paint would suggest this Regal has been modified in the past. The other detail that catches my eye is the black-out trim on the taillights and around the headlights: this was a rare option on the Turbo Ts that only a few got before it was discontinued and switched back to chrome. This car has the chrome bumpers, but there's a chance those were replaced in a prior accident – or, conversely, the previous owner just painted the housings in their garage.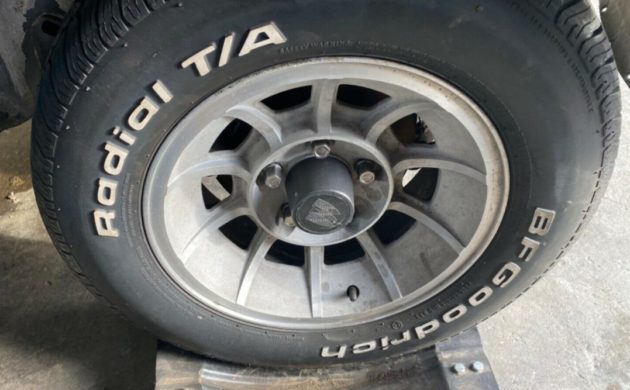 The aforementioned weight savings from aluminum components includes the wheels, which are thankfully included in the sale. The seller doesn't provide much detail on this Regal's past, just noting that it's a 60,000 mile example that came out of Georgia. The Regal is in a disassembled state, with the interior removed and several unattached body panels, but the good news is that all of this component stripping has revealed a very solid car underneath. Sometimes, the factory sunroof and T-top models have a tendency to let water in due to aftermarket companies performing the conversion, but there's no evidence of rotten floors here.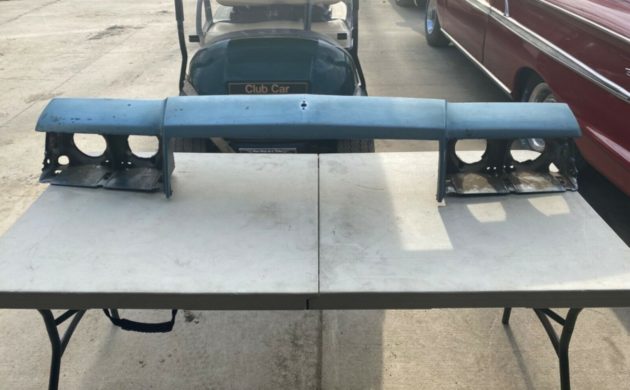 The seller' s listing details a laundry list of spares and original parts that are included, like the aluminum bumper mounts – another staple of the Turbo T. The seller was clearly on his way to performing an LS swap, as he already installed the engine mounts to receive it. I'm personally glad he either got bored or saw that turbocharged Buicks bring good money, as limited production examples like these that aren't rusty should absolutely be returned to OEM condition – perhaps with some subtle modifications like the one we just featured. Would you keep it OEM or move forward with the LS swap?
Have something to sell? List it here on Barn Finds!