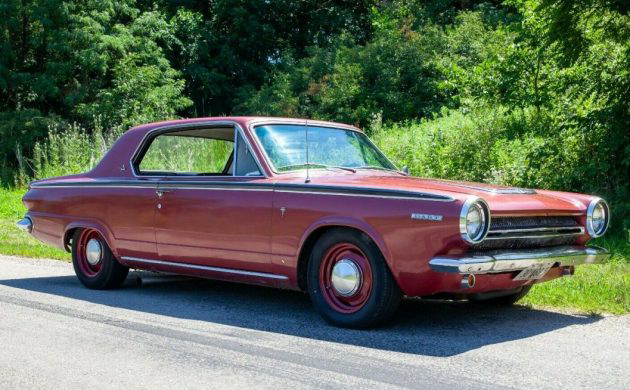 Only the lowered stance and side-exit exhaust pipes give away the performance potential of this little Dodge. A darling of penny-pinchers and unassuming citizens everywhere, the economy-minded Third-Generation Dart compact only occasionally got caught up in the swirling eddy-currents of the burgeoning horsepower wars. This 1964 Dodge Dart in Coal Valley, Illinois, though, is a different story entirely! With a fuel-injected and turbocharged V8, it promises stout competition to performance cars of any decade, yet the relatively tame exterior lets it pass as a "nifty old Dodge" that might still house an original straight six or 180 HP 273 V8. This well-finished sleeper comes to market here on eBay where it awaits a $12,500 opening bid as we head to the presses.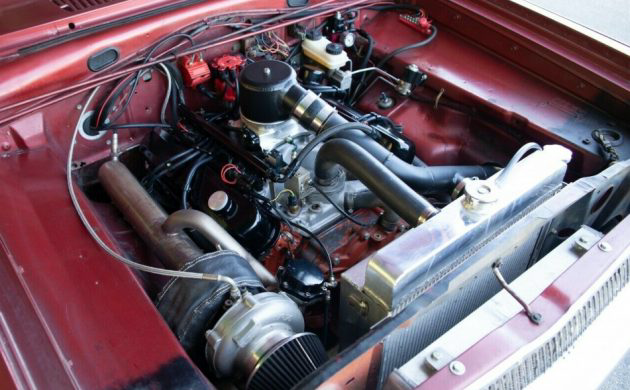 The tidy engine bay suggests forethought and smart engineering, as does the 70mm turbo and MegaSquirt electronic fuel injection. If you haven't heard of MegaSquirt, take a minute to peruse their history here. With a sound scientific foundation, the MegaSquirt system has no problem handling a custom build like this turbo 360 (5.9L) cid LA mill by controlling fuel, air and spark across all manner of boost and temperature conditions. Where you often hear people talking about switching their turbocharged customs between a "Summer Tune" and "Winter Tune," this MegaSquirt-controlled Dart should let you drive coast-to-coast while handling altitude and climate changes with aplomb.
Other upgrades include four-wheel Wilwood disc brakes and a dual-channel brake master cylinder. With only 16,000 miles on the clock, this original paint coupe is claimed to have enjoyed garage storage its entire life. The 15″ steel wheels were painted to match. Cosmetically I wouldn't change a thing. Nothing in the listing disputes the seller's claim that this EFI Dodge is "totally rust free."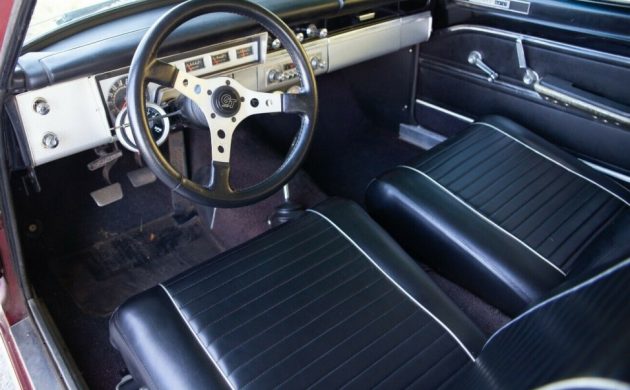 New front seat upholstery looks perfect with the mostly-stock interior. The no-nonsense rubber-booted floor shifter stirs a classic A-833 four-speed manual. The durable Dodge 8 3/4″ differential houses 3.23 cogs with Sure Grip limited-slip to transmit the boosted V8's power to the ground via both rear wheels. A leather-wrapped steering wheel and aftermarket tachometer suit the performance nature of this deadly Dart without giving too much away in traffic. Turbos tend to quiet the exhaust which also helps maintain the sleeper persona. Would you suspect an EFI turbo V8 powers this once-dowdy Dart?