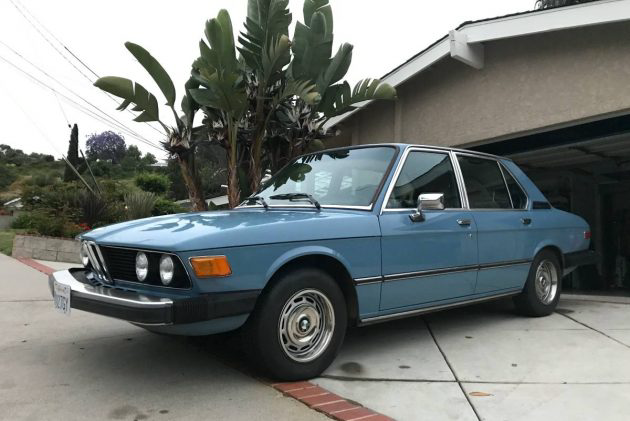 Here's an interesting hybrid: there's no overlooking the enormous, Federally-mandated bumpers on this 1977 BMW 530i, but the equipment level of this car shows a European sensibility rarely seen on U.S.-market cars. We'll get further into that momentarily, but first, the basics: this 77,000-mile, all original Pastelblau beauty can be found on craigslist out of San Diego, California, with a $5,200 asking price that seems very reasonable for the condition, although the market for late '70s Bimmers is still very soft (archived ad). As somebody who likes late '70s BMWs, I'm not exactly complaining, but as somebody who owns an early '70s BMW, I also don't mind seeing values climb, if you catch my drift.
The E12 5-series was an expensive car in the inflation-battered U.S.—$12,495 in 1977, a far cry from the sub-$5,000 base price advertised for its predecessor, the Bavaria, in 1971—and as such, most U.S. 5ers came with the $1,550 Luxus option package, which included power windows, alloy wheels, and leather upholstery. This car hews much closer to its Euro roots with crank windows, steel wheels, and corduroy velour upholstery that imparts a slightly warmer luxury to the interior, in my opinion. Unfortunately, it's also not particularly hard-wearing; those sheepskin covers conceal front seats in need of recovering.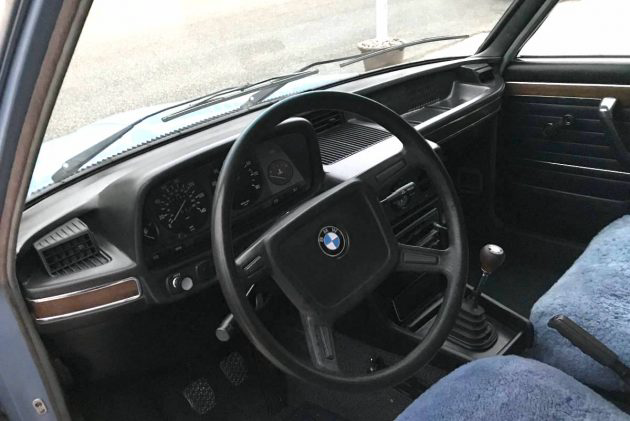 The good news up front is that the dash looks quite nice. The interior photos are a bit too dark to say for sure that it's crack-free, but it looks promising. Also good news: a manual transmission, the original four speed. Continuing the Euro theme, despite its basic seats and lack of power doodads, there is a crank-operated sunroof, and no obvious water damage on the headliner around it, although the C-pillar coverings look a little sunburned.
The seller doesn't provide any photos of the fuel-injected 3-liter M30 inline six—but does link to a video of the car being started, which is even better. The cooling and fuel systems have been recently freshened and there's a new clutch master cylinder, and everything seems shipshape in the video. My own M30-powered car (an earlier, carbureted unit with many, many more miles than this car on it) has been reliable and fairly economical to maintain. The thermal reactors used for emission control on these early 5-series were problematic, however, and of course if this car remains in California it's still subject to smog testing, but the good news is that it's the seller's responsibility to get the car tested—plus, it is currently registered—so it should be good to go. I think there's a lot to like about this nicely preserved, unusually equipped early 5; any takers out there at the $5,200 asking price?