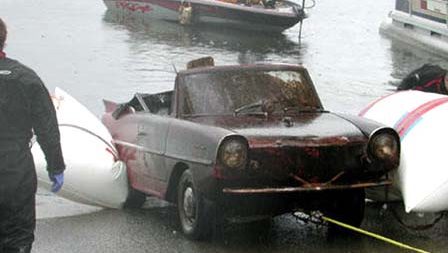 When researching some background data on the recent Amphicar we featured, I came across this excellent story about an Amphicar that sank in a lake in western Massachusetts and was left sitting there until the early 2000s – when a group of explorers that included the original owner set out to the find the car. This is a great story and worth reading, and you'll find one witness account here on Amphicar.net.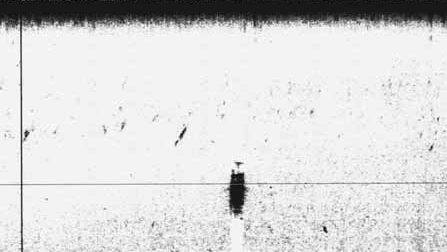 The Stockbridge Bowl, also known as Lake Mahkeenac, is located just north of Stockbridge, Mass. If any of you have taken your kids on a road trip through New England, Stockbridge is one of those places you likely stopped to stretch your legs, as it features a pretty decent colonial village recreation with some good history lessons baked in, along with plenty of souvenirs to buy. The story goes that some friends were out booze-cruising (sorry, just sailing) in their Amphicar when it suddenly took on water and went nose-up. This sonar scan shows it sitting in about 52′ of water.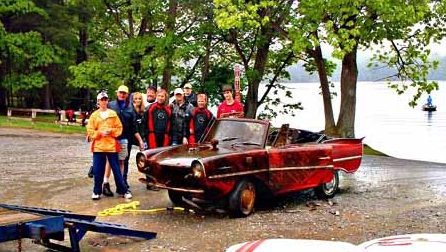 The sonar scan was made possible by a connection one of the explorers had with an individual who was on the team that discovered the Titanic. Needless to say, finding an Amphicar at the bottom of a man-made lake was child's play. The team then made the decision to send a diver down to determine what condition the Amphicar remained in. There was zero visibility at the lake bottom, with silt so thick that only way it was found was when the diver's leg bumped into the fender. Fortunately, the presence of a solid body extended beyond the fender, thanks to the fresh water it sank in.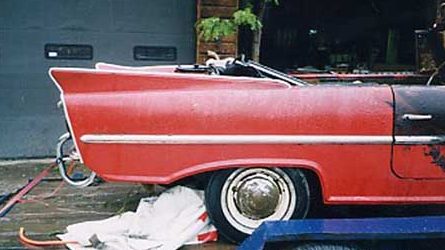 Amazingly, after raising the Amphicar with the help of floatation devices and towing it in, the car rolled up the very dock it drove in on with air still in the tires, the owner's wallet in the glovebox and chrome that gleamed with a simple wipe. Hell, the paint still looks good once the silt was cleaned off. The search party reported that while the lake muck was thick, the seats were still soft and cleaned off nicely. It's incredible to think that after sitting at the bottom of a lake since 1985, a vintage Amphicar could look this solid.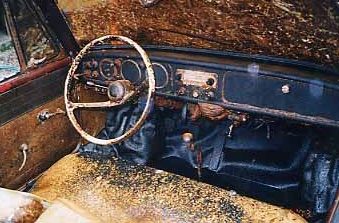 Considering how many examples we've seen that have resided on dry land and appeared in far worst condition, this is a story for the ages. We just wish we could find out what the current status of the Amphicar is, as the original owner had plans to fully restore it. I can't imagine what kind of connection you would have to a vehicle like this knowing the adventures it inspired and the folklore that surrounded it. Does anyone know the owner or whether it was fully restored and swimming again? Let us know in the comments below.