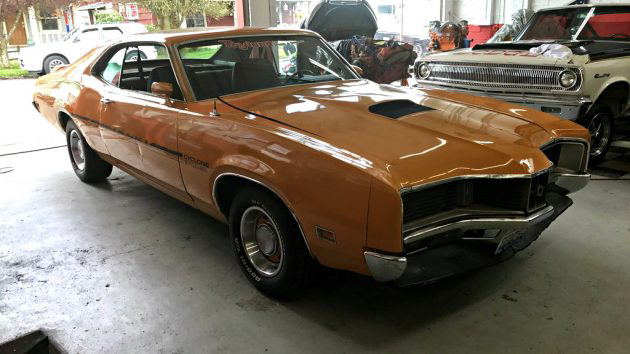 Some muscle cars are uncommon to see, while some are just plain rare. This '70 Montego Cyclone Spoiler is a factory big block 429 Cobra Jet Ram Air car with a 4 speed! This numbers matching Mercury is definitely a rare find! With 47 bids and 3 days remaining, bidding has risen to $25,100. Check out this sweet muscle car here on eBay out of Portland, Oregon.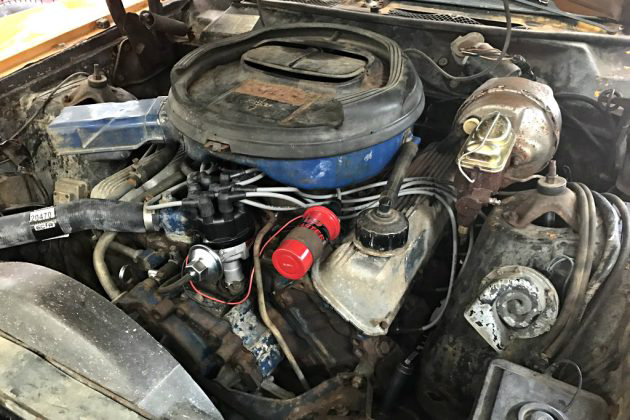 With the heart of a snake, this Mercury can really scoot. Featuring everyone's dream drive-train of a 429 Cobra Jet engine with a 4 speed manual transmission, this Cyclone is certainly a tire scorcher. Although original, the engine bay is certainly dirty, but not rusty.  There is a modern coil installed, and what looks to be a rebuilt dual point distributor. I am sure this muscle machine spent some time stored away and a tune up was performed to get it running again. Also the gas tank was replaced further solidifying this Mercury's time spent stored.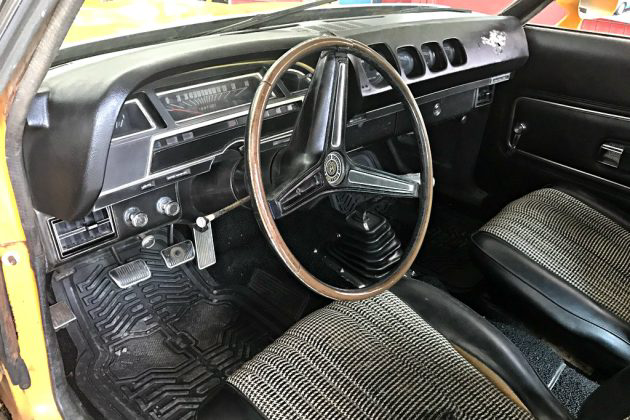 With a quick glance the interior looks absolutely mint, but sadly that isn't the case. The driver seat is split, and the hounds tooth material is heavily worn. The dash appears mint, but there is cracking near the gauge hood area, and the center mounted speaker area. Also there is a strange discoloration on the passenger side where a sticker may have been stuck to the dash? There is cracking around the sticker area as well. The steering wheel also has a few splits in the rim. Beyond those concerns this interior presents nicely.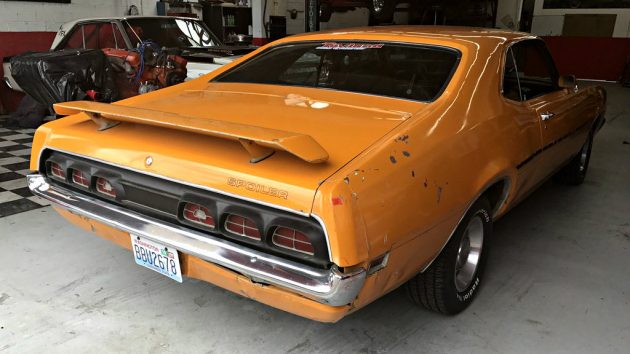 Bright orange and attention grabbing, this Cyclone Spoiler still has great looks despite a few blemishes from time. The paint is believed to be original based on the seller's experience, but the passenger rear corner has a chipped paint area with what appears to be red paint beneath it. The body and paint is mostly complete, but there are some dents and minor rust. The driver front corner has been bumped, and there are a few smaller dents down the passenger side. The passenger side rear quarter has a few small dents as well as some body filler that was certainly not there when it left the factory. I suspect that passenger rear corner has been hit before. There is some minor damage to the rear valence as well, but otherwise this Mercury seems straight. Exterior rust is minimal as there is only minor surface rust along the door sills exterior edge. There is some more serious rust in the trunk around the seamed sheet metal near the fender wells to the trunk floor. Otherwise there appears to be no other rust on this rare muscle car. Uncommon, rare, and with the "right" options, what do you think this Mercury Montego Cyclone Spoiler will sell for?