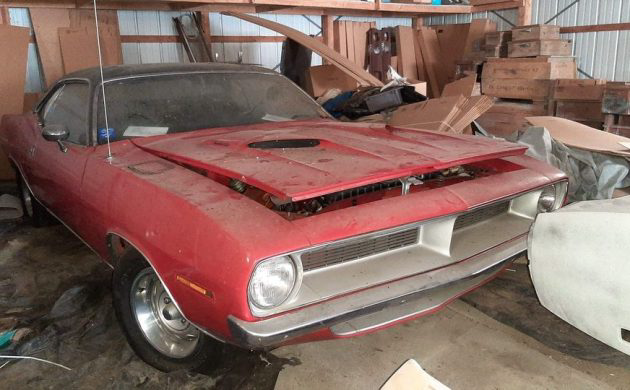 When it comes to old Mopars (or any muscle car, really), the options list can make all the difference when assigning value. Throw into it rare features like colors and upgrades and the price can climb even further. This 1970 Plymouth 'Cuda 440-6 is a highly optioned car that left the factory wearing Limelight Green paint. The seller spells out numerous features that would have made it quite a looker when it left the showroom, and although it has a non-matching drivetrain, it's hard not to be impressed by the pedigree that's on display. Find the 'Cuda here on Facebook Marketplace with an asking price of $64,900.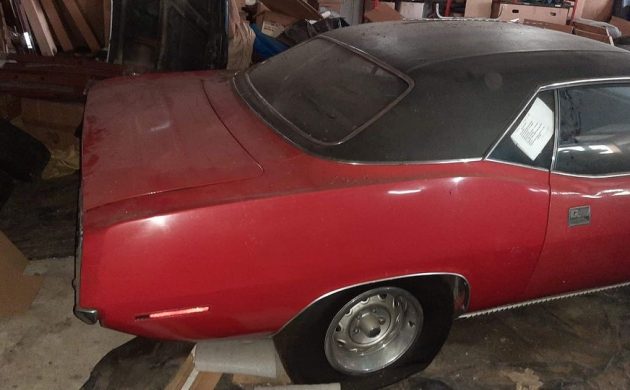 Now, that's certainly a big ask for any project car, as this 'Cuda has been off the road for at least 16 years while in storage, and who knows how long it was parked before that. Still, the good news is the body looks remarkably straight, even if it was unfortunately repainted the typical "resale red." The photos included by the seller show the original Limelight Green paint clear as day under the hood, and I'm guessing its still present in other areas as well. The seller notes there's no major rust in the car, aside from some previously repaired areas in the right rear quarter and in the trunk floor as well. A replacement trunk is included in the sale.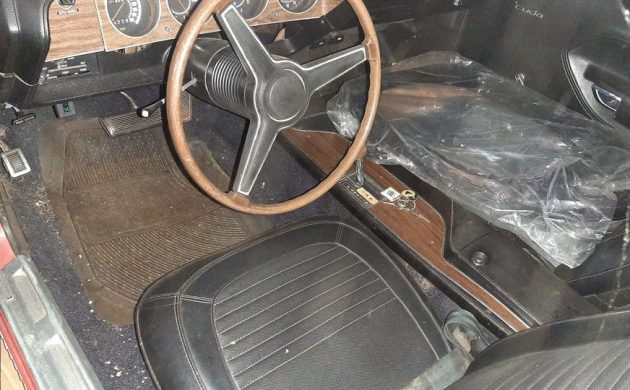 The interior looks surprisingly nice, and speaks to the car being in the care of owners who didn't abuse it, even if it ended up neglected in a barn. The options list, as mentioned, is quite generous: the real-deal N96 shaker hood; Rally woodgrain dash; A36 performance axel package with 3.55 Sure Grip; 26-inch radiator; G36 painted racing mirrors; J54 hood pins; and 15×7 Rally wheels. The bucket seats appear to be in excellent condition with no need for upholstery work and the same goes for the woodgrain inserts in the center console. It hasn't been overly modified, either, and it's reassuring to see the OEM steering wheel still in place and in great condition.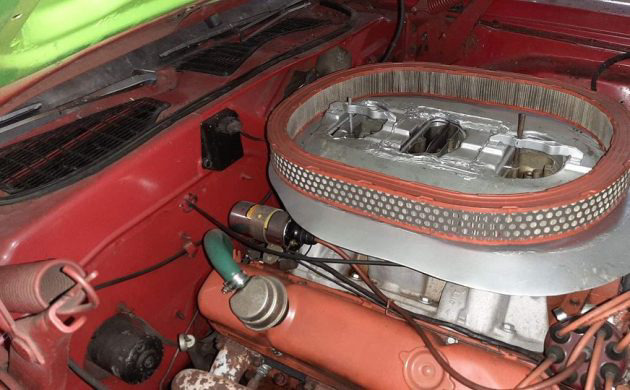 Now, the engine bay reveals some details that may impact a collector's perception of how valuable this 'Cuda is. For one thing, note the repainted areas: the engine bay was painted, but the underside of the hood was not – how weird is that? Now, the drivetrain itself is desirable, but again – not original. It features a '68 440 street built motor, with a custom-built 727 transmission. Other details include a manual valve body and 2800 stall converter. When it comes to a car like this, how important is originality? Are the upgrades the kind that make you forget it's not a numbers matching car? I wish it were at least still its original color, as that awesome paint scheme could make it easy to overlook the other deviations.