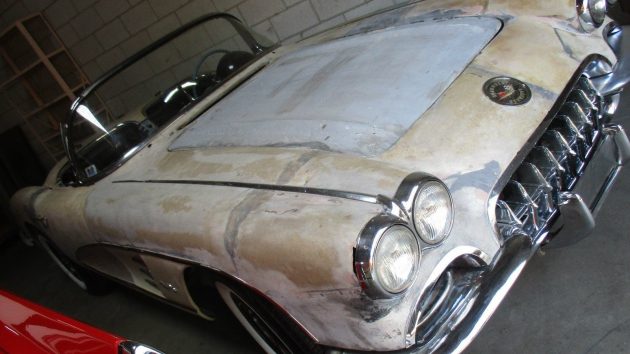 UPDATE 5/19/2020 – We featured this Corvette project way back in 2018 when it was listed on eBay with a $28,500 asking price. It's still located in Virginia Beach, Virginia, but it now has a $30k BIN and the option to make an offer. It doesn't look like much has changed since we listed it last, but these don't come up for sale that often, so we thought it might be worth a second look! You can find it here on eBay and special thanks to Ikey Heyman for letting us know that it popped back up!
FROM 4/24/2018 – I suppose you could leave this 1958 Chevrolet Corvette alone cosmetically, except for the areas where it looks like the body mounts are damaged, but that's not your only issue with this one. It's listed for sale here on eBay and is located in Virginia Beach, Virginia. There's a buy it now price of $28,500, but it's far more likely that the seller will accept an offer lower than that. This is one I could restomod without guilt — do you agree?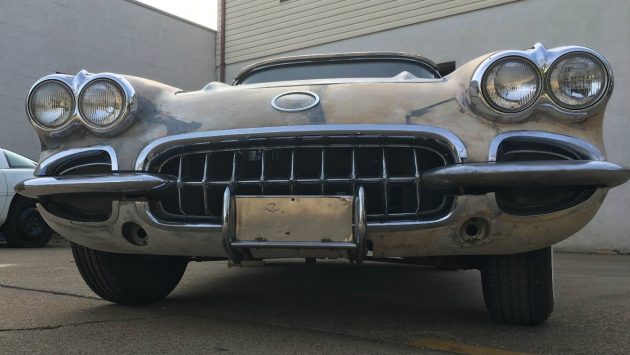 I couldn't figure out whether to start with the good or the bad first with this one, so I'm just going to dive right in and go back and forth. To begin with the seller seems to be very honest about what they do and don't have. In their words: "ORIGINAL 58 CORVETTE ROLLING BODY. FRAME IS RUSTY, BODY HAS HAD LOTS OF FIBERGLASS REPAIR AND WILL NEED MORE TO BE READY FOR PAINT. NO MOTOR OR TRANSMISSION." Okay, yes, I know they were yelling, but still. That's a pretty honest and open assessment.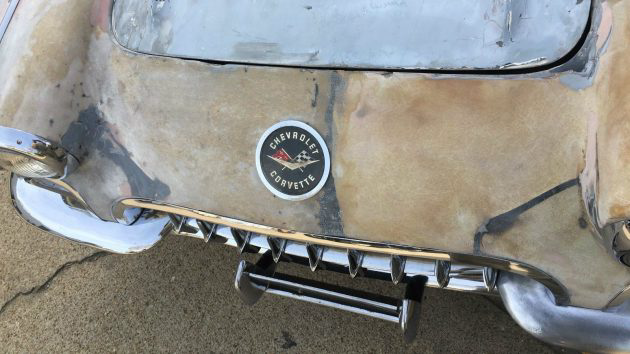 One other thing nice about seeing a Corvette without a lot of paint in the way; you can see exactly what you are up against.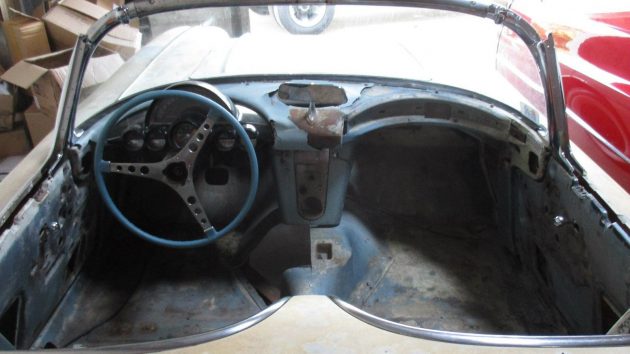 The seller tells us that this is a 1962 gauge cluster in the dash. I'll have to take their word for it in this picture, but it does show up in this blurry one.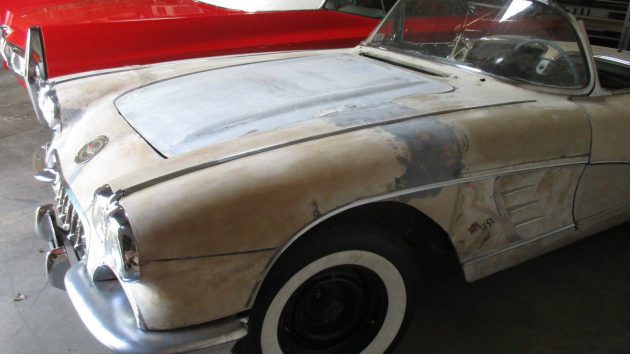 As they say later in the ad, "THIS IS NOT!!! A PERFECT BODY AND IT WILL REQUIRE A SKILLED BODY MAN TO GET IT READY FOR PAINT." I think that's a statement I can comfortably agree with. However, it is a C1 Corvette and could be made into a restomod quite easily. I just don't think this is the car I'd pick to try to restore as original.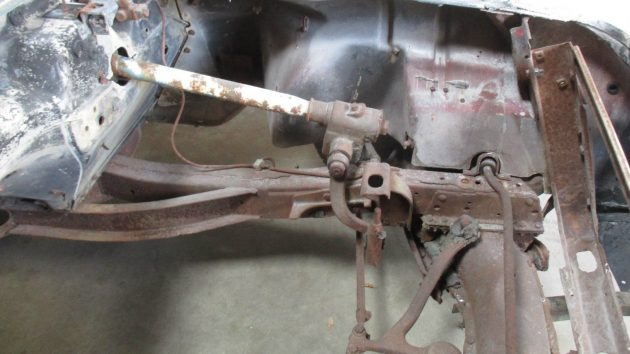 I'd like to know exactly what the seller means by a rusty frame. Sure, there's surface rust here but it doesn't look horrible. However, based on this buyer's guide I'd sure want a better look underneath. I'm just not sure this is the Corvette I'd start with, but perhaps you differ with me? I'd love to hear from you with your opinion in our comment section below.
Have something to sell? List it here on Barn Finds!