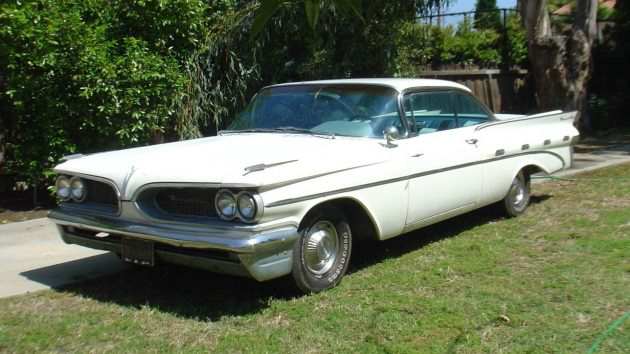 No, it's not the Titanic, although the side view of this car along with the squashed greenhouse styling makes it look very, very long! This 1959 Pontiac Bonneville is resplendent in its original white paint, star-shaped rear fins and acres of shiny trim. It's located in (surprise) Los Angeles, California and is up for auction here on eBay. Bidding is approaching $5,000 as I write.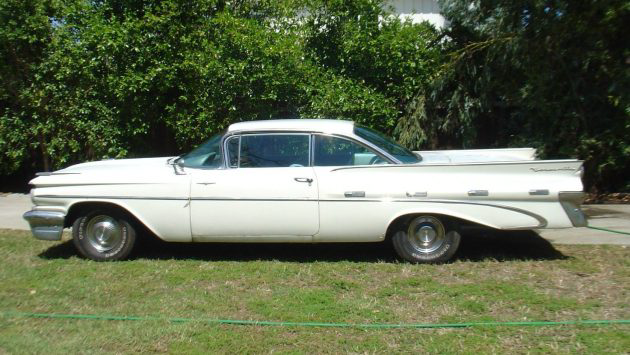 This car is LONG! It also looks to have, as the seller puts it, "its fair share of nicks and scratches" in the original paint. I'm not sure if I see a little bit of rust bubbling right in front of that rear wheel opening or not; what do you think? Regardless, it's a darned solid car for an original 1959 model.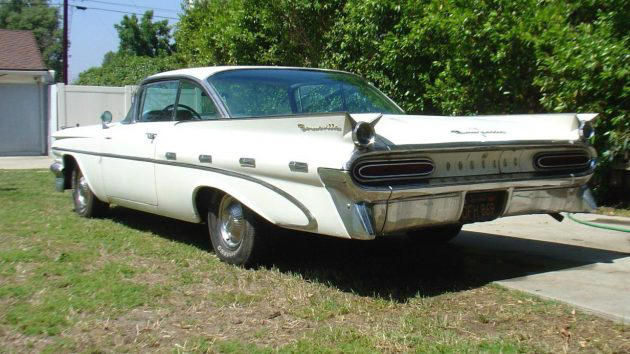 My favorite feature on the 1959 Bonnevilles is the star shapes at the rear of the tail fins. So late 1950's, so cool! It appears the chrome is good enough for a driver if you are going to leave it alone, as I would, but bear in mind the chroming bill will be very high if you are planning on a restoration.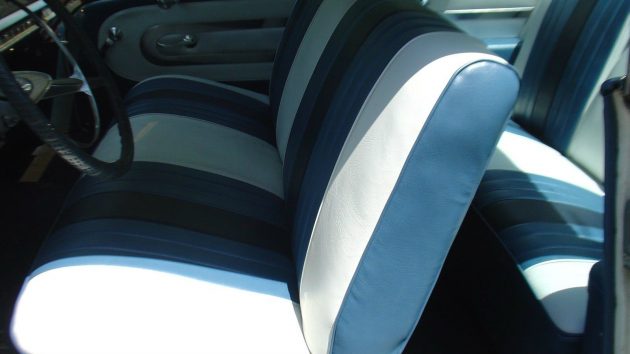 The interior looks quite presentable as it's been reupholstered in the original pattern. I found this picture on Hemmings that seems very similar apart from some of the vinyl being metallic? What do you think? The rest of the interior is okay by me (as are these seats).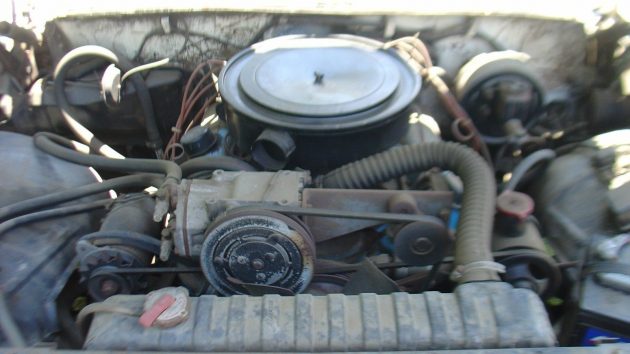 I was surprised to see the air conditioning compressor on here, and the seller does tell us it's an aftermarket unit. That makes sense considering the belt drive, idler and general non factory appearance of the bracket. That being said, it doesn't matter to me as long as I can make it work! This is the original 389 V8 and looks to be largely original. Not only that, but the whole car is said to run and drive well. So what do you think? Would you rock this Titanic of a car?