Few traditions last in NASCAR.  Drivers come and go.  Teams get sold or go out of business.  Cars change shape, and tracks get added and subtracted at the whims of the France family and Bruton Smith.  However, one team has managed to survive all of this change, and their cars still have the same color scheme at nearly every race.  The Wood Brothers, Glen and Leonard, started racing "stock cars" in 1950, and their team is still competitive today.  Wood Brothers cars are known for two things: meticulous preparation and a red roof and white body paint scheme.  The Wood Brothers are also known for hiring some of the best drivers in the world, and that list makes up twenty of NASCAR's official best drivers list.  Of those drivers, Cale Yarborough was one of their most successful.  In 1968, with a Mercury Cyclone as his weapon, Yarborough won six major NASCAR races.  If you are a fan of the Wood Brothers, Cale Yarborough, or just fond of this very competitive era of racing, then today is your lucky day.  This fairly solid 1968 Mercury Cyclone, sporting Wood Brothers colors, can be found in Byron, Georgia on Craigslist for just $3850.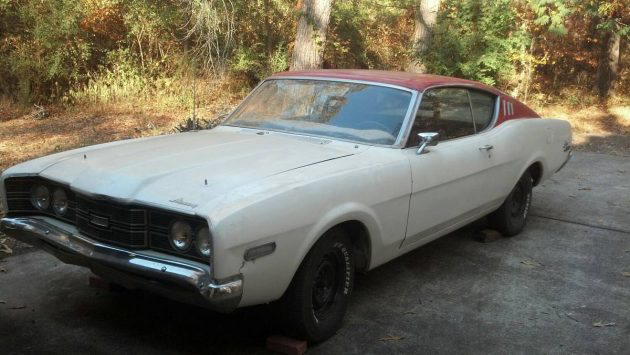 In the late sixties, manufacturers were in an all out war to win on Sunday and sell on Monday.  Aerodynamics and horsepower were the order of the day.  Mercury took NASCAR by storm in 1968 with their aerodynamic Cyclone.  It was named the fastest car of 1968 after a specially prepared Cyclone lapped Daytona International Speedway at 189.22 miles per hour.  That wasn't all.  The Wood Brothers, with Cale Yarborough behind the wheel, captured the 1968 Daytona 500 with a Cyclone.  The team managed to also win at Atlanta, Martinsville, Darlington, and at the July Firecracker 400 at Daytona.  With those wins, Mercury was able to sell a lot of Cyclones.  Mondays were never as sweet again for Mercury salesmen.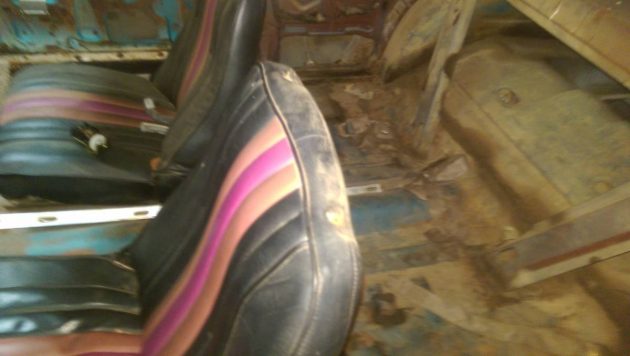 Mercury was so proud of the Cyclone's winning ways that a special edition was built for a promotion tied into the Atlanta race.  Customers in the southeast sales region could order a special edition Cyclone in either Wimbledon White or Calypso Coral, and have it delivered to them at the Atlanta race.  The 160 lucky customers were driven to the track by the dealer, given two tickets to the race, had a meet, greet, and eat with Cale Yarborough, Tiny Lund, and Lee Roy Yarbrough, and were even got to take two parade laps with Cale leading them in the race car.  At first glance, this car's exterior color and proximity to Atlanta raise questions as to whether or not it might be a promotion car.  However, it seems to be missing the proper badges and may be a repainted blue car.  As for badges, it seems all of the special edition cars had Cyclone 500 badging on the rear quarter panels.  A Marti report would be a nice way to confirm this and any other interesting options, but there is no mention of the car having one by the owner.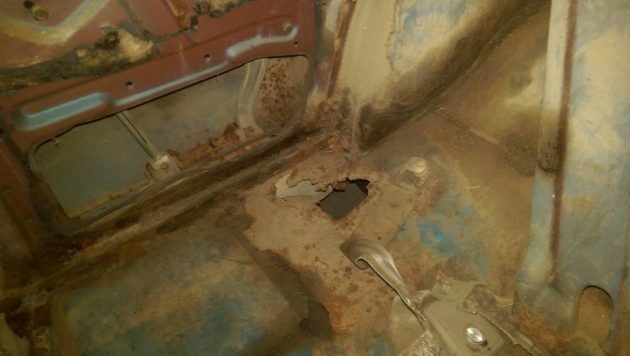 The car is, by late sixties Ford standards, in fairly rust free condition.  There is a rusted through area in the passenger rear floorboard, and the owner states that the front floor pans have been replaced.  He does have the original bench seat, but there is no mention as to where the rest of the interior is.  One thing to note is that it is missing the fuel tank, and it is currently being moved around using a hose and a fuel can.  If you go look at it, remember to bring your fire extinguisher.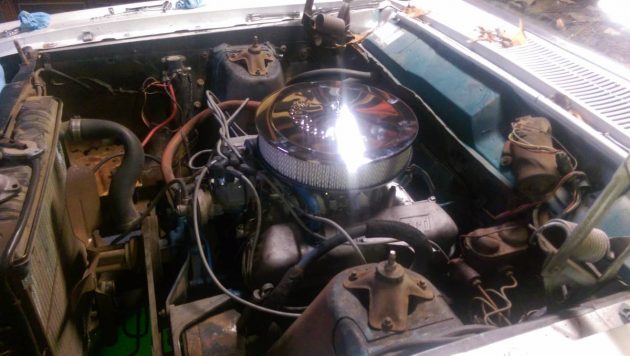 Under the hood, we see more evidence that the white exterior color may not be factory original.  Overspray appears on the rubber hood stops and seems to have drifted into other areas.  As for the engine, the owner has replaced the carburetor and intake manifold, and has done some other freshening to get it back in running order.  He did keep the original carburetor and intake manifold, so returning it to factory original shouldn't be a problem.  It would be nice to know what size engine is resting under the hood, but we aren't in the know on that.  Some more details could go a long way in selling this car.
With prices for bigger sporty Ford products of this era on the rise, this one may merit a closer look.  The racing pedigree for the model is an added bonus.  Prospective buyers will have to accept that Mercurys usually don't quite bring the same prices as Fords of the era, but that also lowers the cost of entry.  It is a fairly solid car that would be good for building a Wood Brothers/Cale Yarborough tribute car.  My concerns would be replacing the interior if it were not saved, and what the underside looked like as far as rust is concerned.  My guess is that it was a base car, or at least one with few options.  If so, then I wouldn't feel bad shoe horning in a big block engine and a modern transmission to make it a very fast cruiser.  It just seems right to repaint it in the Wood Brothers paint scheme.  The red and white paint scheme compliments this particular body style, and is a fitting tribute to a glorious year for that historic race team.