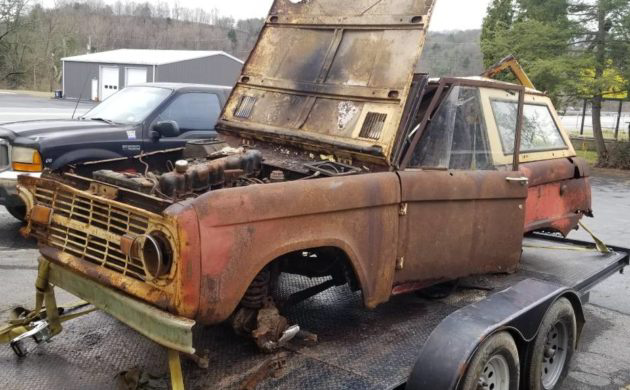 I, as much as the next guy, like to see vehicles rescued. I also think the finder of elusive projects should get to command a fair price for their efforts to drag long-forgotten hulks out of their resting place. This 1966 Ford Bronco may challenge that notion, as I'm not sure what's a remotely fair proposition on the buyer side for picking up the severely rusted remains of a first-year Bronco. The asking price is $1,900 or best offer, and if you're local to Annapolis, the seller may even be willing to deliver it. It does have some good parts left, but the engine is "…badly seized." Find it here on craigslist and thanks to Barn Finds reader Ian C. for the find.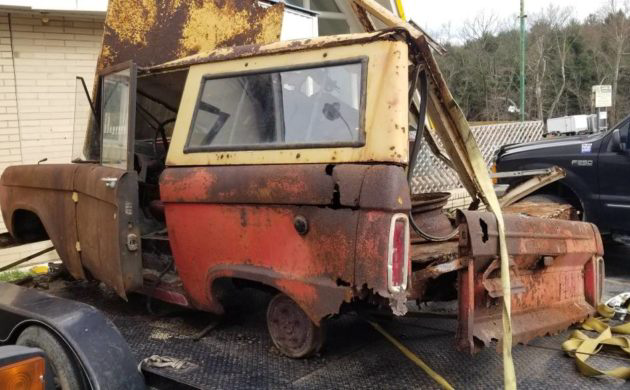 This is the money shot, if you will, that paints a full picture of the hell this Bronco has been through. I'm not sure if it was rolled or the rust was simply so catastrophic that the passenger side literally collapsed in on itself when moved. To be completely fair, I've seen vehicles with less rust dragged off the bottom of lake beds, and I'm genuinely curious to see pictures of this Bronco before it was extracted from what ever damp, dark lagoon it was hiding in. The driver's door and fender looks savable, and possibly the taillights – oh, and half of the hardtop.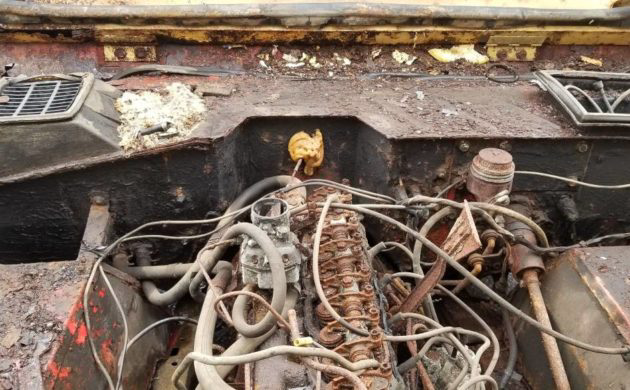 The seller indicates the original six-cylinder mill is beyond salvation, and certainly sitting for years with the valve cover removed does little to help its chances at survival. Regardless, I doubt anyone seriously considering this rig is counting on having an engine that still turns. The seller does note the Bronco will come with its 3-speed transmission, transfer case, 9-inch rear differential, and Dana 30 front. Other parts of note mentioned by the seller as being salvageable include the dash and some glass, but no specific pictures are offered of these parts.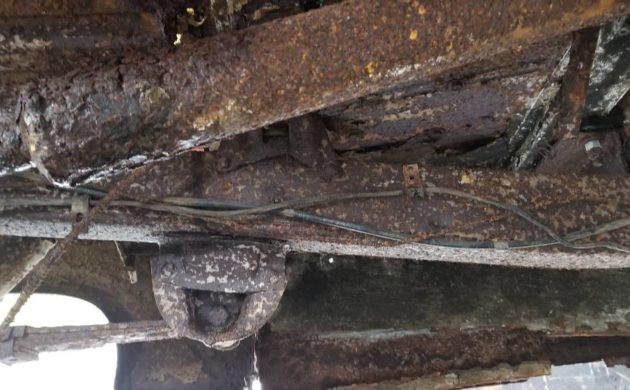 The frame and suspension are listed as being present, but not necessarily confirmed at having any chance at revival. The market for early Broncos has certainly heated up in recent years, and some specialist shops are offering big-dollar restomods that usually clock in at the high five-figure or low six-figure range. Gateway Bronco is one such company, and almost all of its delivered trucks are listed at a hair under $200,000. Could the VIN plate on this one enable such a build to commence, thus justifying the seller's efforts to drag this one out of the muck? Let us know your thoughts below if early Broncos are hot enough to make saving this carcass a smart move by the seller.
Have something to sell? List it here on Barn Finds!