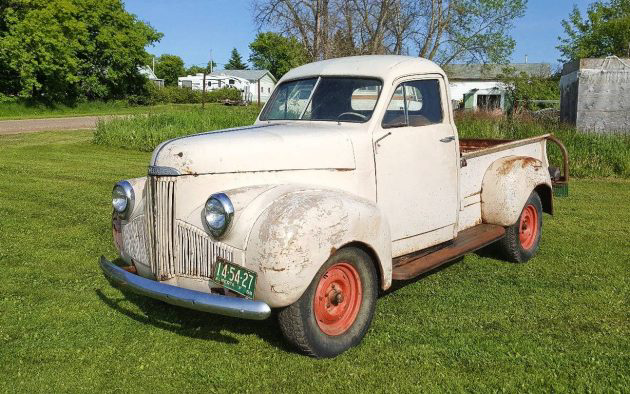 Our buddies over in North Dakota dug out another classic truck, this time it's a Studebaker! It might lack the incredible design of the earlier Studebaker trucks, but this is still one good looking rig. They claim it's wearing its original paint still and is quite solid. There's plenty of surface rust that needs to be dealt with, but this is a running project that could be made into a driver fairly easily. You don't see these Studebaker M5s often anymore, so it sure would be fun to see it back on the road! Find it here on eBay in Cavalier, North Dakota with a current bid of $3k and no reserve.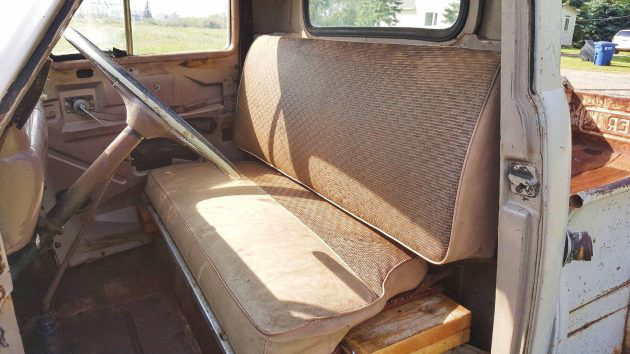 After cleaning out the fuel system, changing the fluids and installing some new ignition parts, the seller was able to get this truck up and running again. They drove it around the yard and claim that it drive fine, but the brakes are about gone and will definitely need to be rebuilt. If that's really all it takes to make it a driver, it just might turn out to be a fairly simple project to make into a driver. Obviously, it will need cosmetic work and an interior to be a nice driver, but you could drive it with those things how they currently are.
Power comes from a six cylinder paired to a three speed. It wasn't ever meant to go fast, but it will get you down the road just fine. We don't get many photos of the engine, but from what can be seen it looks to be in decent shape. There really isn't much to these engines and they are known to be quite durable, so it likely has a lot of life left in it.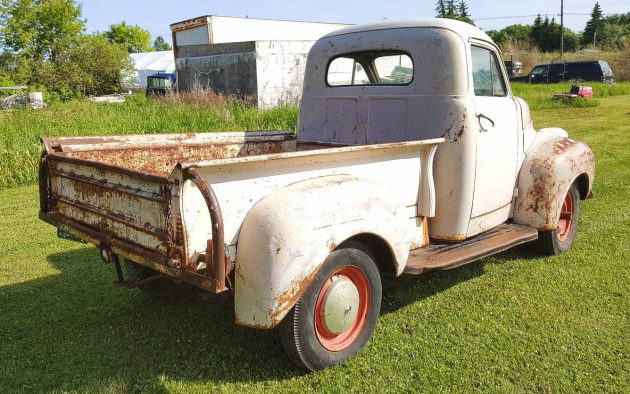 With some work, this could be a decent parts hauler. Given how beautiful they look restored though, I think this one deserves to be fixed back up. The body is fairly straight, but definitely needs work and it will need a complete paint job. If you go that route, it will be a great looking truck that is well worth the investment. So which would it be?