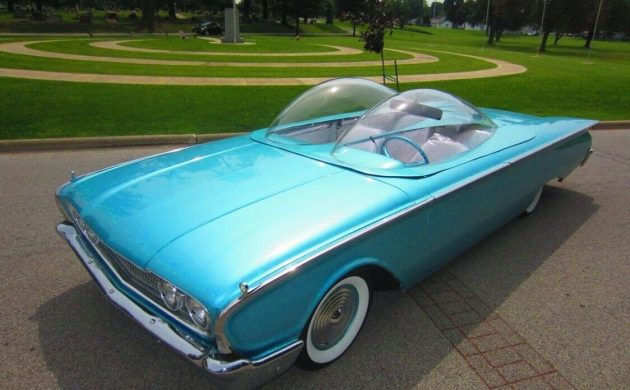 If you were to combine George Jetson's flying car with Adam West's Batmobile, what would you have? A Ford "Spaceliner" – a vehicle that looks a bit like a spaceship from a 1950's science-fiction movie. This is a one-off car that was based on a stock 1960 Ford Fairlane. I have to admit this is one of the coolest things I've seen in a while. It's an actual running vehicle, located in Warsaw, Indiana (west of Fort Wayne) and offered here on eBay where bidding stands at $35,500. The reserve has not been met, so who knows how high the new owner of this cool spaceship will have to go!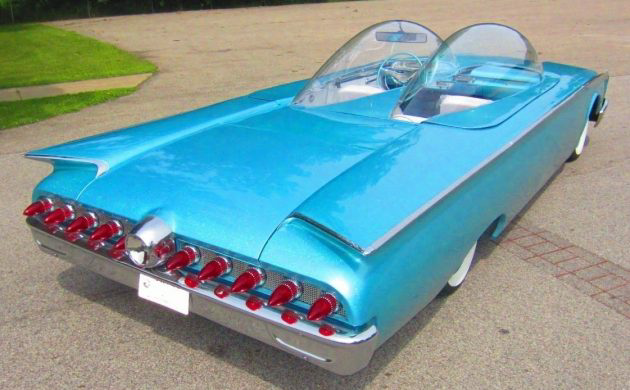 Bubbletop concept cars were everywhere in the '50s, a favorite of many Detroit design studios. They ranged from mild to wild and some of them served as the basis for cars that actually went into production. A fellow named Scott Wiley, who already was a hot rod and muscle can enthusiast, liked these cars and always thought about building one of his own. Fast forward to a rerun of The Andy Griffith Show where Andy and Barney were tooling around in a new 1960 Ford as their squad car and Scott thought its flowing lines would lend themselves well to fulfilling his dream.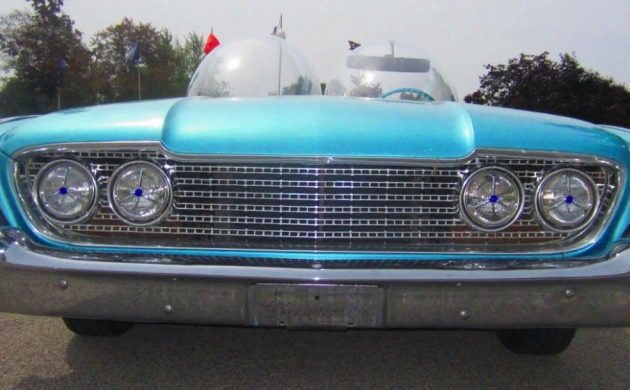 As the story continues, Scott located a suitable four-door donor for his project, one that had just 30,000 miles on it. He cut off the top and windshield and drafted a local custom car builder to fabricate the tilting, twin canopy roof. Two electrically-actuated cylinders were then employed to raise and lower the top. The passenger doors were welded shut and all the gaps filled to give the car a seamless appearance. Occupants were to enter and exit from the driver's side. To further the science fiction appearance of the car, 10 taillights from a 1959 Cadillac were used out back, flanked by a "jet thruster" in the middle which really was the bullet from the nose of a 1951 Ford. The exterior was painted in Roth Metalflake Trippin' See Sic Blue, which looks particularly outstanding in the right light.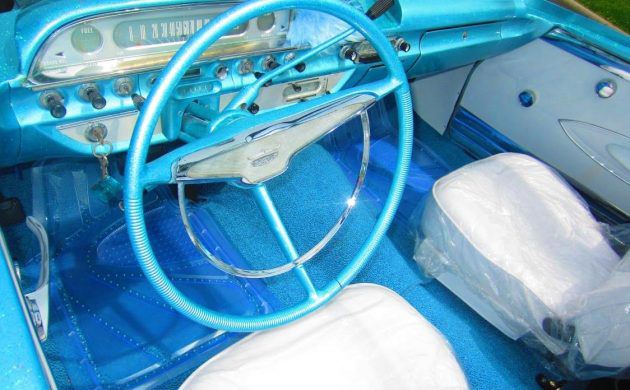 George Jetson's car sat four people (plus Astro), so the Spaceliner has bucket seats for four passengers, as well. The stock dashboard was used but modified slightly to support the jet-like persona of the car. As an additional throwback to the wild show cars that helped inspire this one, the door panels are draped in three-inch baby blue angel hair fur. The car doesn't just sit around and look cool; since the transformation of the original car, 12,000 more miles have been added to the odometer.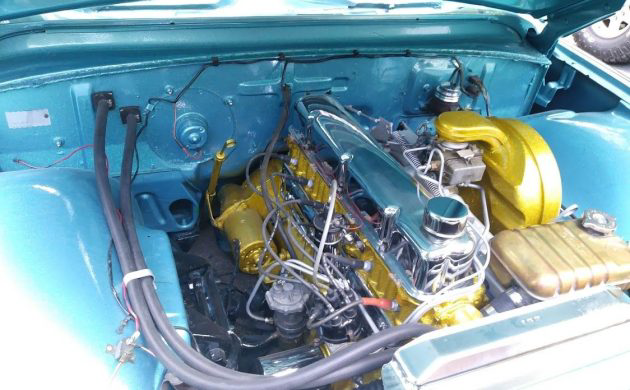 When you look under the hood, the surprises continue. Rather than dropping in a 390 V-8 or some other big block to make it go as fast as it looks, the Spaceliner is largely stock and original there. The 223 cubic -inch inline-six (called the Mileage Maker) that came with the car is still there, paired with the Ford-O-Matic two-speed automatic transmission. Everything under the hood has been detailed, of course, and painted to look the part the whole car plays. We're told the motor provides adequate power and reliability and delivers good fuel economy. To assist in lowering the car, airbags in the rear and cut coil springs in the front are the only deviations from the stock suspension. Stock drum brakes are used to slow this spaceship down. Look out!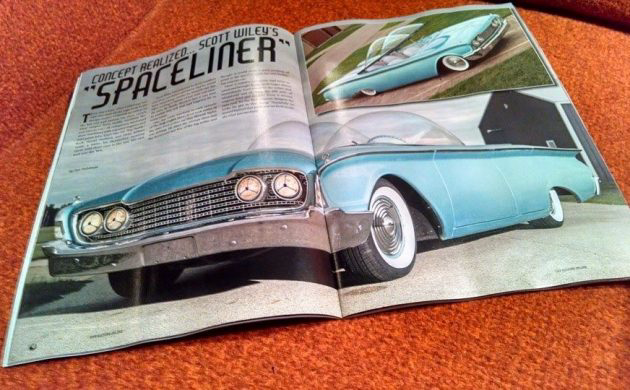 The seller's car has certainly made a name for itself. It's appeared worldwide in the entertainment media, from television, film, magazines, music videos and museums to art galleries, fashion model shoots and – of course – the internet. On YouTube alone, we're told the car has more than 400 million views. It has also won a number of awards.
What should become of this car once it changes hands? A public museum would be a great choice so it can be enjoyed by as many people as possible. It's much a piece of art as it is an automotive engineering marvel. And it runs and drives, so the new owner could hop around town and freak out all the neighbors. I, for one, will be following this sale to conclusion to see how much it goes for.