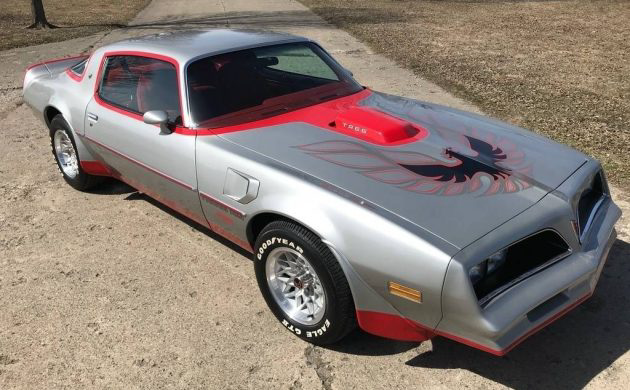 There are plenty of performance classics out there that are distinguished by their subtle good looks. The Pontiac Macho T/A is anything but subtle, but it still looks good. These are a car with an interesting back-story and are a credit to the ingenuity and lateral thinking of two people. Barn Finder Roger referred this beautifully restored example to us, so thank you for that Roger. The Macho T/A is located in Shelby Township, Michigan, and is listed for sale here on Craigslist. The owner has set an asking price of $59,995 for the Pontiac, so let's take a look and see what the next owner will be getting for their money.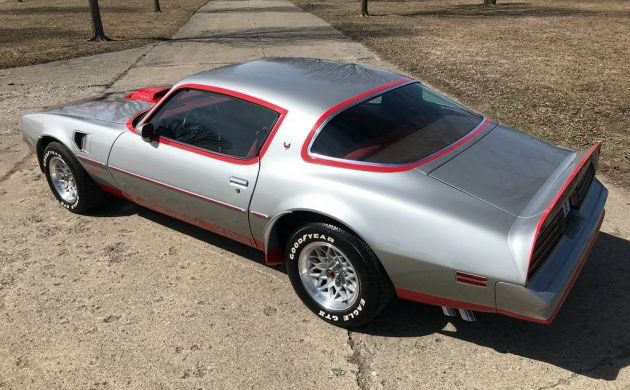 Let's be honest here, by 1978 the Trans Am wasn't a particularly subtle car, and that is not a criticism of the car. It's just that with the iconic Screaming Chicken on the hood, there was never any doubt as to what you were driving. The Macho T/A took this lack of subtlety to a new level. While the Macho T/A was available in a total of around 24 different combinations of paint and interior trim, potential owners who were willing to part with an additional $150 could specify almost any custom combination. The owner states that this T/A is 1-of-1, which would indicate that it was one of those custom orders. As you would expect from a fully restored car, the Platinum paint looks to be flawless, while the panels appear to be straight, with consistent gaps. The red stripes and decals stand out a mile away and set off really nicely against the Platinum. As for the name, those of us who are old enough to remember can testify to the fact that the word "macho" was in common use back in the second half of the 1970s to describe things that were masculine. Even the Village People had a major hit with the song "Macho Man," and the fact that I remember it is probably giving away my age a bit.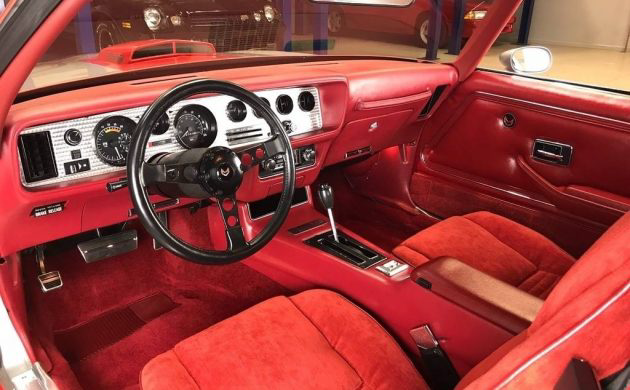 Try to find yourself a new car today with an interior that looks like this. I wish you luck on that mission. That's a lot of red, but it is in keeping with the red highlights on the outside of the car. Once again, the presentation is close to flawless. I always have a real soft spot for that machine-turned dash fascia, and this one is perfect. The original Tic-Toc-Tach is a really cool feature, and the only non-original item is what appears to be an aftermarket radio/cassette player fitted to the dash. However, this is a retro-look unit, and not only does it appear as though the dash hasn't been cut to fit it, but it looks like the original radio is sitting in the trunk if you want to return the car to stock. Optional equipment fitted to this Macho includes power windows and air conditioning.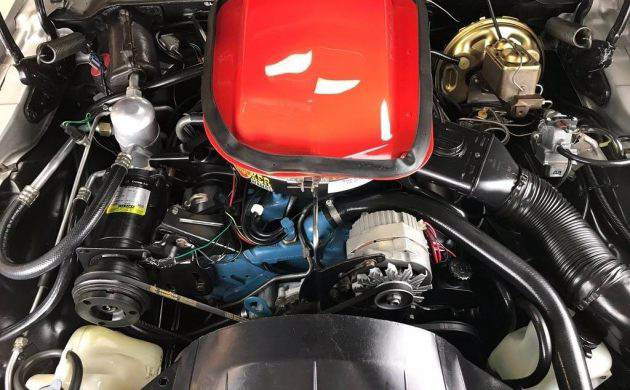 The Macho T/A wasn't just about appearance, but also some useful improvements in performance, and this is where the lateral thinking that I referred to comes into play. In 1977, two brothers, Dennis and Kyle Mecham, were disenchanted with the performance of the standard Trans Ams that were being sold through their family's Pontiac dealership in Arizona. They knew that there had to be more performance that could be extracted from the car that had been hobbled by ever-tightening emission laws, so they decided to employ some basic street rod techniques in a bid to find the lost horsepower. By re-jetting the standard carburetor, changing the distributor curve, opening up the sealed shaker hood, fitting a set of aftermarket Hooker headers and a dual exhaust with a pair of catalytic converters, the performance of the cars was transformed. It isn't clear exactly how much extra horsepower was unleashed, but a Macho T/A could cover the ¼ mile more than a second faster than a standard T/A, with a terminal speed more than 5mph faster to boot. The real problem was those pesky emission laws, and how to get the cars to comply with them. The answer was actually elegantly simple. The brothers formed a company called DKM Mecham Performance and Design. This company purchased the new, standard T/As from the family dealership. They would then complete the performance upgrades, and the cars would be sold back to the dealership to be sold as used cars. Voila, the emission laws were bypassed! The first of the Macho T/As were produced in 1977, and this toe-in-the-water experiment resulted in 26 cars being built, which sold like hotcakes. In 1978, DKM built 204 cars, and once again, these cars sold extremely quickly. This Macho is original, featuring the DKM-tuned 400ci V8 and automatic transmission. It has only had two owners and comes with a fair catalog of paperwork, including the PHS documentation.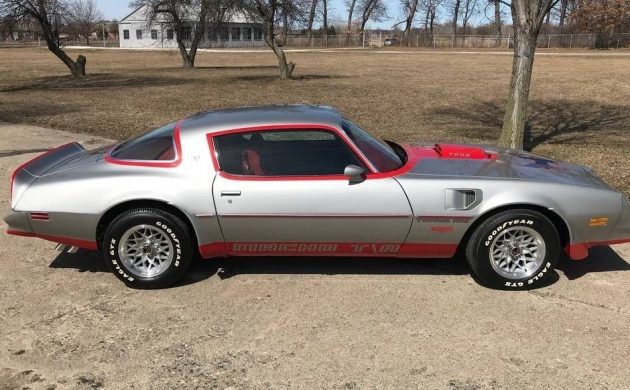 I know that there will be more than one reader who will be looking at the asking price for this Macho T/A and questioning whether it is worth the money, so I'll try to put into some perspective. While the Macho T/A was a hit when new, it was a car that fell out of favor during the 1980s. As a result, many of the 204 cars were driven into the ground and ended their lives in scrap-yards. They became something of a rediscovered classic in the late 1990s, and the fact that so many of the original cars had disappeared made those that remained fairly rare. In 2017, five of these cars went to auction at Mecum's, and the sale prices ranged between $32,000 and $49,000. The most expensive of these was in immaculate condition, and bidding on it was very strong. This one appears to be flawless, and that suggests that the asking price probably isn't that far off the mark.
Have something to sell? List it here on Barn Finds!