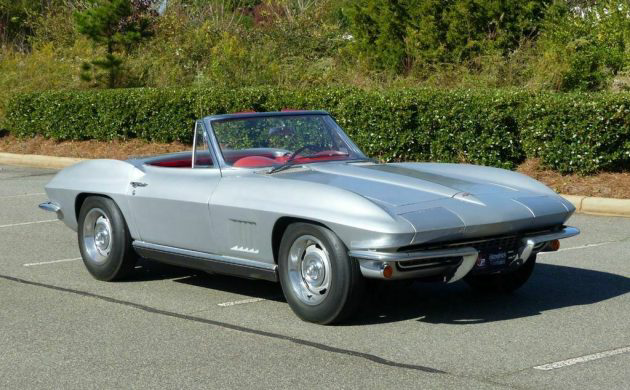 We've seen some fantastic Corvettes come across our desks in recent times here at Barn Finds, but occasionally one will appear that is a cut above the rest. That is where this 1967 Corvette Convertible fits into the equation. This isn't any old survivor because its originality has allowed it to be selected for the highly-coveted Bloomington Gold Special Collection. That is only one string to its bow because this is a COPO Corvette that will attract plenty of comments from the more knowledgeable enthusiasts. It is located in Charlotte, North Carolina, and is being offered for sale here on eBay. The BIN has been set at $76,000 for this desirable classic.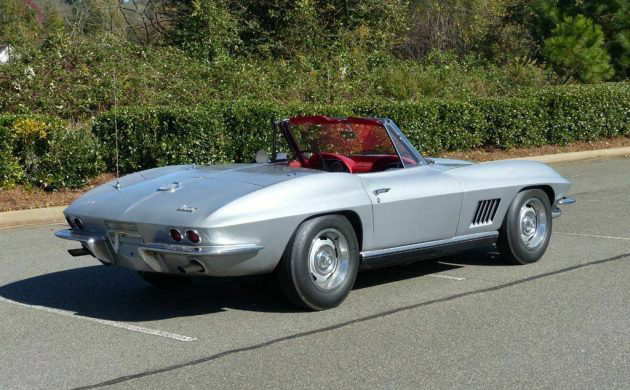 When you mention the term "COPO" to a classic car enthusiast, their pulse will usually begin to race. That term will bring to mind the mighty 1969 Camaros ZL-1. However, COPO was used by dealers for other purposes. It allowed them to customize cars with various options and combinations that were unavailable to the average buyer. The reality was that it represented a backdoor way for canny dealers to provide a bespoke program to their customers. In this Corvette's case, it wears a color and trim combination that you won't see very often. The car is finished in Silver Pearl, and it is worth noting that it isn't immaculate. This Chevy is an original survivor that wears a few chips and marks on the paint. In a similar vein, the trim and chrome aren't pristine, with some marks and signs of pitting. However, there is no questioning its originality. Bloomington Gold Awards aren't handed out lightly, and this car is not only the recipient of this coveted honor but is one of the rare cars that was selected for the 2006 Bloomington Gold Special Collection XII. If that isn't enough for prospective buyers, you can add an NCRS Top Flight Award to the portfolio. The documentation and certificates for these will be included in the sale. The buyer will also inherit the original Owner's Manual, Protect-O-Plate, Tank Sticker, Window Sticker, and the NCRS Validation Certificate. That will give the new owner bragging rights that they can back with hard evidence.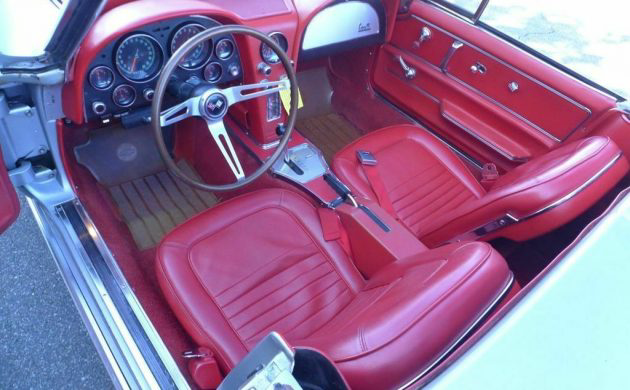 When we look inside the Corvette, we come to the crux of what makes this car so unique. If you walked into your local Chevrolet dealership in 1967 with the money to buy a Corvette, you had ten standard paint colors from which to choose. If you ticked the box beside Silver Pearl on the Order Form, your interior trim choices were Black or Teal Blue. The original owner must not have found either option appealing because this vehicle features its original Red vinyl interior trim. This looks quite impressive for a survivor. There is some stretching of the upholstery on the driver's seat, and I suspect that the foam is also collapsing. Beyond that, it is unmolested and extremely clean. A wonderful touch is the original information card attached in its rightful place on the AM/FM radio. Once again, there are some obvious signs of aging, including pitting on some of the plated items. However, the buyer could take this classic to a show, or a Cars & Coffee with their head held high.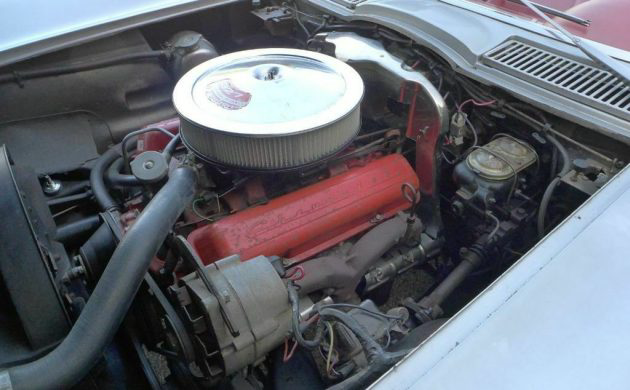 The Corvette's engine bay presentation is all that you might expect on a survivor-grade car. Everything is there, everything is right, but it doesn't look like it just rolled off the production line. What we find is the standard 327ci V8, which should be good for 300hp. This V8 is backed by a 2-speed Powerglide transmission and a 3.36 Posi rear end, while the addition of power steering suggests that this owner wanted to buy into the Corvette lifestyle in a relaxed fashion. It might not have been the most mindblowing combination available in 1967, but it would still have been capable of covering the ¼ mile in 15.6 seconds. Surprisingly, the owner doesn't provide any information on how well this Corvette runs or drives. I find this to be a curious omission on a classic of this caliber. If I were seriously interested in the Corvette, these are the sorts of questions that I would be asking the owner.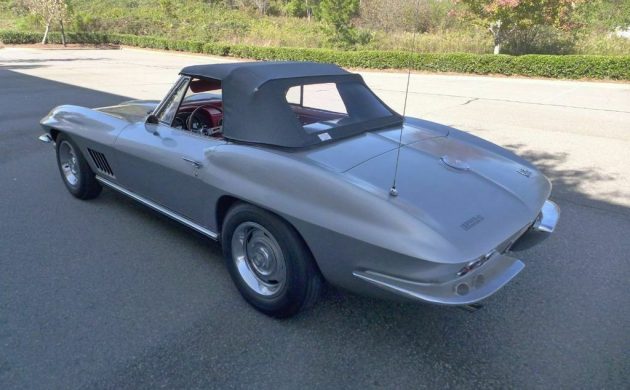 This 1967 COPO Corvette is a fantastic survivor with the documentation to back its claims. The color and trim combination is striking, and it made me wonder how many cars were built in this configuration. Such information is not that easy to find, but a couple of sources indicate that this is 1-of-5 built during 1967 with the Silver Pearl/Red vinyl combination. That makes it a rarity and one that true Corvette aficionados will appreciate. It isn't a cheap car, but it isn't every day that a Corvette like this comes onto the market. Given its claims to fame, is this a classic that you might be interested in pursuing further? If you do, I could fully understand that.