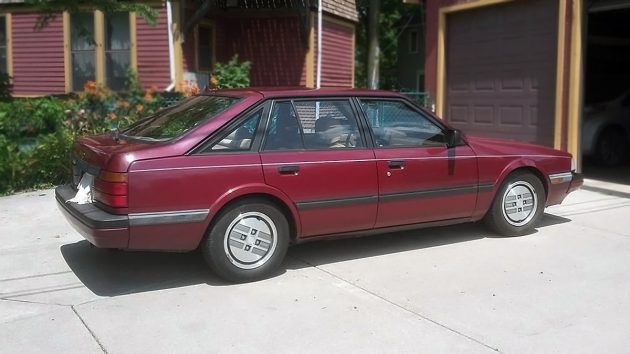 The Mazda Capella was known as the 626 in markets outside of Japan and these sleek third-generation cars, manufactured from late-1982 to 1987, were quite a change from the somewhat-frumpy-but-lovable second-generation cars. This great-looking 1984 Mazda 626 LX is in Minneapolis, Minnesota and it's on Craigslist with an enticing asking price of just $1,500. This is a lot (LOT!) of car for the price of brake job on your daily driver. If/when the link goes away, the photos can be seen here.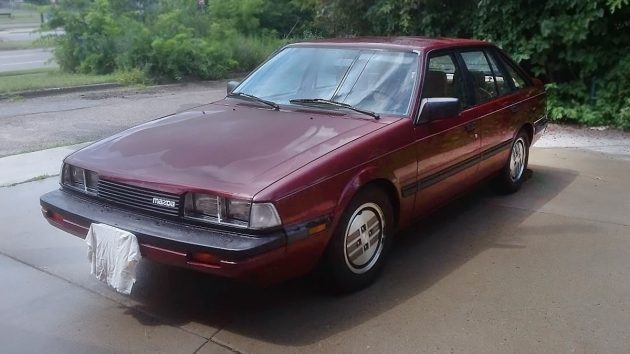 This car, being an LX trim level, has the rare covered-license-plate option! No, the LX has a lot of nice features but that's the ol' hide-the-plate-so-scammers-don't-somehow-get-my-information-and-steal-me-blind trick, in my best Don Adams / Maxwell Smart voice. It's much better than the usually hard to master finger-over-the-plate photos that we've all seen too many times. The seller says that this car has some clear coat issues on the hood or, actually, they say that it's "sunburned", which you can see in the photo above. This car looks so good that I almost jumped out of my chair and went to see it in person when I saw this ad. Then they mentioned, in a reply to my inquiry, that they "have recently discovered that it has a small gas leak in the line below the driver's door. There are a couple other drips that I have not had time to check out. I think if a person put in a little time, he could have a very nice classic car." I agree, if those "small" leaks can be fixed fairly easily, this is a heck of a buy and a h___ of a car!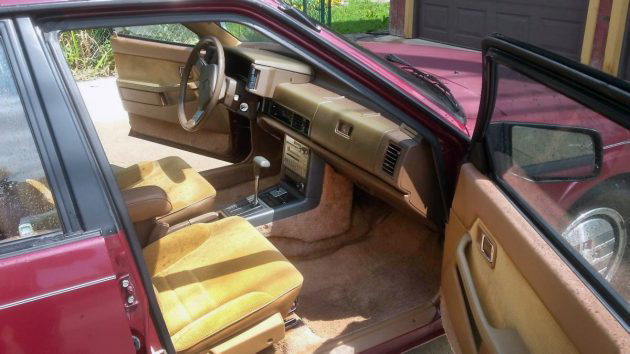 This gorgeous color combo really looks great and being an LX, it's loaded with power windows, locks, mirrors, and a premium sound system, among other things. The interior really looks fantastic in this car but, as usual, the photos are lacking in quantity if not necessarily in quality. And, being a luxury-minded car, the automatic was the transmission of choice, although a 5-speed would have made this sweet Mazda live up to its zoom-zoom moniker, even with a mere 84 hp on tap from its 2.0L inline-four. The seller mentions that the rear struts need to be replaced ASAP and those aren't expensive, although the labor will be probably half of the asking price of this car. So, take that into consideration. And, there will be other things to do as there always are.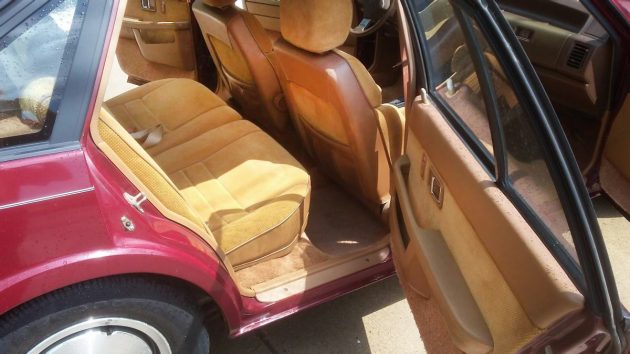 This is where Popes and kings the world over have ridden in style. Well, probably not, and there is only one Pope at a time anyway. But, I'm inclined to trust this seller based on this one photo alone. And, the fact that they disclosed those little leaks to me when I asked about this car. A lot of (most?) sellers will pull the front seats up all the way when showing back seat photos which gives the impression of Wilt-the-stilt-like legroom. This is most likely the actual leg room back there with the front seats pushed back all the way. And, like the front, it looks perfect in the back. There are no engine, trunk, or underside photos, but for anyone seriously interested, I can check this one out in person and post photos or get them to you. I really like this car. Jeff wrote about the very nice two-door 1983 626 a few days ago and I fantasized about getting both of them. Have any of you owned a third-generation Mazda 626? What do you think about this one for $1,500.