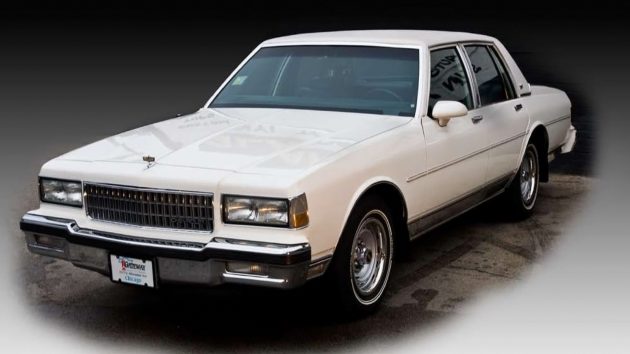 If you're like me, you're probably wishing that you had a way to spend even more money than you do now. House expenses, family obligations, vehicle maintenance, and just living expenses in general don't quite offer enough ways to spend all of the money that you have left over at the end of every month… Well, you're in luck, you can just peel off 3,000 $100 bills from that roll of bills that you have stashed away in your sock drawer and pick up this 1989 Chevrolet Caprice! This car is listed on eBay with a buy it now price of $300,000 – or you can make an offer. I say, or you can make an offer.. And, that's cheap, they were asking $1,500,000 a couple of days ago! It's located in Niles, Illinois, future home of the world-famous 1989 Chevy Caprice Museum.. Thanks to Streamliner for sending in this find!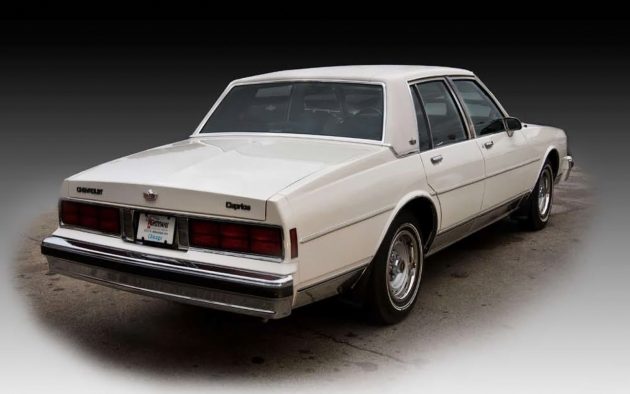 NADA lists the highest value of a 1989 Chevy Caprice as being $2,675, and that's for a Caprice Classic, this is a regular ol' Caprice. Or is it?! (raised eyebrow, eyes shifting back and forth..).. In one of the most confusing ads that I've ever read, the owner sort of tells us that this is one special car, I think. As I wrote this a couple of days ago, they were asking $1,500,000, or the price of a 4-bedroom, 3-bath house on Searidge St. in Malibu, California. In doing a search for this car a couple of days ago, I ran across an even more eye-opening story: he was asking $10,000,000 for it a few months ago, and as I mentioned, they were asking $1,500,000 a few days ago! That $10,000,000 would get you a much nicer house on the beach in Malibu and a Lear Jet to get you there and back. Yeah, but what about this Caprice?
That's what I'm wondering: what about this Caprice? Apparently, this 411-mile car has 102 options, but is that an oil light on in the odometer photo. I'm wondering what this car would have looked like without 102 options, and yet it still doesn't have power windows? It has more numbers and SEO logos embroidered on the seats than a tv reality show star has arm tattoos. This is an SEO car, which stands for Special Equipment Options, according to this walk-through YouTube video of the car by the seller, or is that the former owner? Did he buy it for $10,000,000 and is now listing it for $300,000 after trying it for a few days at $1,500,000? That sounds like one of my business deals. I have no clue why this car would be worth any more than a regular Caprice, but one of you GM gurus will let us know why this one is worth 112 times more than a regular one is. Is it the wrinkled carpet? Was that one of the options? "Honey, check box 45J, that's the Shar Pei carpet option, that brings us up to 94 – just 8 more to go!"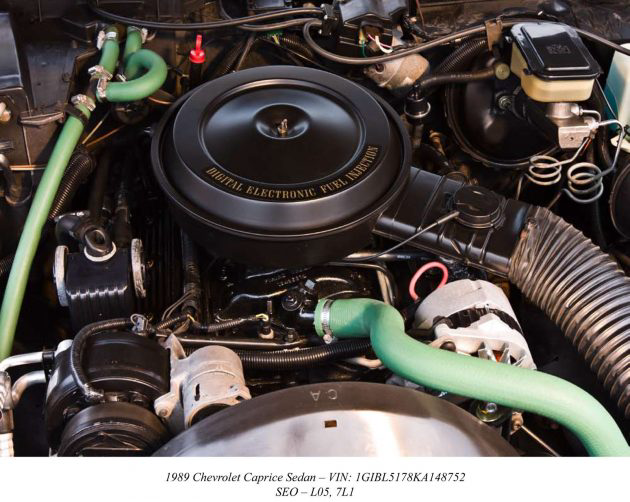 In 1989, Chevrolet added throttle-body fuel-injection for its V8 engine for the first time. So that isn't an option here, were the green hoses an option? WHAT WERE THE 102 OPTIONS???!  Come on! Actually, they list the options on a sticker on the underside of the trunk lid, if anyone cares to look up each and every one of them to confirm. I ran across that website that talks about this car being for sale for $10,000,000 a few months ago and it mentions that this is a "Caprice COPO SEO. The owner spent 36,000 hours and 22 years (TWENTY TWO) years on the special project. It features a Z28 engine with a Ram Air cleaner housing, aircon, OEM engine oil and transmission oil coolers, power steering, F41 suspension and a 342 Positraction rear end. For the law fans there's armored seats to go with the "ultra deluxe" interior that has official logos and special embroidery splashed around."
Huh? Now I'm really confused. But, to make it worse, here's a piece from the eBay ad, you'd better take a seat for this: "(***FOR SALE***) (**A: 1989 9C1 S.D. SEVIRED DUTY***) (***RPO,COPO,SEO: HAND BUILT 1OF1 PROTOTYPE***) (***EXPERTIMENTAL GROUP***) (***DEFINITION TECHNOLOGY***) (***9C1 S.D, SEVIRE DUTY CHEVROLET CAPRICE – WITH OVER 100 RPO,COPO,SEO, PROTOTYPE OPTIONS***)… (***WE ALSO HAVE: FACTORY PROTOTYPE LOGO PHOTOS: SOME NEVER SEEN OR USED***)…" and on and on and on. Not a clue. Not one clue what any of that means. All I know is that someone was asking $10-million, and then they were asking $1.5-million, and now they're asking $300,000 for a Caprice with 102 options but without power windows. Have any of you seen this car before, and if so, or even if not, what do you make of this thing?! Is it a $10,000,000 car? A $1,500,000 car? A $300,000 car? A $2,675 car?