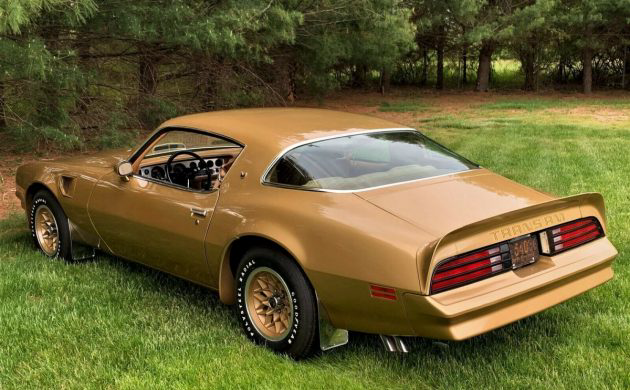 For Trans Am enthusiasts, this 1978 model would tick many of the "must-have" boxes on their own personal wish list. It is a completely original and unmolested survivor, it comes loaded with a heap of optional extras, it has 17,000 genuine miles on the clock, and it comes with an enormous catalog of documentation that dates right back to the original Order Form. It might not be a once-in-a-lifetime vehicle, but when all of these factors are combined, it does make it a relative rarity. The Trans Am is located in Jackson, New Jersey, and has been listed for sale here on eBay. The vehicle has been listed with a BIN price, and this has been set at $57,777, with the option available to make an offer. I'll bet that got your attention!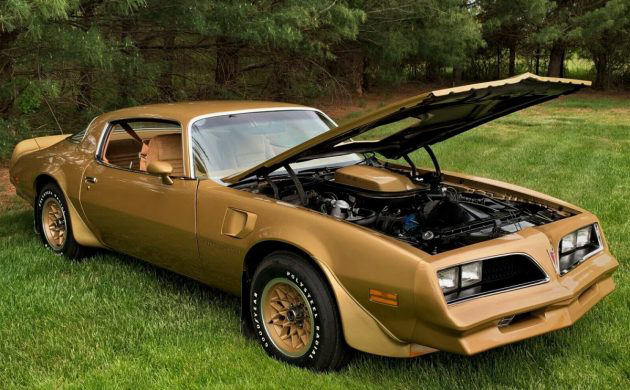 It is hard to know where to start with the Solar Gold Trans Am because it really does present exceptionally well. The paint is said to be original, and it still holds a strong and consistent shine across the entire vehicle. The owner supplies a good selection of photos, and there are no signs of any dings, dents, or blemishes. Rust also doesn't appear to be a problem, with nothing visible externally. One of the more interesting aspects of this car is the fact that the original owner chose to delete the "Screaming Chicken" off the hood when he ordered the car. This isn't the first time that I have seen this, but it is the exception rather than the rule with Trans Ams. The beautiful alloy wheels look to be about as close to perfect as the rest of the Pontiac, while the Soft Ray tinted glass appears to be flawless.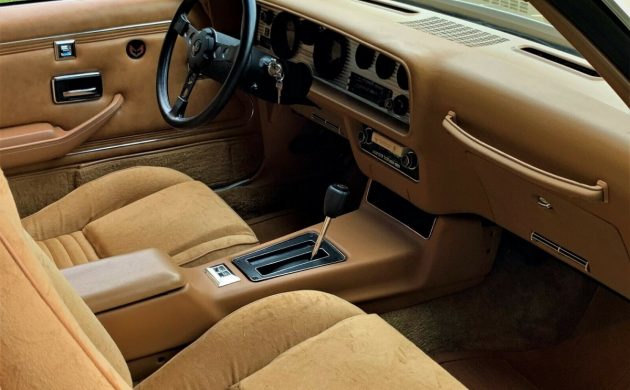 The interior of the Trans Am looks just as nice as the exterior, but I am sure that the choice of seat upholstery is going to divide some of our readers. Velour was definitely a cloth of the 1970s and 1980s, and while it generally tended to wear relatively well, it did have its weaknesses. I have seen upholstery of similar colors to this ruined by somebody sitting in the car whilst wearing wet blue jeans. In those cases, the dye from the jeans "bled" into the cloth, staining it permanently. I know plenty of people who have fitted aftermarket slip-on covers to their seats to prevent this from happening. The upholstery in this car hasn't suffered that fate, and apart from some minor wrinkling on the outer edge of the driver's seat, it looks like the Trans Am has just driven off the showroom floor. I always love the machine-turned dash, while the entire interior has that "as-new" appearance about it. The original owner didn't mess about when he filled in the order sheet. This is a Pontiac that comes equipped with air conditioning, power windows, power locks, a rear defroster, a tilt wheel, cruise control, and an AM/FM radio/8-track player.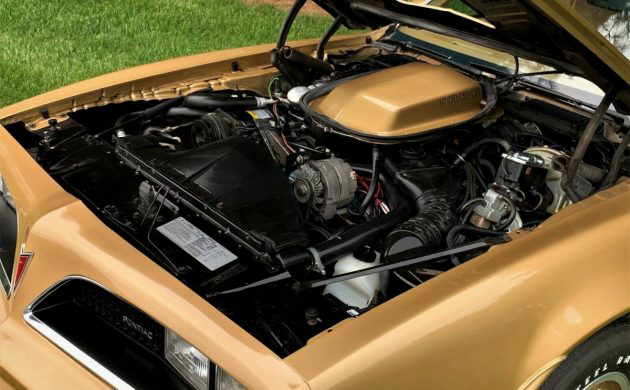 Under the hood of the Pontiac, you will find a 400ci V8, a 3-speed automatic transmission, power steering, and power front disc brakes. This is a numbers-matching classic, and the owner states that the engine has never been out of the vehicle. Personally, I don't find that fact to be particularly surprising on a car with a genuine 17,000 miles on the clock, but the owner obviously felt that this was significant. The presentation of the engine bay is about as tidy as you could ever hope to find on a Trans Am of this age, and you get the impression that dust would actually be scared to venture in there. One thing that really surprises me and this isn't the first time that I've seen this, is that the owner provides us with a really thorough description of the car, but then fails to tell us how well it runs or drives. I always find that to be a curious omission. I referred to documentation earlier, and this Trans Am has some of the best that I have seen. As well as complete service records, you get the Window Sticker, Build Sheet, all of the original Order Forms, the Dealer Invoice, the original Title, license plate, and even the check that was used to pay the dealer for the Trans Am back in 1978. That's not a bad collection to have if you are viewing the Pontiac from an investment perspective.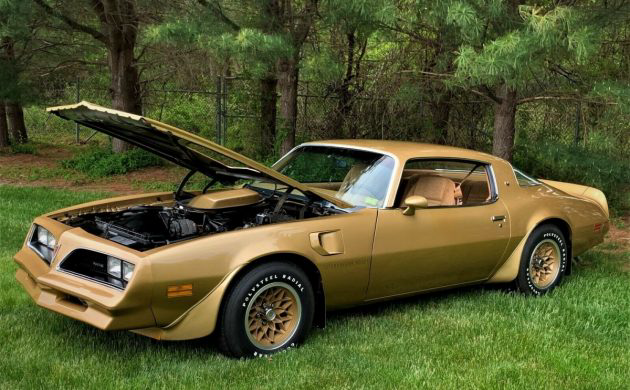 This 1978 Pontiac Trans Am is something a bit special, but I would be willing to bet that more than a few of you drew a pretty deep breath when you saw the asking price. I'm not going to even begin to try to convince you that this is a cheap car, because that would be insulting your intelligence. The big question has to be whether that price is justified in this case. What I will say is that if you should choose to, then you can go out right now and buy plenty of nice 1978 Trans Ams for around half the asking price of this one. Of course, those cars aren't going to come with the level of documentation that is included with this car, and none of them will have an odometer that reads as low as this one. Factor in the optional extras and the price begins to make some sense. Whether that will allow the owner to achieve his BIN price is something that I'm not sure of, but I wouldn't be surprised if the owner finds himself fielding offers of around $50,000. It will then be interesting to see whether he would be willing to accept that sort of figure. Would you?
Have something to sell? List it here on Barn Finds!