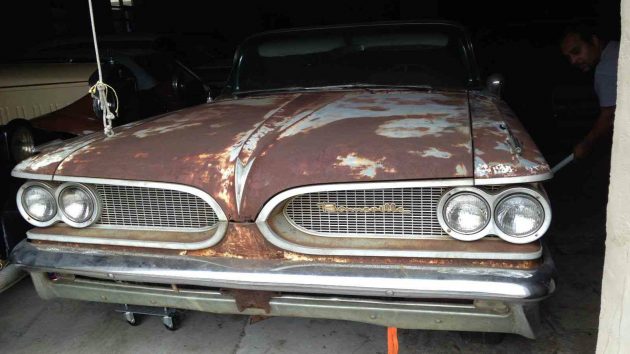 One of the neat things about unearthing a barn, shed or storage find is that first time the car comes into the light of day, or at least the first time for a while. It looks like we have some pictures of that occasion in the eBay listing for this 1959 Pontiac Bonneville. The seller is putting up some of their projects for sale (there's a 1949 Chrysler and a 1977 AMC Pacer going up for auction as well here) at no reserve. The cars are located in DeLand, Florida. Right now the bidding for this Bonneville is starting at $1,959.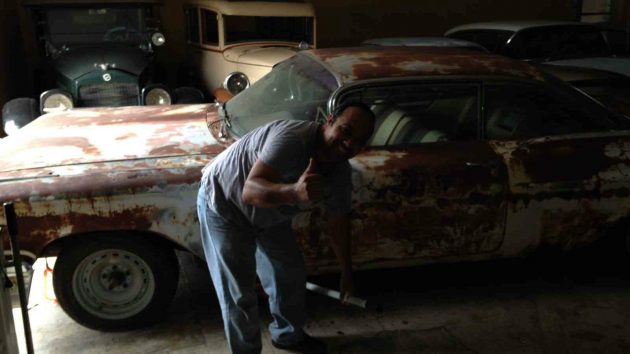 The seller (not sure if we're looking at him or not) tells us that the car is all original except for the wheels. The instrument cluster has been removed but comes with the car, unlike the fender skirt that is visible in one picture but not included–presumably the seller is keeping it for the 1959 Bonneville convertible that they have purchased to replace this project.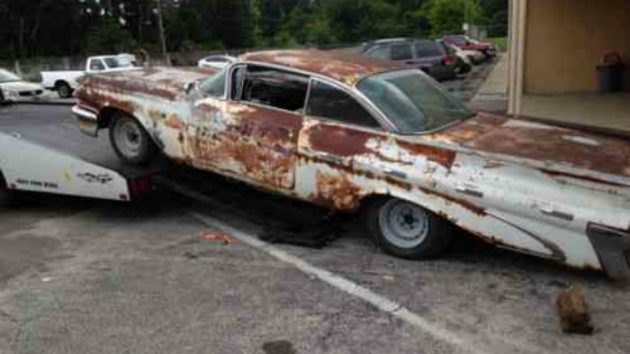 The car actually looks surprisingly solid, and is one of 27,769 two door Bonneville hardtops produced in 1959. The term "wide-track" was coined for this model year, and here's what Popular Science wrote about the 1959 Pontiacs: "In looks and behavior, the Pontiac, in a manner of speaking has moved into a better neighborhood, it's no longer merely an older, gawky brother of the Chevrolet."
This is said to be the original 389 cubic inch V8 engine, and look at that period air conditioning compressor! I wonder if it can be made to work again? The original "hydromatic" automatic transmission is also still in place.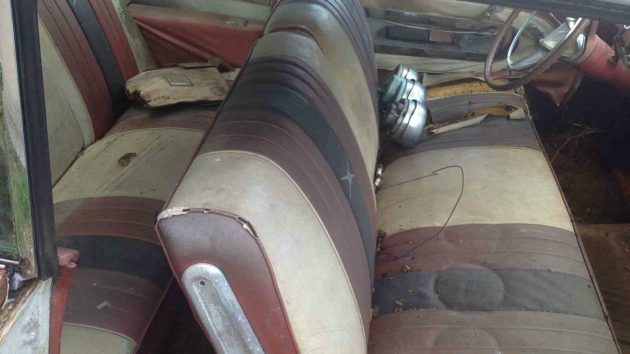 Can you imagine seeing upholstery like this in a modern car? Wow–this must have been totally spectacular at the time! Unfortunately, I'm sure it will all need to be replaced, but you're going to be doing that eventually anyway. Me, I'd love to get it running as-is for the moment; I even like the late model GM truck steel wheels, to be honest. For some reason I always think old-timey NASCAR when I see one of these 1959s–do you think it would look nice in your garage?