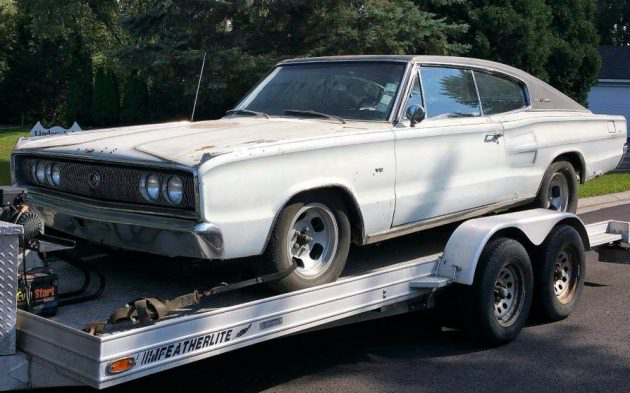 The rake and five-slot mags on this first-generation Dodge Charger dial the time machine back to the mid '70s to early '80s, where it would have looked menacing and quite at home in any high school parking lot. Dodge built this body, a fast-back Coronet, to answer Dodge dealers' request for a specialty vehicle similar to sister company Plymouth's fastback Barracuda. Thanks to Pat L. who spotted this Round Lake, Wisconsin muscle car seeking a new owner here on craigslist. For $8,750 it could be yours.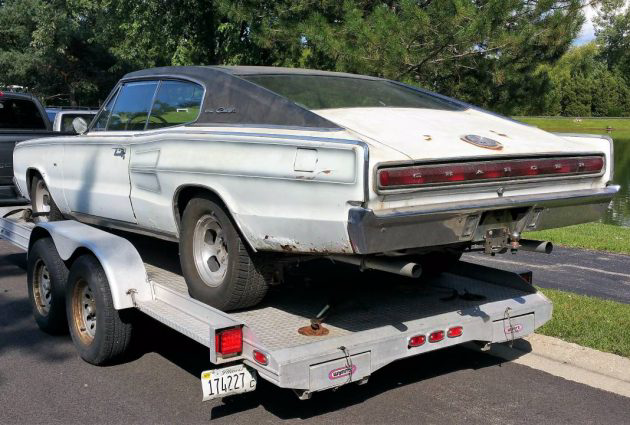 To understand the birth and evolution of this unique Dodge, please read Dodge Chief Engineer Burt Bouwkamp's 2004 account of Charger history on AllPar.com. This variation of the "B" body, which underpinned a host of Chrysler muscle cars, debuted a year earlier as a 1966 model, and shared a front clip with the Coronet sedan, though only the Charger got the cool hidden headlights (shown in the exposed position on this feature car). I built a '66 Coronet for the Silver State Classic Challenge, and coveted the Charger's cool hidden headlights.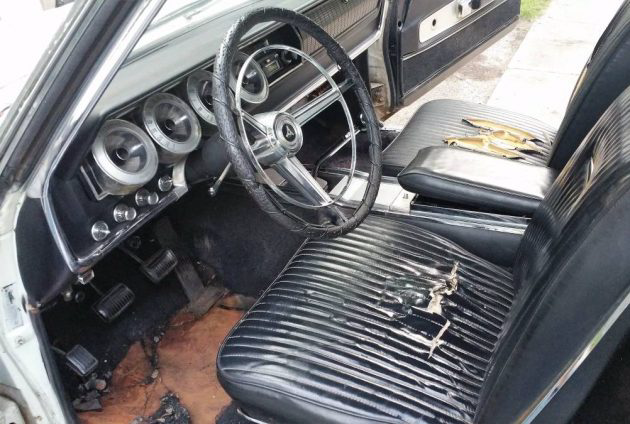 Various MoPars offered "White Hat Special" packages that included a vinyl top (not always white) and other features as described in this vintage Coronet advertisement. While the more pedestrian Coronet had the typical single-hood dashboard and two-foot-wide speedometer the Charger featured sporty round instrument pods. Chargers also had front and rear buckets and a console that extended to the rear cargo area. This 1967 console gained a rear floor cutout for easier access to both seats vs. the '66 console which rear seat passengers had to step over to reach the far seat. The top trim line Coronet 500 also came with the rear console.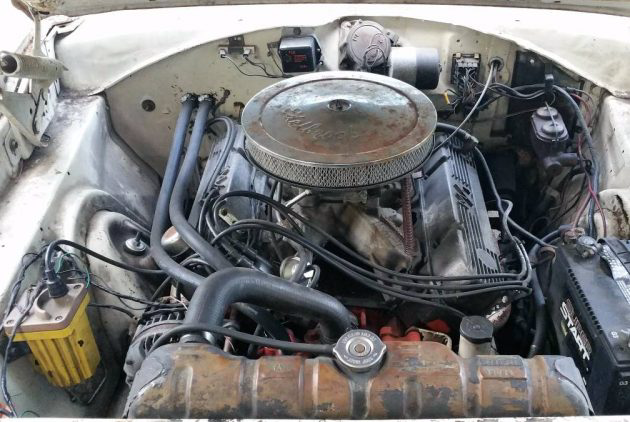 This car's "V8" fender badges indicate it left the factory with a 318, the first year of the LA block. The Polysphere or "wide block" 318 ended production in '66. The seller claims the car is a "Factory 383 2 bbl 4 speed. One of 117 built," but no VIN or body tag confirms this claim. The current engine is described as a "1971 383 Hi-po motor… with the factory correct A833 4 speed and 3.91 sure grip 8.75 rear." You don't have to be a Mopar expert to know that this combination will get you to the church on time. The seller has driven the car "around the block" which is always better than "ran when parked." This picture also shows power steering and manual brakes, and an Accel Super Coil — a typical mod from an era when the driver probably splashed on a generous quantity of Drakar Noir. This fastback muscle car looks like a good starting point. Is it worth nearly $9,000… or more?