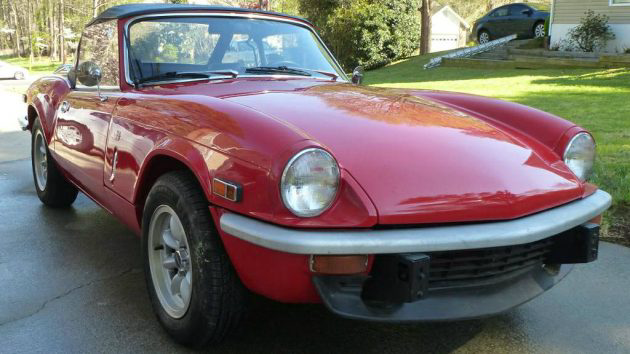 I spent the majority of my adult life driving Triumphs as daily drivers–most of them being Spitfires–but I can tell you that it's a rare Spitfire than can both look this good and be suitable for daily driving! This one is listed for sale here on craigslist and is located in Durham, NC. It's for sale for an asking price of $4,000. Not only that, I've seen and driven this car, and it really is that nice: I wish I needed another Spitfire (there are 4 in the family already)!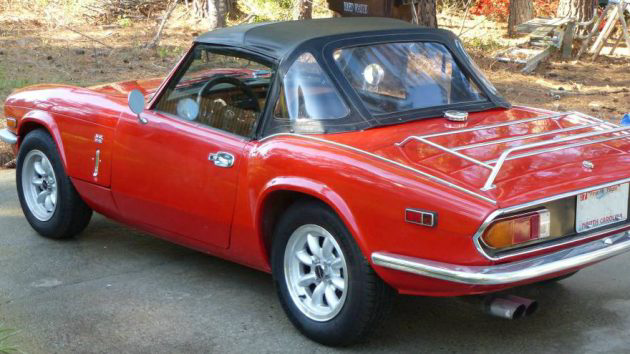 The seller has a very lengthy description and goes into good detail about the car in the ad. In a nutshell, one floorboard has been replaced and the car has a 10′ spray job in Corvette Monza Red. Sure looks nice to me, and the Panasport wheels really set the paint off nicely. The top looks great, too. It really was nice driving a car that really didn't have any vices. Ok, no vices apart from the usual Spitfire ones (yes, it's small). This is one case where I approve of the luggage rack, especially if you really are going to use the car as a daily driver! By the way, the black rear panel IS correct for some 1970's Spitfires, although it's not common.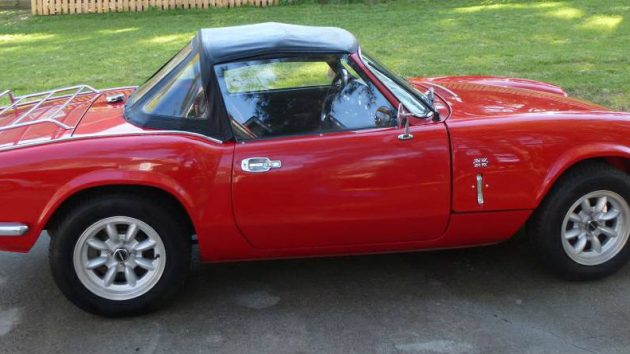 I liked the enamel Union Jacks applied over the hood latches; they aren't original but look great.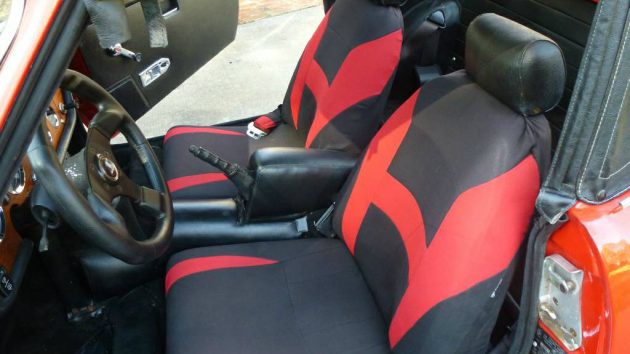 I can't say I'm a huge fan of the seat covers, but the seller tells us the original seats are underneath and that the car has a custom teak (!) dash. There's already been sound deadening installed on the floor, which is a must if you are going to be driving a Spitfire for long with the top up. But I'll be honest, it's the under hood area that really surprised me.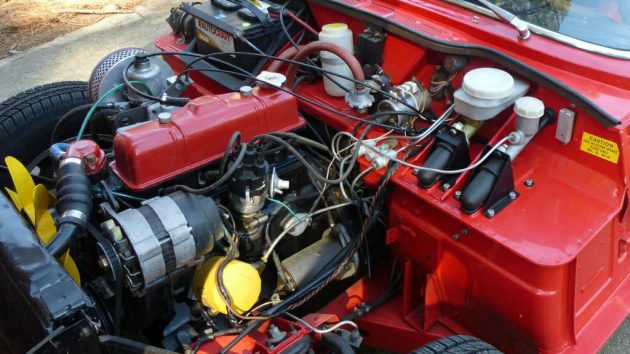 Holy cow, look at how nice this engine is! And it runs that nicely as well. Plus there's a long list of new parts including brakes, ball joints, suspension, and the engine, a later 1500 engine, only has 3,000 miles on a rebuild. The owner has also fitted an SU carburetor in place of the original Stromberg. There's also a nice looking header, an oil cooler, relays for the headlights and a truly sanitary look to the whole car. Honestly, this is one car that is more impressive in person than in pictures. If I'm not careful, I'll end up going back with a check. So go get it instead!