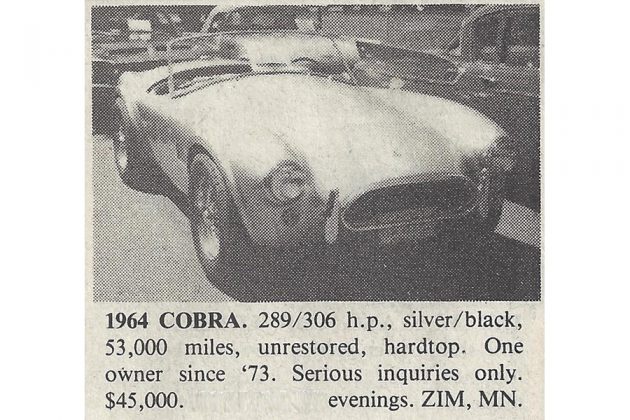 Here is yet another installment from my recently rediscovered 1986 "Deals on Wheels" magazine: this is the Sporty Edition. Maybe this first one should be in the Kleenex edition, wow. Have any of you heard of a Cobra? (hee hee).. This car is by far the most painful one in the Deals on Wheels series so far, at least monetarily. This two-owner, original 1964 Cobra would be worth around $1,000,000 today, give or take a hundred grand or so. $45,000 in 1986 is around $100,000 today so this was not an inexpensive car back then, but man, what an investment that $45,000 would have been!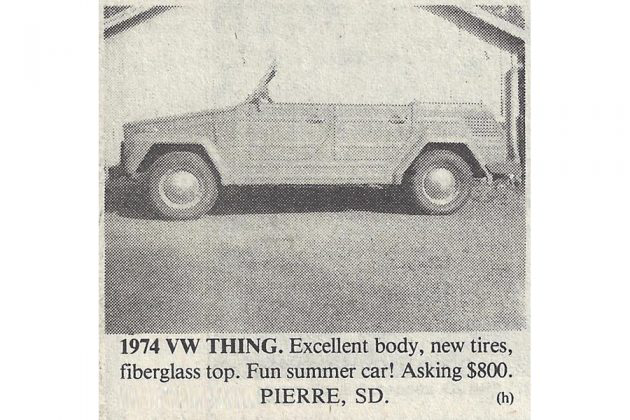 From $45,000 to $800! This 1974 Volkswagen Thing looks and sounds like a winner and $800 would be a no-brainer, even back in 1986. That $800 in 1986 would be $1,787 in 2017, who here wouldn't crawl over broken glass to have this Thing for $1,800?! I know I would. Hagerty lists the value of this vehicle in #4 "fair" condition as being $10,400 and in #2 "excellent" condition as being $23,800! Yeah, that $800 was a great buy!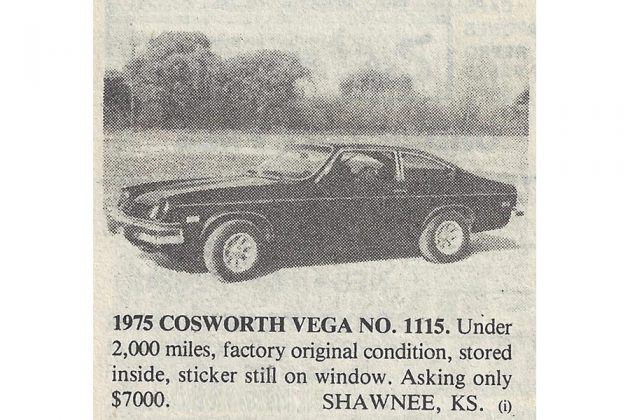 $7,000 for a Chevy Cosworth Vega is right around the middle of the expected range of pricing today. We've seen quite a few of these roll through Barn Finds in the last couple of years. $7,000 in 1986 would be $15,560 in today's dollars. That would be on the high side of its current value so in this case this may not have been the best investment if a person were just going to store it for 30 years instead of driving it. By the way, life is too short just to store vehicles in expectation of making a killer profit in a decade or two. Who knows if any of us will be around by then, let's enjoy our rides while we can!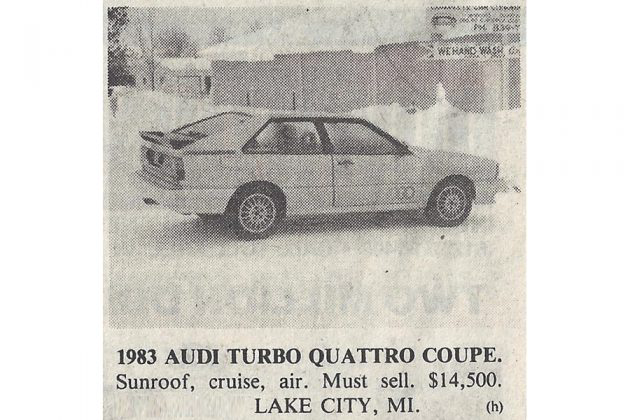 This is a personal favorite of mine, and a car that I will probably never own unless I win the lottery. But, maybe that would be for a later UR-Quattro from 1985 on when they were upgraded. This 1983 Quattro would have sold for around $35,000 ($84,340 in 2017 dollars) a mere three years prior to this 1986 ad in Deals on Wheels magazine. Now that's a drop in value! $14,500 in 1986 would equate to around $32,230 in 2017 dollars. Hagerty lists a value for this car from $13,800 in fair condition to $40,400 in excellent condition so this value is probably right on the money. Later cars can be much more than that, sometimes several times that, but this 1983 would work nicely for me.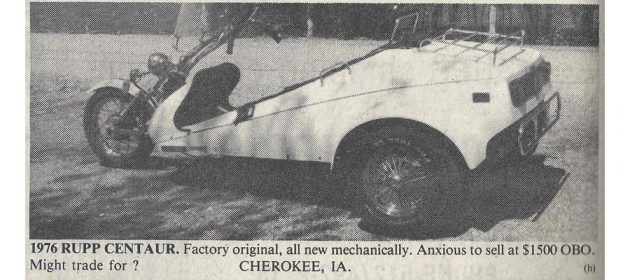 Here's a somewhat sporty ride, a 1976 Rupp Centaur! This would sure be an eye-opener at any car, motorcycle, or even snowmobile show. Yes, it's that Rupp, the famous snowmobile maker. $1,500 in 1986 would be $3,334 in 2017 dollars making this one a good buy in 1986. A perfect example sold at an auction in the fall of 2016 for around $7,500 so they aren't ridiculously expensive today. They had a 340 cc air-cooled Kohler snowmobile motor so they were known for having some cooling issues, but it's hard to not at least look cool when you're on this thing.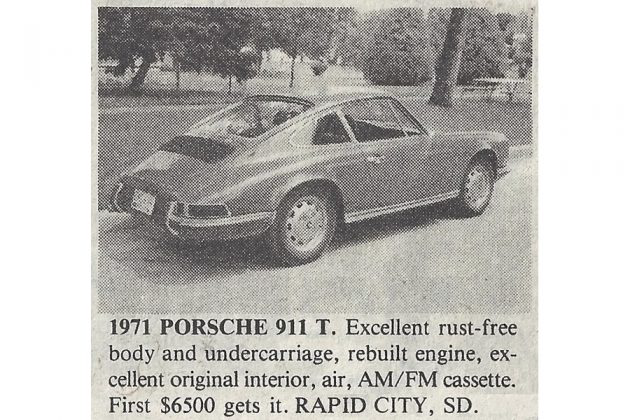 This 1971 Porsche 911 T is another painful one, not on the same scale that the Cobra was, but still painful. $6,500?! SIXTY-FIVE HUNDRED DOLLARS?! Ugh. Just as a reference, I paid $2,200 for my first cell phone (Radio Shack CT-300) in February of 1987, so for another $4,000 I could have gotten this car. Sigh, add that to the already too long do-over list. $6,500 in 1986 equates to around $14,450 today. Even without the current Porsche bubble this would have been a screaming bargain! The 911 T was the base model and it had the lowest power, sort of like a slightly-upgraded 912, but still, $14,450! Hagerty lists a '71 911 T as having a value of between $31,800 in #4 fair condition to $76,000 in #2 excellent condition. It's every car-flipper's dream to find a car like this for less than half price. Well, this is it for the latest Deals on Wheels 1986 edition! Do you have any painful should-have-kept-it-or-should-have-bought-it stories from your past?