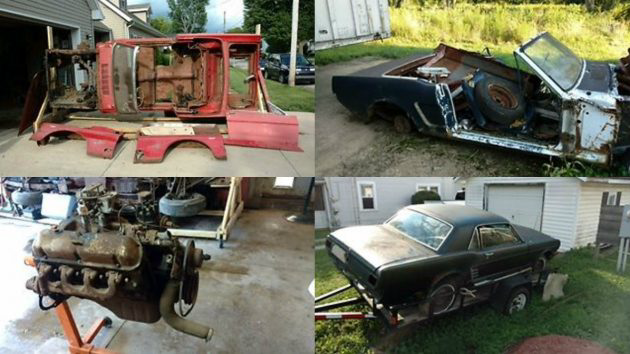 A realistic seller is selling these three early Mustang projects. Why do I call them realistic? Because all three cars are listed in the same auction here on eBay and the listing is starting at $100 with no reserve. Yes, you can own three classic Mustangs. Or at least parts of Mustangs. Or things that used to resemble Mustangs–oh heck, you know what I mean! Whatever you want to call them, they are located in Albany, Indiana.
I've been looking at car ads for about 50 years now. I don't ever remember seeing one pictures like this, sitting on it's side and very much in "insert tab A into slot B" mode. Actually, it looks like you will have to cut out some more rust first. This one is said to be a 1965 convertible, originally with a red exterior and a white interior. It comes with a 289 V8 (2 barrel) engine and a C4 automatic transmission that original to car. We're told that the car will need floor pans, rails and torque boxes, and also that the top is missing.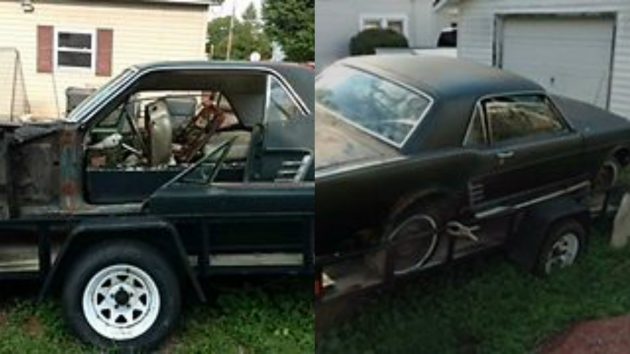 Car #2 is a 1966 coupe with a 6-cylinder engine and also with a C4 automatic.  It's hard to tell for sure, but the seller says it was originally green both inside and out. While parts of the original pony interior are included, all those components will need to be restored. It will also need floor pans, torque boxes and rails, but it does have a clear title, as do the other two cars.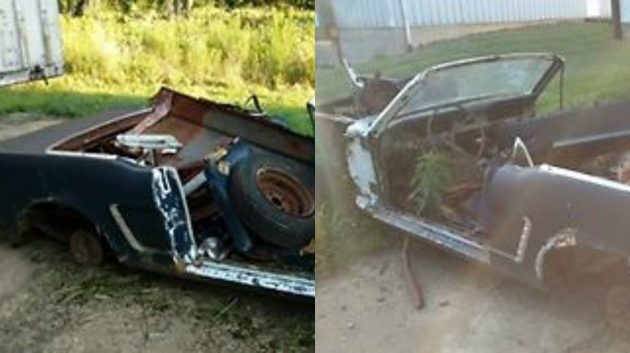 Finally, we have a 1966 convertible, also originally 6-cylinder and automatic. This one was originally blue with blue, and quite frankly looks even rougher than the red car.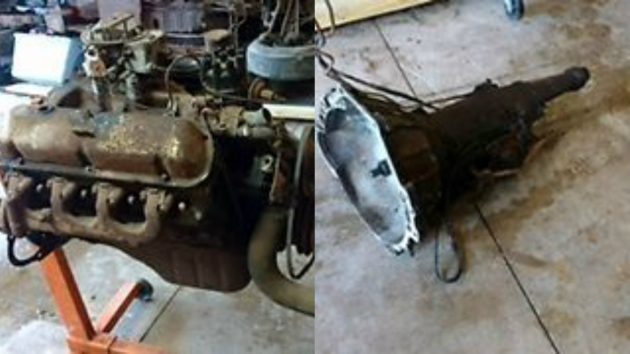 I'm guessing this is the 289 and the transmission out of the red car. At least they have been indoors for part of the time these cars have been off the road. How low would this auction have to stay for you to be interested (forget about the transporting for a moment)?