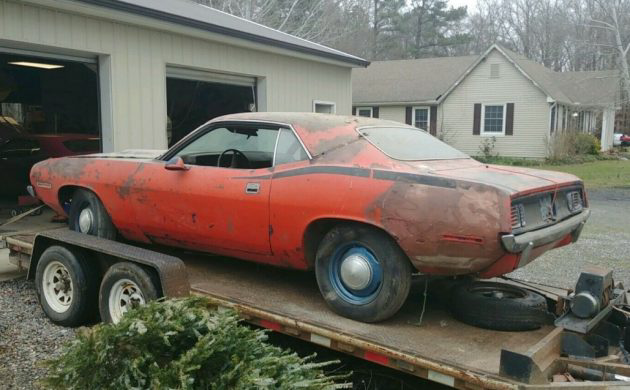 This 1971 Plymouth Barracuda started its life wearing desirable Plum Crazy paint, but it underwent a color change in the 1980s. It is a solid car that has also received an engine upgrade. It now needs someone willing to grab this classic and return it to its very best. Located in Goochland, Virginia, you will find the Barracuda listed for sale here on eBay. Bidding has reached $8,505 off the back of some strong interest. However, the reserve hasn't been met.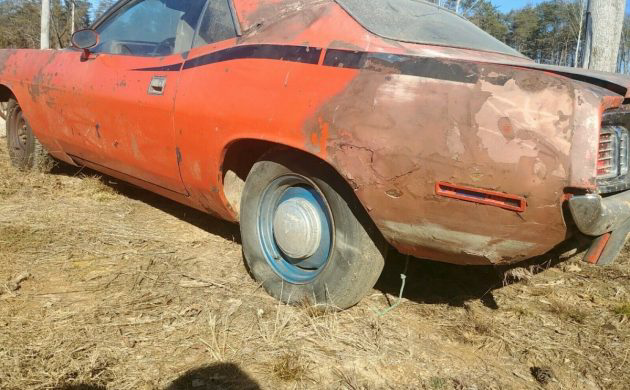 It seems that someone decided that this Plymouth needed to swap one premium color for another. It rolled off the line finished in Plum Crazy with a Black vinyl top. Both are a distant memory as the car has received a repaint in Hemi Orange at some point. The work quality is not great, and the best course of action for the next owner will almost certainly be to strip it and start again. There is also some Bondo that you can see in this quarter panel, and this looks like it was applied with a trowel. There is the usual rust in both rear quarter panels and around the back window, but the floors are surprisingly good. There are some thin spots, but these might clean up okay. The only other rust is s small area at the front of the driver's side frame rail, along with another spot under the battery tray. When you consider the condition of some of the Barracuda project cars that we have seen in years past, this one holds a lot of promise.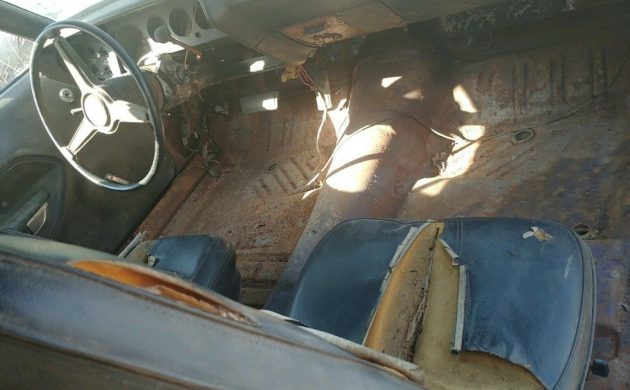 Given its exterior condition, it's no surprise to learn that the Barracuda's interior will need some TLC. It was originally upholstered in Black, and the most positive thing here is that all of the major components are still present. The lack of any carpet is a good thing because it allows us to get a good look at the floors. There is a solid coating of surface corrosion, but I can't spot any holes. Interior restorations offer an interesting point of comparison on classic American cars. Finding interior trim kits is usually not a problem, and quite a healthy industry has developed for companies that can produce high-quality reproduction parts. However, a trim kit for any Mopar model will generally cost an owner more than for anything from Ford or GM. I'm not sure why this is, but I would be interested to hear our readers' thoughts on that. I have wondered whether it has something to do with potential sales volumes or whether there is another reason altogether. What do you think?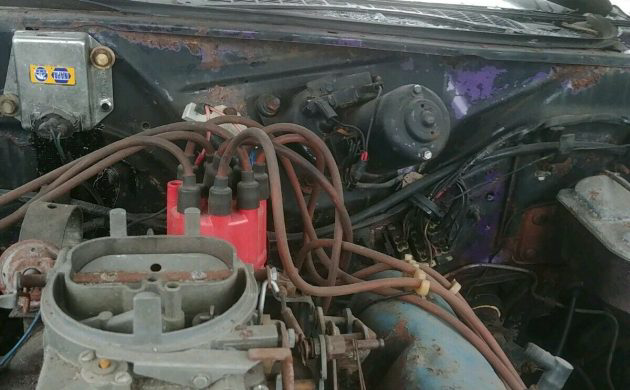 The Barracuda rolled off the production line with a slant-six under the hood, but this changed during the 1980s. A previous owner fitted a V8 K-Frame, and what we find in the engine bay now is a 360ci V8. This is backed by an A727 TorqueFlite transmission and an 8¾" rear end. That's not a bad combination and should endow the Plymouth with pretty respectable performance. Unfortunately, this photo is the best of a bad bunch and doesn't tell us a huge amount. The engine doesn't currently run, but the previous owner told the seller that it should. The seller made the decision not to mess with it, which is probably a smart move. One header has been removed from the motor, so I would want to investigate why this has happened before I hit the starter. The buyer will probably want to pull the engine to detail and paint the engine bay, so this would be an excellent opportunity to give the V8 a thorough check.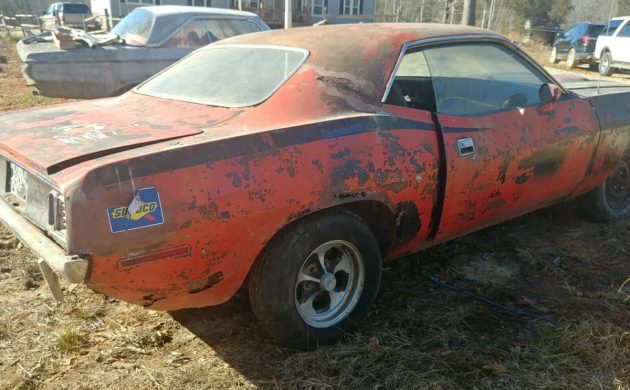 I can understand why someone chose to undertake a color change on this 1971 Plymouth Barracuda because there was a point in time when purple shades were very much out of vogue. However, colors like Hemi Orange have always been desirable. Times have changed, and Plum Crazy has become a "must-have" color on any Mopar product. The buyer will have the opportunity to right the wrong that has been inflicted upon this Plymouth, so it will be interesting to see if any of our readers are up for the challenge.