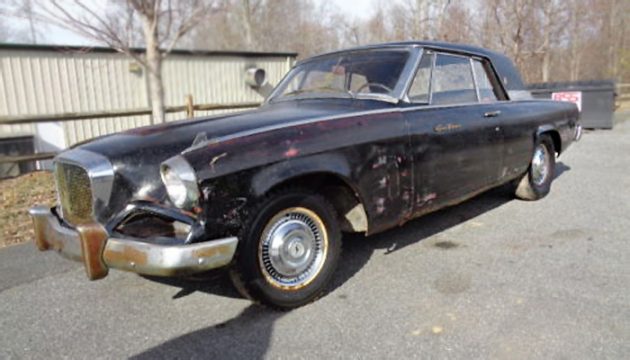 Do you have a welder? How about a lot of experience in cutting and welding and metalwork, in general? If you do, this 1962 Studebaker Gran Tourismo Hawk could be for you. It's listed on eBay with a Buy It Now price of $2,500! And, making that price even more enticing is that it's an original car with its original V8 and 4-speed manual transmission! Did that get your attention? It's located in Sherrills Ford, North Carolina.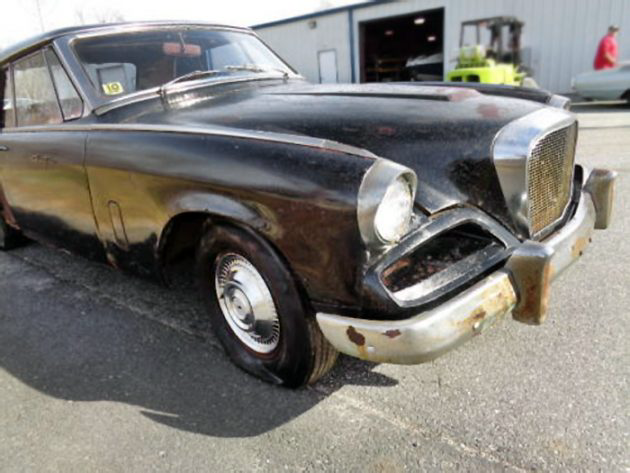 This is a somewhat polarizing design, perhaps a little ungainly but then again elegant, sleek, and chic at the same time. The unusual, pronounced, somewhat faux radiator treatment was inspired by, and most likely a nod to, Mercedes-Benz cars, which at the time were being distributed by Studebaker in the US. I'm personally more of a Lark or Lark Wagon guy, but I would not mind a big, fancy, GT Hawk! My favorite angle, or design, of this car is the rear deck and related treatment; that's just cool.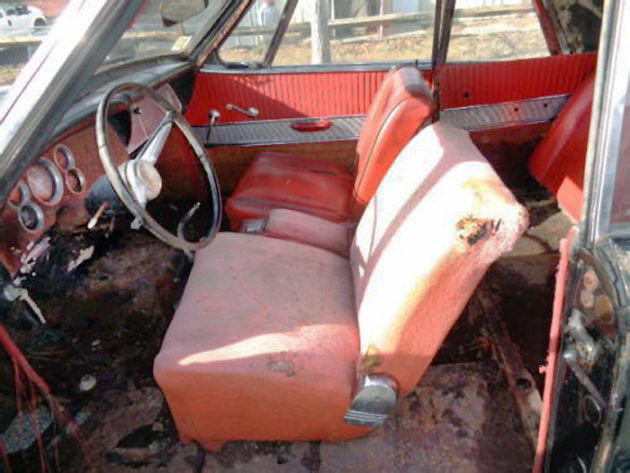 Here's where most of your cutting and welding skills will be utilized. The entire floor structure will most likely have to be cut out and replaced. This one must have been sitting on the ground or something to be this rusty. Wow, that's scary rust. But, anything can be repaired and this is a rare car with the factory 4-speed; it's worth saving. The rocker panels are rusty but maybe it's not fatal rust like the floors? It's hard to tell until a person starts poking around in there.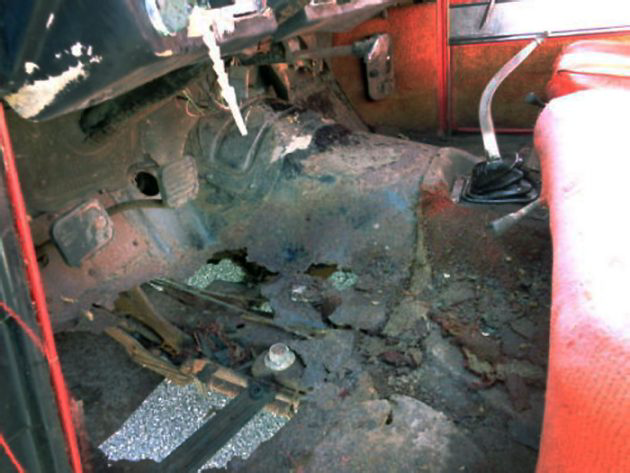 GAAA! Whew, I should have warned you first, sorry about that. That's one scary-looking floor, or what's left of the floor. I know that some of you have repaired and restored vehicles in much worse shape than this one so this is obviously fixable. And, for me, it all goes back to that factory 4-speed making it a very desirable and savable car.
In decoding the VIN, it shows that this engine is a 259 cubic-inch V8? From everything that I've read about the GT Hawk, the 289 V8 was basically a stroked 259 and was the only engine option in 1962. It had 210 hp or, for $22, a buyer could have added a 4-barrel carburetor giving it 225 hp. Strange. Whatever engine it is, and it definitely doesn't look like it has a 4-barrel so I'm assuming the 210 hp 289, it'll need work. The seller is "NOT sure if the car runs or drives! So NO you can NOT drive it home!!!!!!!!" Alrighty then. Look for a total, nut-and-bolt restoration here, making this a very expensive car when you're done. Hagerty lists a #2 "excellent" car as being valued at $32,200 so maybe there's room here if the next owner does a lot of the work. Are there any former or current owners of a GT Hawk out there? Is this one a good price?