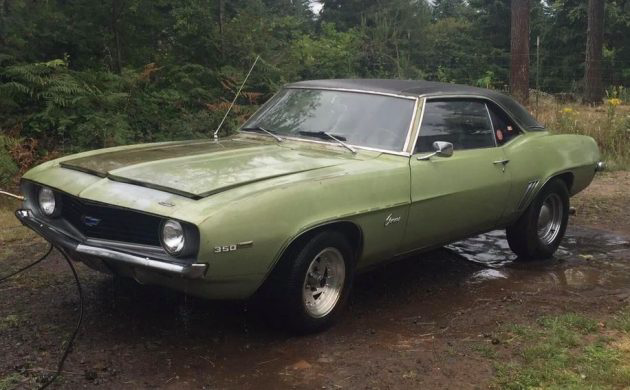 This 1969 Chevrolet Camaro looks like a pretty honest old classic. It's battered and bruised, and the seller admits that there are some rust issues. However, when you look closely, it does show a lot of promise. What will make it tempting for some people is the fact that it isn't a numbers-matching car. That will allow a potential buyer to build the Camaro of their dreams without the guilt of molesting an original survivor. Located in Tillamook, Oregon, you can find the Camaro listed for sale here on Facebook. You can own this piece of automotive magnificence by handing the owner $15,000.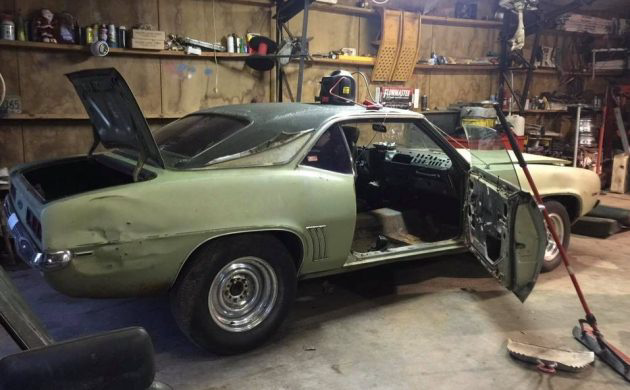 I think that it's fair to say that this Frost Green Camaro has seen better days. That isn't to say that there won't be some good ones in its future, because the body looks surprisingly good. There are plenty of dents and scars for the buyer to address, and I suspect that they will probably replace at least the passenger-side rear quarter panel. The Dark Green vinyl top looks as sad as the paint, so this will have to be removed. Whether it is replaced will be a matter of personal taste. It seems like there is some rust in the lower body extremities, but it looks like most of it could be addressed with patches rather than the wholesale replacement of panels. Some of the trim and chrome will require replacement, but the glass looks pretty good. The Camaro comes with different wheels at either end of the car, so take your pick on that one!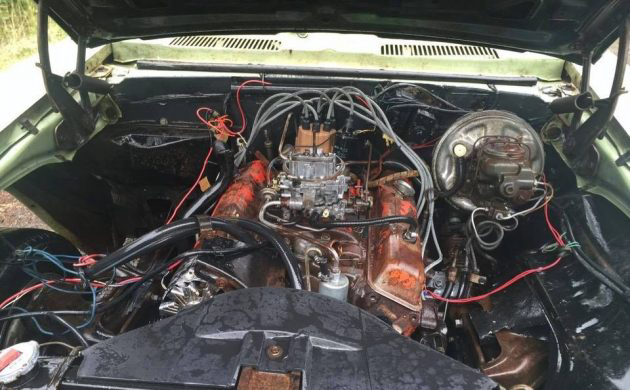 It t looks like the engine bay originally housed a 350ci V8, but what we find now is a 400ci V8. This is backed by an automatic transmission, but it isn't clear what it is. The one thing that we do know is that the Camaro features a 12-bolt rear end. I think that we will also find that there is power steering, along with power front disc brakes. There are some obvious components that are new or aren't far off it. This includes a chrome alternator, the brake booster, and the carburetor. Unfortunately, we don't get any information on how the Camaro runs or drives. This is one thing that I find irritating in some listings that we see, and I do not doubt that it could potentially discourage potential buyers. There is also no information about the interior beyond it being Green. One of the photos shows a large number of components missing. This includes dash pieces, door trims, and the passenger seat. I hope that these are present because sourcing the right parts could add considerably to this project's cost.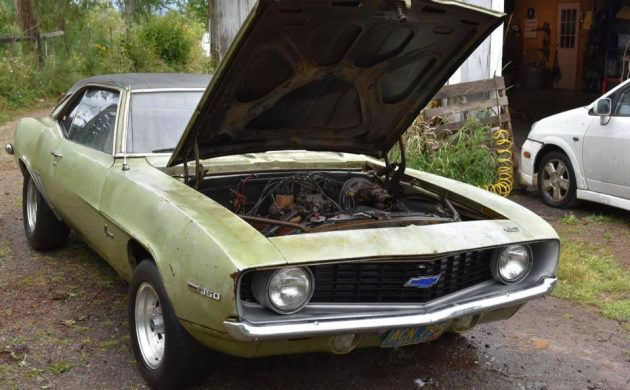 This 1969 Camaro is rough and ready, and it looks like someone has performed some of their driving by braille. However, it shows a lot of promise and could be an enjoyable project to tackle. The buyer could build the Camaro of their dreams, and they would know in their heart that they wouldn't be destroying an original and unmolested classic. However, few things in life can build bonds like tackling a family restoration project. That would be a possibility with this car, and the final result would be a classic car that everyone could enjoy. It is an idea worth considering.