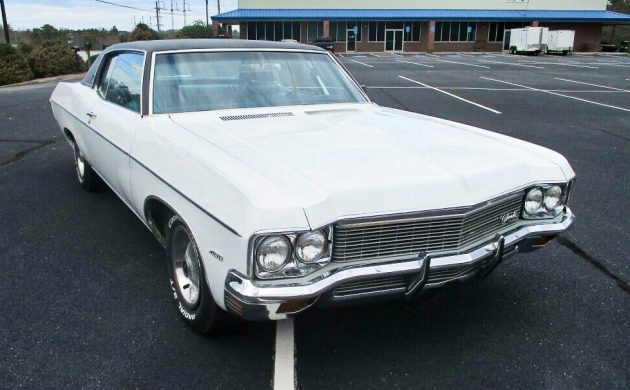 By 1970, the fourth generation (1965-1970) of Chevrolet's all-time best-selling car, the B-body Caprice, Impala, BelAir, and Biscayne had reached the end of the line. And things had changed a bit since gen-four was introduced for model year 1965. The Impala was still the go-to model in Chevrolet's full-size line-up but consumers had many other choices too. Our subject car today is a 1970 Impala Custom Coupe and it looks to be in great shape. It's located in Bremen, Georgia and is available, here on eBay for a starting bid of $17,500, with a BIN price of $23,500.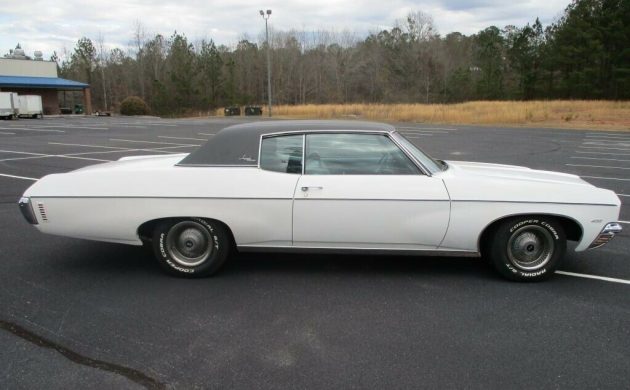 Several notable changes occurred with the introduction of the '70 big cars, including the Impala. There was no longer an Impala SS, bucket seats, a center console, and a four-speed manual transmission were all now consigned to history. It was the first year for the big 454 CI, Mark IV engine as well as the first year for the seriously stretched and stroked 400 CI, small-block motor. Other changes included standard front disc brakes on the Impala Custom and Caprice, as well as standard 15-inch wheels on all B-Body cars, an improvement that should have occurred years before. How did the Impala do in '70? The total production number was about 774K copies (including station wagons); a pretty stout number but a big drop from gen-four's initial year of 1965 when 1,046,000 units found new homes.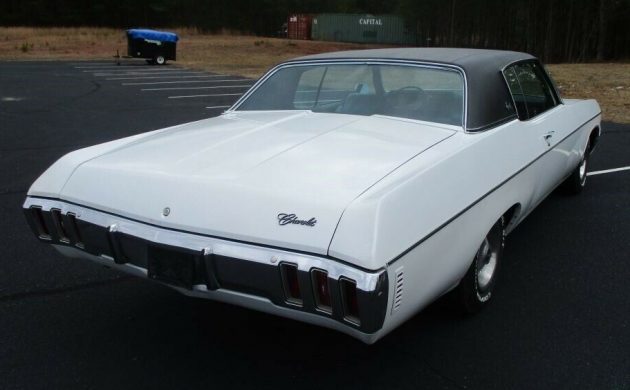 This 110K mile example is a survivor and is listed as a one-owner car, though the individual selling it isn't the original owner. It appears to be in very sound shape and is still wearing its original Classic White lacquer finish and black vinyl top. It is really an amazing feat as Chevies of this era were equipped with "flush-and-dry" rocker panels which were more like "flood-and-fail" as water would get trapped in the lower fenders and rot right through. I owned a '69, which is essentially the same car, and the rust was noticeable at age four and had gone clean through by age eight – and mine was one of the thousands that all did the same thing. Considering the condition of this Impala, I would say it has been garage kept, and of course, being domiciled in the Peach State has been an advantage to its long-term well-being. The P02 wheel covers don't appear to be originals as the born-with caps are in the trunk, nevertheless, they are a nice addition. The white-letter tires are a matter of taste, they seem better suited to a Camaro or a Corvette. Of note, this Impala is an "Impala Custom", which features a formal roofline and a concave rear window, as opposed to an Impala Sport Coupe which had the '60s style sloping roofline. Introduced in 1968, the Custom quickly became the preferred coupe.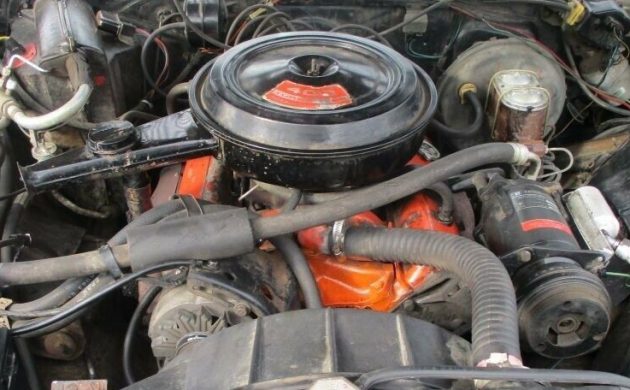 Under the hood, is Chevrolet's new for 1970, 265 gross HP, 400 CI, small-block, V8 engine. This motor was known as the 400 "Turbo-Fire" to differentiate it from the 400 CI "Turbo-Jet" big-block engine, also new in '70. The 400 Turbo-Jet was actually a 402 CI, being the old 396 that had been slightly enlarged. Chevrolet never used the 402 moniker, preferring 400 or 396 depending on the vehicle of installation. Nevertheless, it's irrelevant in this case as the 400 Turbo-Jet wasn't available in the '70 Impala and it was discontinued entirely after the '72 model year. The transmission employed is the typical Turbo-Hydramatic 350, three-speed automatic gearbox. Regarding this Impala's operating attributes, the seller states, "It has new mufflers, new gas tank, and new water pump. This car drives straight and you can cruise in it at 75 with no problem".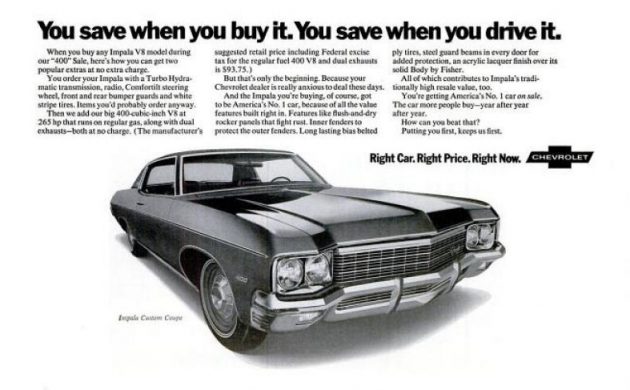 Here's an obscure factoid, this Impala was purchased under the "Impala 400 Sale" promotion. The way that you can tell is that according to the included image of the window sticker, the 400 CI engine and dual exhaust system were no charge items when a market basket of other options was ordered. I recall seeing a TV ad at the end of a Bonanza episode in the summer of '70 where actor Lorne Greene (Ben Cartright) was pushing this promotion.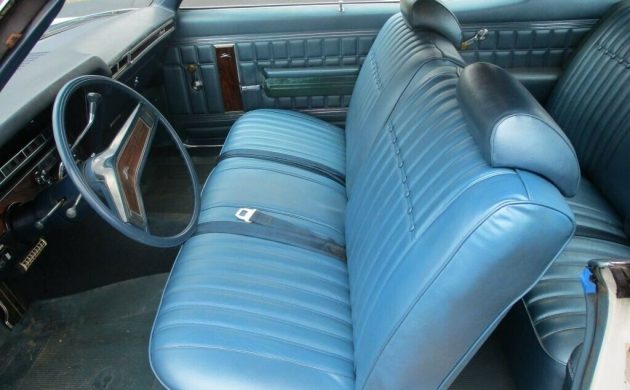 The interior has done quite well over the last half a century. The seller mentions that the front seat has been recovered but the rest is original. The only divet appears to be a crack in the dash pad and some scruffy-looking armrest bases. Still in place is the original clock and Delco radio, always good to find. The seller mention that the Four-Season A/C system is inoperative, it has probably developed a leak and lost all of its R-12 refrigerant. The Four-Season systems are not complicated and a Frigidaire A6 style compressor can still be newly obtained; R-12, however, is another matter.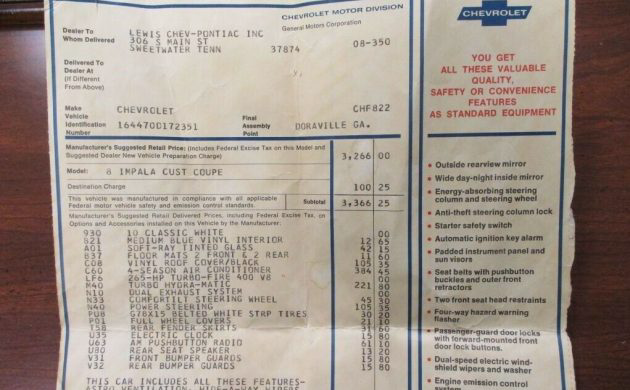 Impalas of this era are held in high regard today because they are a fond memory and so different from anything else that is currently offered. But in 1970, there was a gen-four Impala on every street corner in every city or town in America. This is a nice car, but it's really nothing special. As to how high a regard this example will be held, I doubt $23,500 worth of it.  The pictorial in the listing is excellent, be sure to check out all of the images and then let me know, priced right, or maybe not?