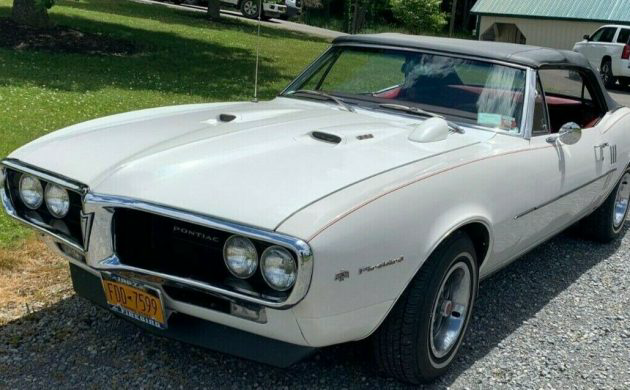 1967 was a big year for auto makers, especially General Motors. Chevelles received a new look and the world was introduced to the Pontiac Firebird and Chevrolet Camaro. While they shared some body panels, the Firebird and Camaro were different enough to guarantee their individual spots in the market. This '67 convertible 'Bird can be found here on eBay with a current bid of over $20,000. It is currently located in Elbridge, New York, but the seller says it spent most of its life in Texas. Take a look at the original condition of this Firebird, I guarantee you'll be impressed!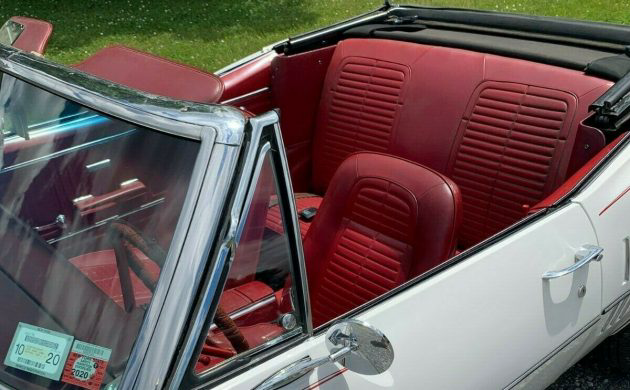 This is the best photo of the overall interior, but there are some detailed photos in the ad. As you can see, the striking red interior works really well with the white exterior. The hood features the tachometer with aftermarket gauges added below the dash near the shifter. As you can see, the upholstery is in amazing condition which the seller claims is original. A close-up shot of the door panel and passenger seat show just how nice it is.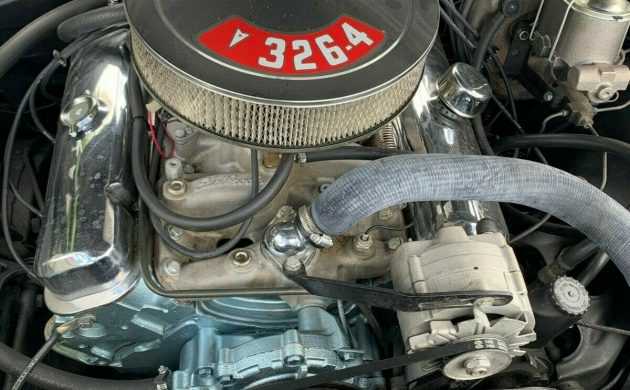 As you can see from the air cleaner, the car features a 326 cubic inch V8 backed by a powerglide automatic transmission. The seller had the engine rebuilt about eight years ago and claims the car has about 77,000 miles on the odometer. While not as potent as the later 400 or 455, the 326 is respectable and you can see the intake has been upgraded. The ad doesn't mention it, but I would guess the carburetor has too.
Overall, this looks like a nice car. There are some photos of the under carriage and there isn't a spot of rust anywhere. The seller says the car spent most of its life in Austin, Texas which is believable. Hopefully, this car will find a new home and be enjoyed for years to come!