I know that I've passed the point of no return in my car nerd'ism when I'm this excited about a 1970 AMC Hornet sedan! WOW, this car is amazing! Seriously, drop whatever it is that you're doing, (unless you're driving, which you shouldn't be while reading this), pop some popcorn, put your feet up, and let's check out this beautiful baby blue Hornet. This car is located in Lehigh Acres, Florida and is listed on eBay with a buy it now price of $5,900, or you can make an offer. I actually think that's a decent price for this amazing car and, if any of you are AMC fans, you may think the same after seeing these photos.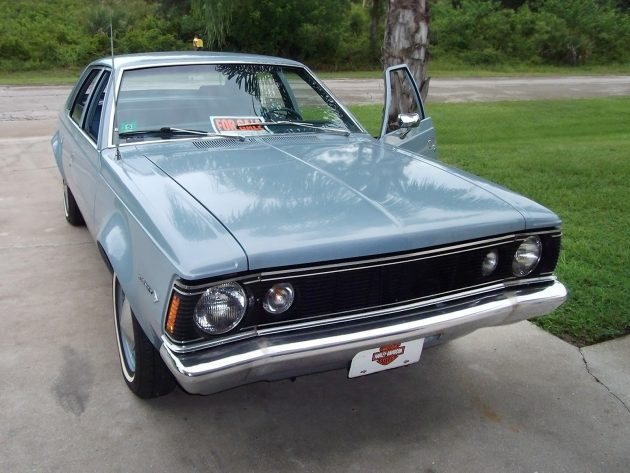 For $5,900 you could get a 2008 Kia Rio, or you could get this Hornet; that's a no-brainer for me. It's not even a no-brainer, it's .. uhh.. whatever's even more no-brainer'r than that.. Here's my argument for this Hornet: most of us already have a daily-driver, we aren't coming to Barn Finds to locate our next traffic-gridlock commuter car. We come to Barn Finds to see nice, older classic cars and maybe one of them will catch our eye enough to actually purchase it to use as a weekend hobby car. Hornet 1 : Kia Rio 0. And, I don't mean to pick on Kia, I'm sure they make a very fine machine, as far as daily-driver commuter cars go. And, in 1970, or even 1980 (do I hear, 1990?), who would have thought that a 1970 light blue AMC Hornet four-door sedan would be considered a classic, or collectible? Maybe a 2008 Kia Rio will be on Barn Finds in 2055! I hope that I'm here to write about it.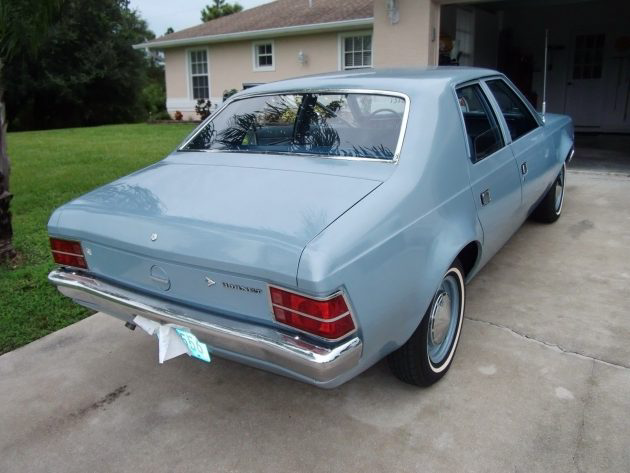 Some folks do drive classics every day – our own Nathan is a great example of that – and I would sure love to drive this baby blue Hornet every day, at least in the summer. This car is so nice, and really it's too nice to be original because, yes, it has been repainted once in its lifetime. There is no mention of any bodywork being done prior to the repaint, and it doesn't appear to have any rust other than some very light surface rust in the trunk and underneath. The seller says that it's "original" and "unaltered", but then they go on to say that it's been repainted, the front seat has been reupholstered, it has a new water pump and a new exhaust. But, I'm assuming that they mean original in appearance.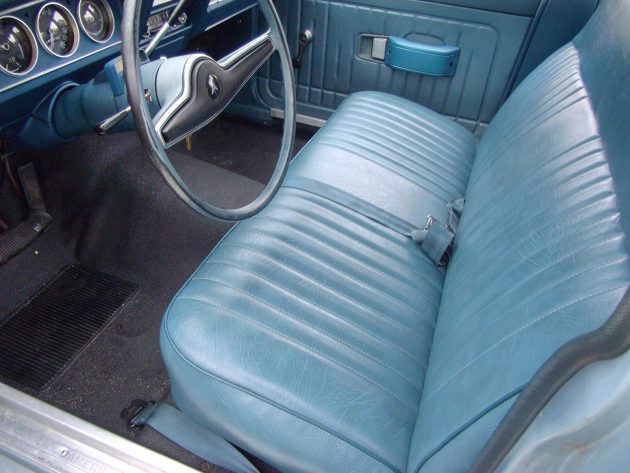 Here's that newly-reupholstered front seat and it looks like a great match to the surrounding original door panels. Unfortunately, it's not the correct pattern. I would try to track down some from SMS Auto Fabrics or some other OEM company to match the original pattern on the perfect back seat. The dash looks as close to being perfect as it could be, and the odometer shows 29,853 miles. The seller claims that those are the original miles, and once I'm sure that you're all seated, I'll show you the engine compartment and you can see for yourselves. Are you ready?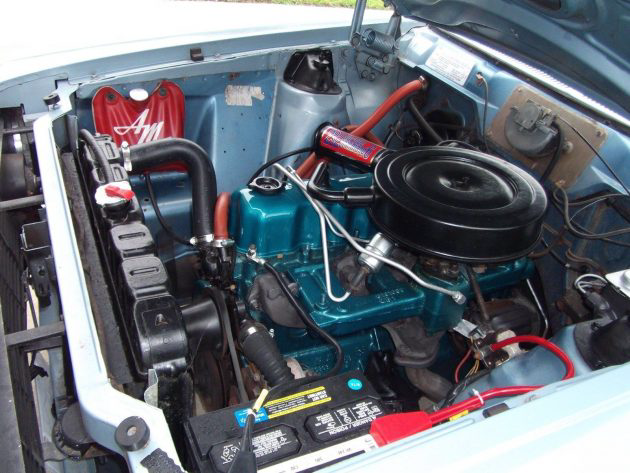 I'll be back in a minute, I have to get a kleenex. If this isn't one of the nicest engine compartments that I've ever seen, I.. I don't even know what to say next. This thing is drop-dead gorgeous! Whether it's 100% Pebble-Beach-correct in every detail I don't know, there may have been some liberties taken when it was repainted. I only say that as an assumption that this isn't original, it looks far too perfect to be original. There is no way that this 47-year old engine compartment is original, can it be? I don't know if they actually looked this nice and shiny coming out of Kenosha 47-years ago, and for it to look like this now, can it be original? It doesn't matter, of course, we've all restored vehicles and there's nothing wrong with a restored car or a restored engine. This is AMC's 232 cubic-inch inline-six with around 145 hp. The '08 Kia Rio? 110 hp. He shoots he scores! So, I know that this is a.. gasp.. four-door sedan! Most of you would rather spend the rest of your lives in a Turkish prison than to own a four-door car from what I've seen in the comments over the last couple of years. I'm not ashamed or embarrassed to say that this car looks fantastic to me, four doors or not. Much more appealing than any ol' commuter Kia.