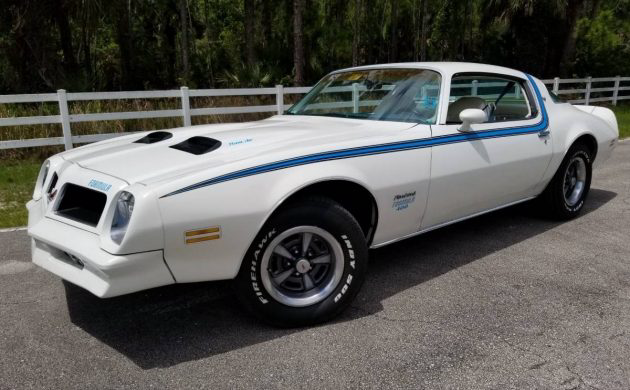 We see more than a few Pontiac Trans Ams here at Barn Finds, but far fewer examples of the Firebird Formula. There is probably an excellent reason for this. The simple fact is that the Trans Am managed to generally outsell the Formula by a ratio of better than 2:1 during its lifetime. That makes vehicles like this 1976 Formula 400 a bit of a rare treat for us. It appears to be a clean and tidy survivor that is original and unmolested. It is also equipped with an excellent selection of optional equipment, which should add an air of luxury to the classic motoring experience. The Firebird is located in Melbourne, Florida, and has been listed for sale here on Craigslist. All you need to do is hand the owner $16,000, and you can drive away in this frisky Firebird. I have to say thank you to Barn Finder Pat L for referring the Pontiac to us.
This Firebird is a clean and tidy vehicle. The owner does indicate that the original Cameo White paint isn't perfect and that it has a few minor chips and scratches. It presents well in the supplied photos, with no significant problems. The panels appear to be remarkably straight, while there are no signs of any rust problems. The Blue stripes add a nice contrast, and these appear to have avoided becoming faded or cracked over the past 44-years. The Rally wheels are a bit of a surprise packet because there are no signs of any pitting or corrosion. The Pontiac comes equipped with tinted glass, and this also appears to be in good condition.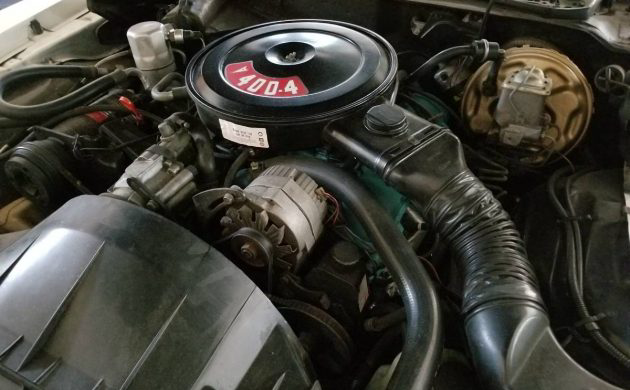 This Pontiac is called a Formula 400 for one obvious reason. Lifting the hood reveals a 400ci V8 engine, which is backed by a Turbo Hydramatic transmission. At 185hp, the "400" wasn't the fire-breathing monster that it had been only a few short years before. It also meant that the Formula 400 struggled to break through the ¼ mile in 17.6 seconds. However, it could still wind its way to a top speed of 124mph, which was quite respectable. This Firebird has recently been fitted with new shocks, new tires, and a full 3″ MagnaFlow exhaust. The owner states that the Pontiac drives smoothly and that it is reliable. I think that the thing that most impresses me is the cleanliness of the engine bay. It presents nicely, and there are no signs of any long-term issues with fluid leaks.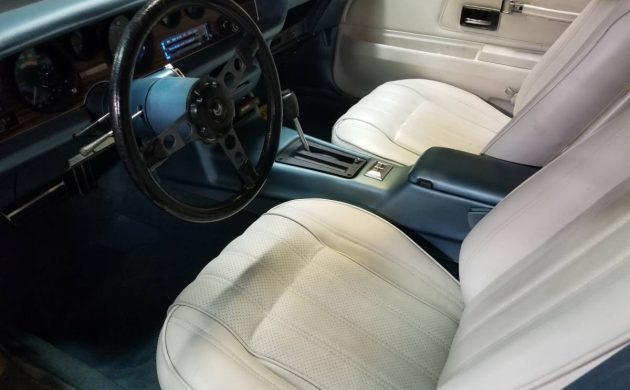 The interior of the Firebird is finished in a combination of white and blue, and it looks to be in good order. There are no signs of any rips or tears on any of the upholstered surfaces. Perhaps most impressively, the white vinyl has managed to avoid developing the yellowing that can be a significant issue with trim of this color. The carpet also looks to be in good condition, while the dash and pad are free from cracks. The only real problem that I've spotted is the fact that the original radio is missing out of the dash in the supplied photos. However, sourcing a replacement should be an easy assignment. As for creature comforts, the Formula does come with a few. The next owner will get ice-cold air conditioning, power windows, the Rally gauge pack, remote exterior mirrors, a tilt wheel, and a factory 8-track player. There is a Dire Straits cartridge in the player at present, so I take my hat off to the owner for having great taste in music.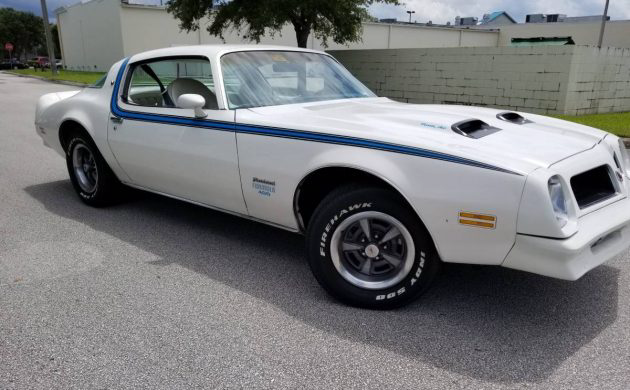 In 1976, Pontiac sold 20,613 examples of the Firebird Formula. In the same year, 46,700 Trans Ams found their way to new homes. That is the primary reason why we see significantly fewer Formulas today. It is possible to find them for sale today for around the $10,000 mark. However, cars in that sort of price bracket will either need some form of work on the body and/or paint, or will not be completely original. It is also possible to find pristine examples pushing up towards the $25,000 mark. This one is a tidy and clean original survivor that comes equipped with some excellent optional equipment. I tend to think that at the asking price, it probably represents competitive buying. What do you think?