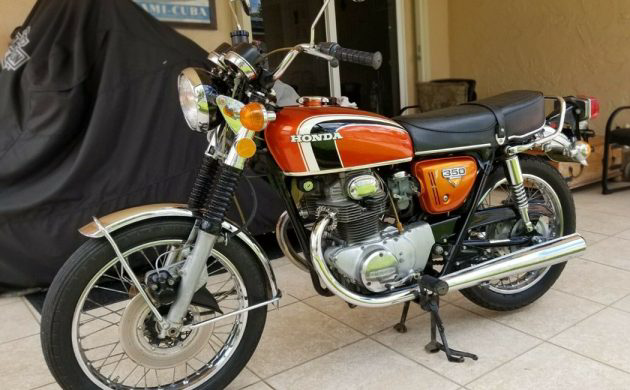 There are certain vehicles that are just the right size, not too small, not too big. Ones that aren't too slow, and aren't too fast. They aren't too… well, you get the point. This 1972 Honda CB350 is one of those vehicles, it hits the sweet spot for a lot of us and this one can be found here on eBay in Miami, Florida. The current bid price is $2,950 and there is no reserve.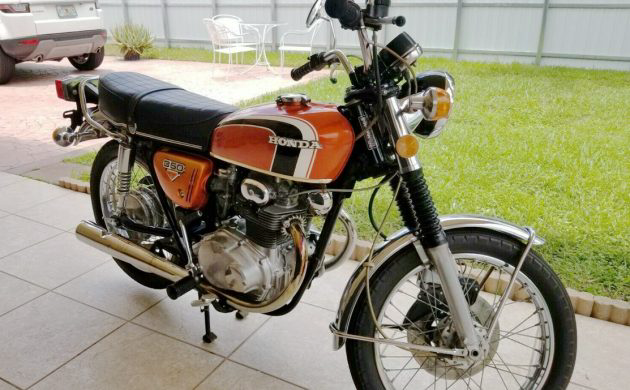 This era of Honda CB brings back a lot of memories for me. As kids, we would go to a Honda dealer in our hometown and ogle the new bikes, the ones that we could never seem to be able to afford. The candy colors on the CB350, CB550, and especially the CB750 were amazing to a couple of little punks who were riding a 1969 Yamaha Twin Jet YL-1 that my dad bought for us to learn how to ride a motorcycle. That was almost five decades ago now and I have yet to personally own a CB-series Honda motorcycle, although my dad bought a red CB360T back in the early-80s and that was a great bike.
This CB350 looks absolutely perfect in the overall photos, doesn't it? The seller says that it's all original and it is absolutely gorgeous. Thankfully, they're an honest seller and they include a few photos of some scratches on the gas tank, maybe including some minor dings. I'm not sure what I would do there, keep it 100% original or fix the gas tank and have it painted by one of the great paint shops that advertise in Vintage Japanese Motorcycle Club magazine or other sources. Probably the latter.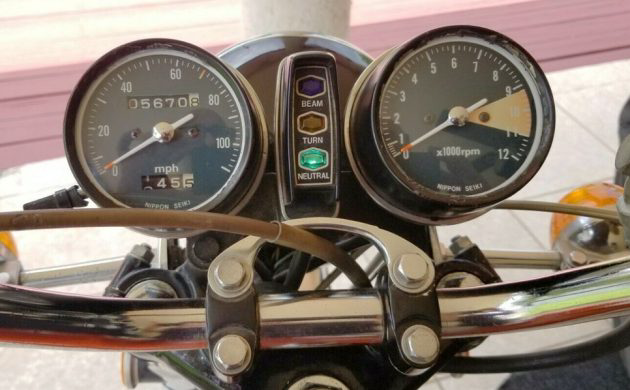 The CB350 was made for the 1968 through 1973 model years and Honda sold around 300,000 of them. I wish it would have been 300,001. Maybe our dad was trying to give us a hard lesson in that we couldn't have everything we wanted in life, we had to work for what we got rather than just being given everything. I wish that sentiment was still alive and well today, but from what I've seen over the last couple of decades, it's almost the exact opposite.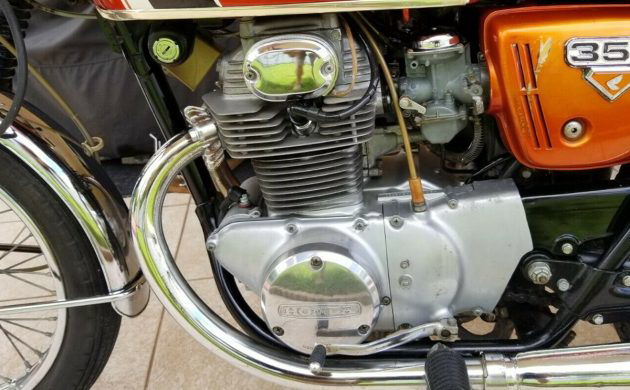 This is such a nice, honest-looking bike, the 325.6 cc twin-cylinder had around 34 horsepower and the seller says that this bike has a mere 5,670 miles on it. It doesn't smoke, it starts and runs like a charm and it goes through the gears as it should. I would absolutely love to have an orange Honda CB anything someday, have any of you owned one?
Have something to sell? List it here on Barn Finds!