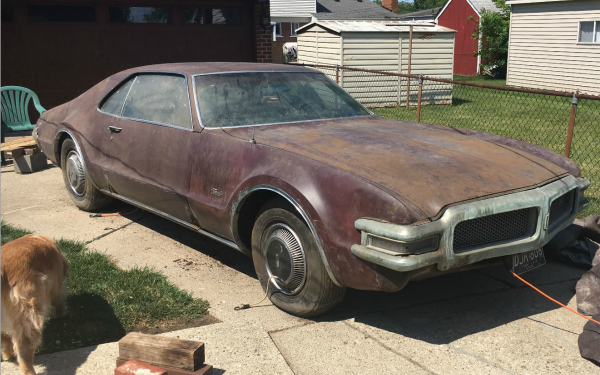 Stunning.  That's the only word you can use to describe the styling of this 1968 Oldsmobile Toronado.  The first generation of the Toronado was built on the same basic E body shell as the '66 and later Buick Riviera and the Cadillac Eldorado from '67 on. Despite this same starting point, each of these General Motors Divisions created radically different variations.  The Oldsmobile version was perhaps the most radical of all.  It was designed to be a sporty, fast personal luxury coupe that couldn't be mistaken for anything else on the road.  At first glance,  it seems that its best years are behind this maroon gem found on eBay and located in Livonia Michigan.  However, this forlorn front wheel drive behemoth represents a great opportunity for a first time collector, with a starting bid of just $100!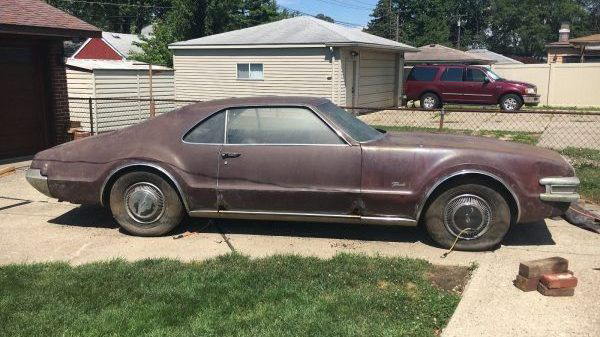 The seller seems to be a man of few word, and there is little written information provided on his end and just three pictures.  All he says is that the car ran when it was parked in 1976 and that it's good as a parts car only.  I really wish he would have elaborated on why he feels that way.  Obviously there's some rust, as you would expect from any Michigan car.  Obvious too is that he cared enough to keep it covered with blue tarps.  On the bright side, it does seem to be complete and mobile enough to get it on a transporter's truck if you wanted to take a chance on giving it a new life.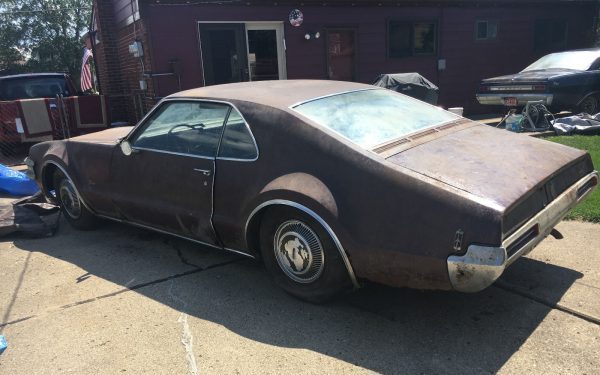 Considering the asking price of other Toronados of this vintage, what do you have to lose on this one?  While some may be scared off by the parts car description, I see this as an opportunity.  The old way of thinking is that if you aren't going to restore a car to AACA standards, then it isn't worth the bother.  Well, times have changed.  Frame up restorations have become cost prohibitive for the average guy in a lot of cases.   Many cars, due to the cost of replacement parts, re-chroming, and full mechanical rebuilds, will leave you horribly upside down at the end.  That leaves us with a large number of people who want to get into the hobby, but are scared off by the costs.  With a car like this, an entry level collector can purchase it cheaply, fix up a little bit here and there as time and cost permits, customize and modify it to suit their tastes, and, in the end, have a fun car they can play around with.  It would also be a great way for  collector to build up their restoration skill set.
Our hobby is slowly dying. We need project cars like this to bring in new enthusiasts.  In the end, collector cars don't have to be perfect.  They just need to be fun.