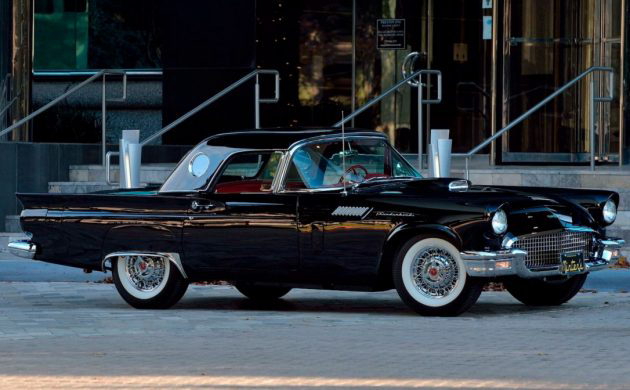 If you are passionate about any car that wears the blue-oval badge, you are going to fall in love with this 1957 Ford Thunderbird. Even if your allegiance rests with another make, it is hard not to feel complete respect for this classic. It seems that Barn Finder Larry D has an excellent radar because he referred this striking Ford to us. So, thank you for that, Larry. This car isn't merely about good looks because its engine bay houses the potent F-Code V8. It also counts a legendary owner in its history, so there's a lot to unpack with this T-Bird. It is now set to go to a new home, so you will find it listed for auction here at Mecum Auctions. It is located in Indianapolis, Indiana, and it is scheduled to go under the hammer on Friday, May 21st.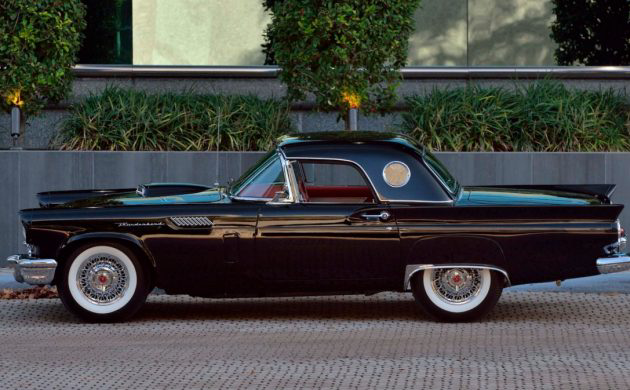 Embarking on the classic car ownership experience can be a challenging one, and broadly speaking, there are three paths that potential buyers can follow. They can hunt for a car that is an original and unmolested survivor that is ready to be driven and enjoyed. They might also choose to purchase a recently-restored vehicle, or lastly, they might buy a classic that is prime for restoration. Those last two options are the ones that are the most fraught with danger because it leaves unwary owners as the potential prey for unscrupulous restorers. Choosing the right company to massage your pride-and-joy is essential, and it appears that the owner of this Thunderbird got it right. He entrusted the Thunderbird to the father-and-son team of Amos and Justin Minter, renowned 1st generation T-Bird specialists from Dallas, Texas. They stripped the vehicle down to the last nut and bolt and restored it with care and an unwavering eye for detail. The panels are now laser straight, with not a ripple or mark visible anywhere. The car was then repainted in its original Raven Black, including the factory hardtop. The paint has an amazing depth and shine, and it feels like you could literally sink into it. The original owner ordered the Thunderbird with tinted glass, and this is all as flawless as the rest of this beautiful Ford. The external trim is in showroom condition, as are the magnificent wire wheels that are wrapped in wide whitewall tires. Tracing the ownership history has proved interesting and has uncovered an owner who should be a familiar name to American performance and race car enthusiasts. It once belonged to a gentleman by the name of Jack Roush, and the owner includes a copy of the Title that verifies this. Roush is a name that has long been associated with the Ford brand in motorsport, with success in arenas like drag racing, Trans Am, IMSA GT, and NASCAR. It is no surprise that he would choose to own the most potent production '57 Thunderbird that money could buy, although when he did so is not clear.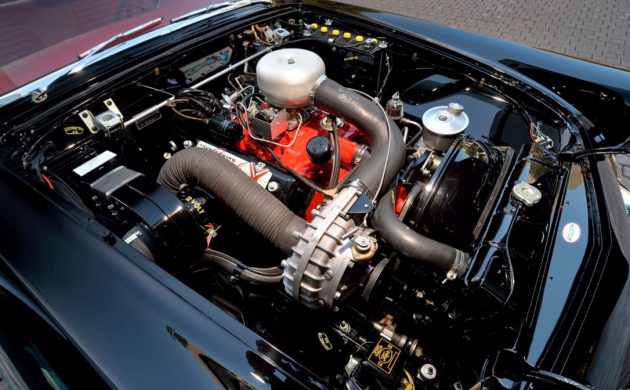 Apart from its ownership history, lifting the hood of this '57 reveals what makes this an extraordinary car. Ford introduced an F-Code V8 to the Thunderbird line in 1957, and a mere 196 cars were produced before production ceased. What gave these engines serious performance credentials was the McCulloch/Paxton supercharger that was bolted to the 312ci V8. In normally-aspirated form, this V8 was capable of producing a maximum of 270hp. With suitable upgrades and the blower in place, that figure rose to a conservative 300hp. Those cars became affectionately known as the "F-Birds," and they have become a legend in the classic world. As well as the F-Code V8, this car also features a 3-speed automatic transmission and "Master Guide" power steering. Ford produced the Thunderbird as a personal luxury car and didn't perceive it as a direct competitor to Chevrolet's Corvette. However, comparing the performance figures between this F-Bird and the most potent offering in the Corvette range of 1957 makes interesting reading. The F-Bird as it sits here should be capable of devouring the ¼-mile in a neat 15 seconds. The most potent offering in the Corvette range was the 283ci "fuelie" V8. This motor produced a rather convenient 283hp, and even though it was only offered in manual form, it still took a marginally slower 15.2 seconds to cover the same journey. Specify the Corvette with the most powerful motor that was available with an automatic transmission and that ET blew out to 16.4 seconds. What makes these figures even more startling is the weights that these engines had to haul. The Corvette tipped the scales at 3,010lbs, while the F-Bird was a rather tubby 3,440lbs. Ford may not have considered the Thunderbird to be a direct rival to the 'Vette, but the F-Bird changed that game. The Minters have woven their magic over this F-Bird, and the engine bay is stunning. The eye for detail is second to none, with all of the hoses, clamps, painted surfaces, and plated pieces faithful to the way the car was when it rolled off the production line. The restoration was completed earlier this year, and the owner hasn't gone out of his way to wear this Ford out since then. It has accumulated a paltry 57 test miles to ensure that everything is working as it should be.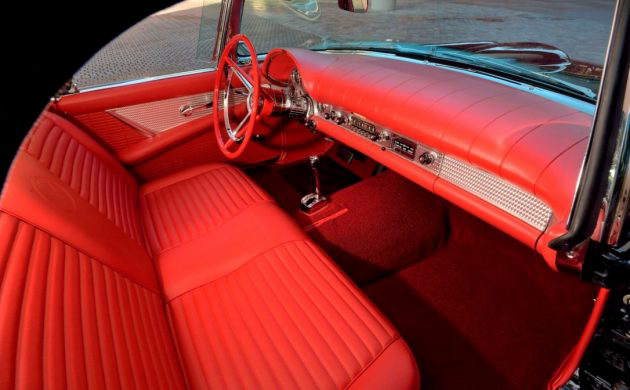 With an unstinting level of attention to detail on the rest of the car, it should be no surprise to learn that the interior of this F-Bird appears to be factory fresh. The Minters attacked every aspect of the trim and equipment, and the result is a breathtaking interior. It is a sea of red trim, and against a backdrop of Raven Black paint, it looks striking. Of course, the fact that the car has traveled a mere 57-miles since the restoration was completed means that there hasn't been a chance for it to accumulate any form of wear or tear. Your eyes drink in details like the beautiful red upholstery and carpet, the machine-turned trim, and the gauges that feature crisp markings and clear lenses. The original owner ordered the F-Bird equipped with a Town & Country radio, which still occupies its rightful place in the dash.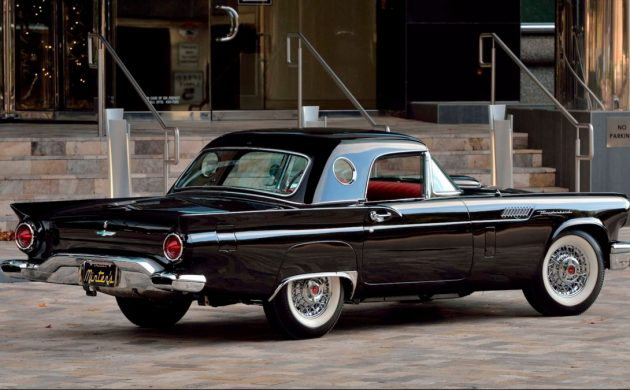 With only 196 cars rolling off the production line in 1957, the F-Bird was already a rare vehicle in a production total of 21,380 Thunderbirds for that model year. Pushing the rarity stakes even further is the fact that this is 1-of-53 known to have been finished in Raven Black. This is a car that would suit an owner seeking perfection, but they will need to have a healthy bank balance if they wish to park it in their garage. It will easily achieve a solid six-figure sale price, with the average F-Bird sales figure currently sitting at $250,000 when they come onto the market. The World Record sale price for a '57 Thunderbird was set in 2014. That car was an E-Code and not the more desirable F-Code. It was a vehicle that Amos and Justin Minter had also restored, and when the hammer fell on that one, bidding had reached an eye-watering $330,000. I may be wrong, but I believe that the record could fall in a few short weeks, and I think it will be the buyer of this car that will be the proud new holder of that record.