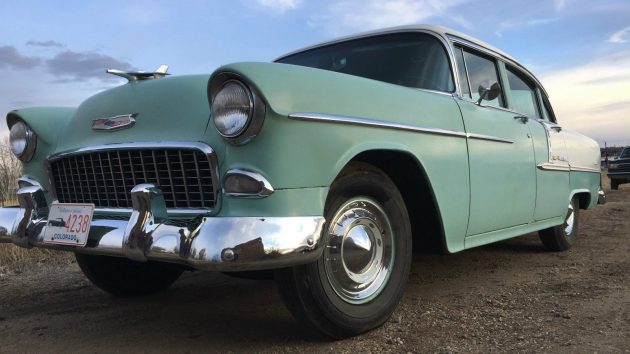 Here's another 1955 Chevrolet 4-door like the one we featured the other day, but this time it's a Bel Air. Thanks to reader Duck Flower for sending this one in! It appears to be a true survivor car with only 42,821 miles. The owner has listed it for sale here on eBay, where right now the bidding is just under $9,000. You can find this survivor in the "mile high city" of Denver, Colorado.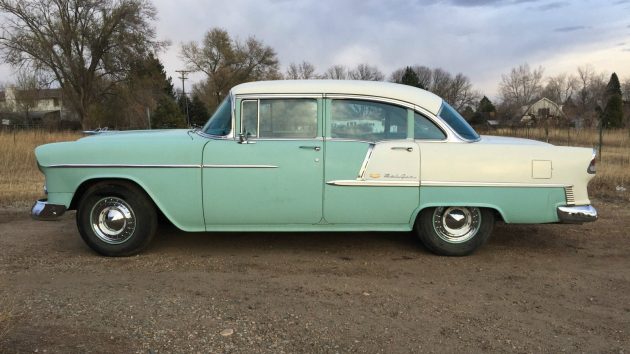 I can see the whole family piling in to Mrs. Bonfils new 1955 Bel Air. Actually, as it turns out, she was a millionaire heiress in the 1950's who purchased this car new. However, she traded the car in less than a year, when it was purchased by Chester and Hazel Hance–maybe they were the ones with the family piling into the car! The current owner purchased the car from their estate last December, so the Hances kept the car over 60 years! I'd love to hear some of the stories that went along with the car.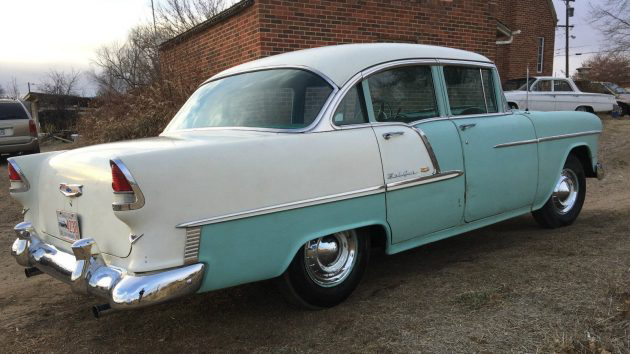 The Sea Mist Green and white were some cool colors for the time, while the full wheel covers and just the right amount of chrome lent a glamorous image to what was essentially a plain but good Chevy sedan.  The slightly later Chevy sedan in the background shows this '55 has had some good company lately. There are a few issues with the body that you can see, though, both on this side and the driver's side. The seller also reports a spot of rust over one of the headlights.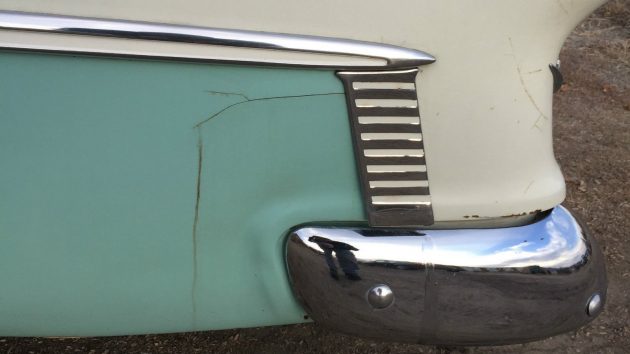 This is a closeup of the driver's side rear fender. I'm glad the seller showed us things like this, and on the bright side (literally) that's some seriously shiny chrome. I don't think it would take too much to get the body looking nice again. The seller thinks most of the Sea Mist is original, but that the white has been repainted at some point.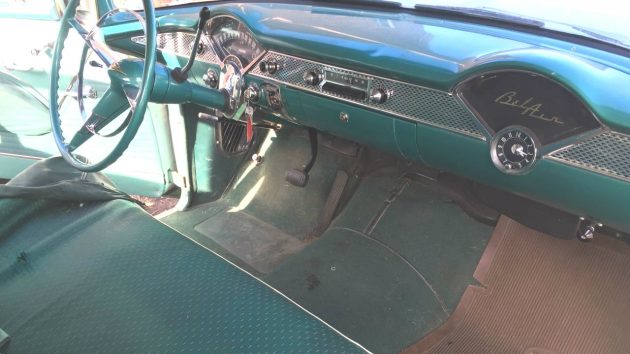 I hope the dent in the center of the dash wasn't from someone's head! As you can see, neither the upholstery nor the carpet are perfect, but the seller tells us that this is a seat cover and that the original upholstery is mint underneath. Even so, it does look like a relatively low mileage used car. This one has an automatic to go with its V8 engine, and both are said to be original.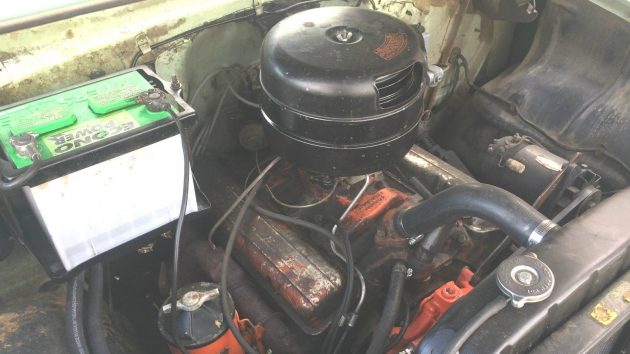 The 265 V8 (got it right this time!) runs well and the car has recently been the recipient of $4,500 of brake and re-commissioning work, although the seller feels the brakes need to be adjusted and points out that the tires are quite old. Would you like to be the next owner and carry on the care that was provided by the Hances? Perhaps some of their descendants are still in the area to get some car stories from?