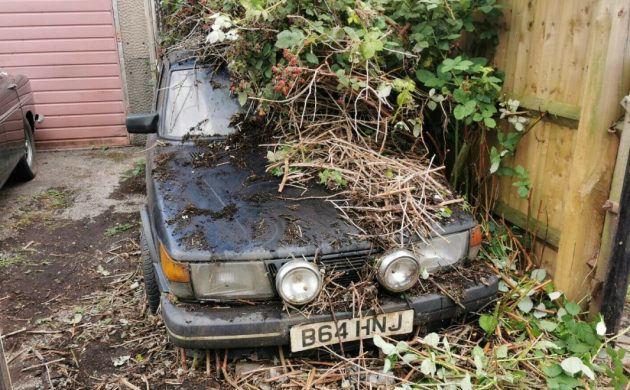 The seller of this 1984 Saab 900 Turbo claims he is surprised by the amount of interest in a car that he supposedly parked in perfect, running condition in his backyard and then decided to leave to the elements….indefinitely. It's one of the stranger listings I've read, but I can recall stories of owners with iconic cars who have some sort of negative life event that causes them to lose interest in the car in question, sitting for years before someone is able to rescue it. This European-market Saab has a number of period enhancements and rare parts that 900 enthusiasts are likely salivating over, and seemingly in good shape (or at least restorable). Find the Saab here on eBay where bidding has reached £2,125 with no reserve.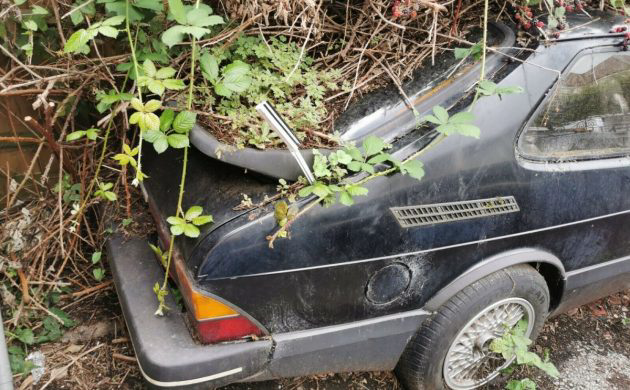 As of late, I've begun taking an interest in Saab 900s, and like any vehicle with a following, I've quickly learned there a number of desirable parts and models that go for all the money. Of course, the 900 being one of the more popular models, it's not surprising that everyone knows what's valuable and rare. This Saab 900 is loaded with impossible-to-find parts, including upgraded suspension, a set of rare MSW alloy wheels, Momo steering wheel, walnut dash, Saab accessory rear spoiler, Superchip performance ECU upgrade, an £1,800 custom full black leather interior, and more, including an in-period Motorola phone system that was later stolen from the car.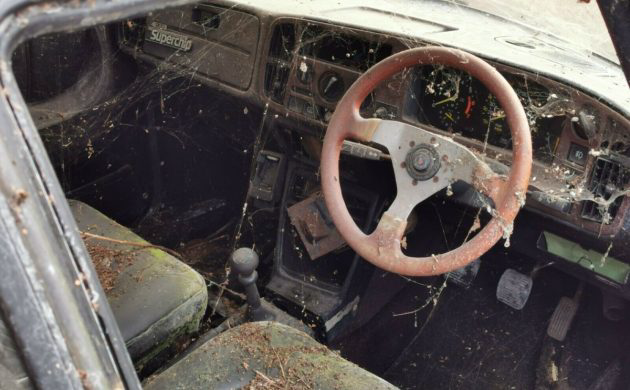 Details like the Momo wheel and driving spotlamps on the nose tell you that the owner was an enthusiast at one time, despite what's happened in recent years that prompted him to leave this classic 900 Turbo rotting in the garden in the backyard. The seller recounts that he was always unsure of what do with the car when he finished driving it, and that indecision is what's left this 900 in such a sorry state. I'm not sure if bidders see money in the parts that it comes with, or if they're anxious to swap those bits onto their more deserving project cars. Of course, the silver lining theory would suggest that someone is going to restore this in-period modified Saab back to its original glory, but that's a heavy lift that will far outspend the car's current value.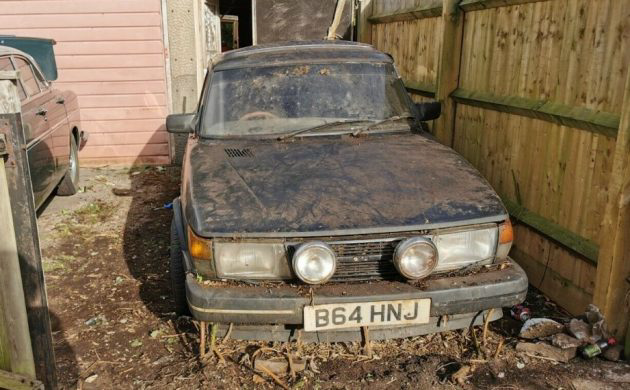 The seller is adamant that the Saab has to be gone at the auction's end, and it sounds like he lost parking or some other event forced his hand. He doesn't rule out the prospect that it could run again, as it went into the hedge as a running, driving specimen. To hear him say it was parked as a near-mint example and that the car ran like a freight train can certainly make one feel a bit weepy at this Saab's lot in life, but thankfully, the long-term owner is letting go before it's too far gone to restore. While I suspect some Saab nut is buying it just for parts, I certainly hope there's a small chance it could come back to life with all of its period modifications still in place.