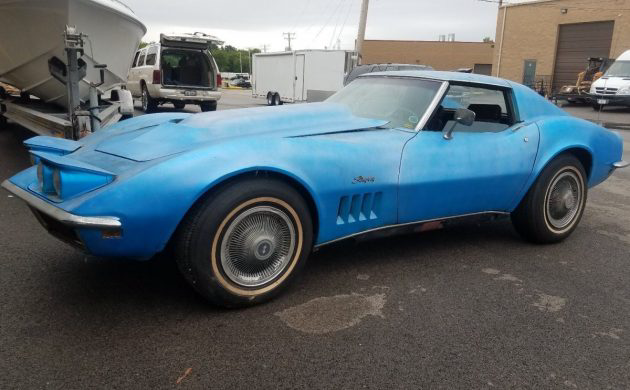 Why is it that every time I am broke (all the time) and/or already waist deep in a project, a great car comes along for a bargain price?  1968-1972 Corvette Stingrays are some of the most beautiful cars on the planet.  There are options galore to improve the drivetrain and suspension on these cars, or you can tap into the immense network of Corvette owners and parts companies to bring them back to original condition.  Few cars from the era offer so much for the price.  Too bad I can't add this one to my stable.  To celebrate my financial depression, take a gander at this 1969 Chevrolet Corvette being sold on eBay out of Crystal Lake, Illinois.  With bidding currently at $5,600 and a Buy It Now price of $7,500, this long term storage queen is selling for far lower than your average chrome bumper C3.  Let's take a look and see what is going on here.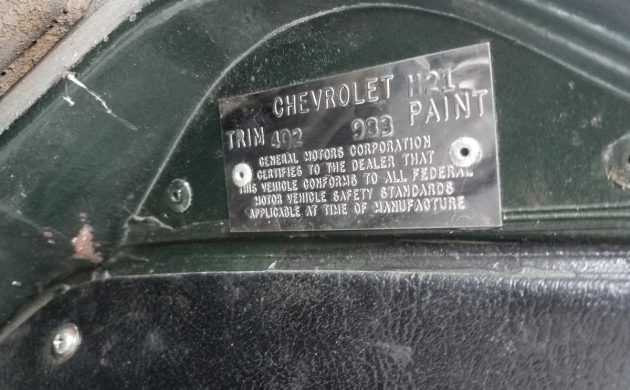 The trim tag reveals our first surprise: the color we see is not the correct one.  This Corvette was originally painted Fathom Green, and it rolled out of the factory with a black leather interior.  Fathom Green is a color similar to the famous Highland Green from Bullit Mustang fame, and it looks great on Corvettes of this vintage.  A lot of readers show distaste for green cars in story comments, but this shade of green certainly has its history with car lovers.  With a set of Corvette rally wheels and a fat set of tires, a Corvette in dark green just has that gloriously mean look.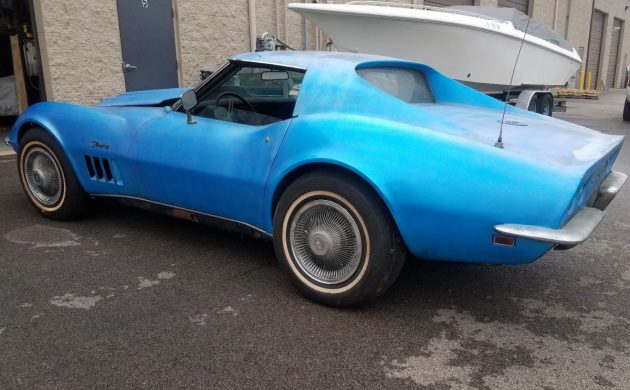 Sadly, this Corvette was over sprayed with what appears to be LeMans Blue Metallic.  The fact that the door jams are still green and that the blue looks misty and faded provides evidence that the whole paint job was a fiasco.  While it would be easy to assume that the owner stuffed this car into storage in disgust, we are told that a blown engine was the reason for the entombment.  The tag on the car is one from 1977.
Yet a look at the pictures reveals that the blown engine might have been a blessing for whomever ends up with this car.  The body looks straight all around and unmolested.  Bad paint jobs seem to have a way of magnifying problems underneath.  Fortunately, nothing is standing out.  Speaking of underneath, the ad has a number of pictures of the undercarriage of this car.  The seller tells us that the frame is good, and the pictures reveal nothing alarming.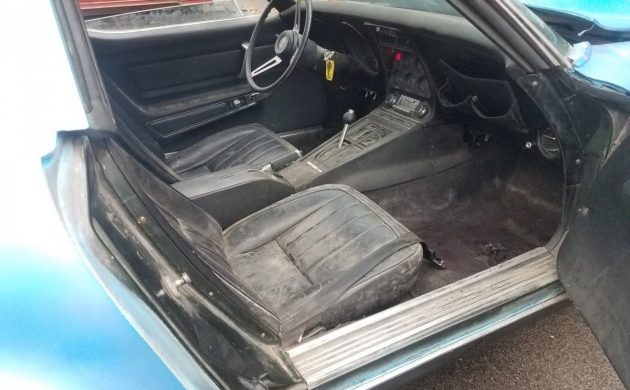 A look inside reveals the factory black leather interior.  While dust and a light coat of mold have found a home on the seats, there don't appear to be any broken seams.  Some cleaning and numerous liberal applications of Saddle Soap would probably revive the leather to a useable point.  We can also see what looks to be an aftermarket radio, an automatic transmission, power windows, and what I believe to be a tilt-telescopic steering column.  Add to that the seller's claims that the car has head rests, a speed warning indicator, and a removeable rear window with the factory bag still in the car.  The car is also equipped with factory air conditioning.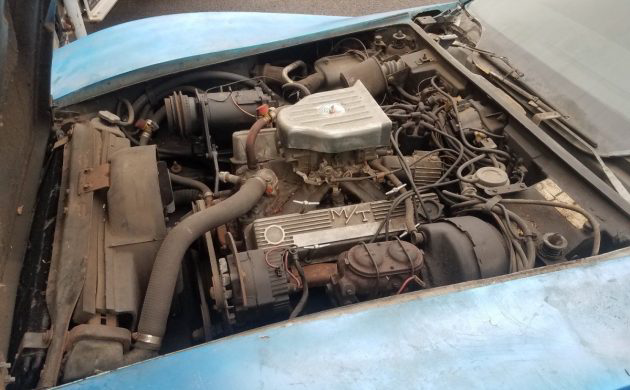 Under the hood, we see that the 350 cubic inch engine has been enhanced with an aftermarket intake, valve covers, and air cleaner.  Packing 300 horsepower from the factory, I guess the previous owner thought the car wasn't fast enough.  Looking past the modifications reveals numerous factory correct parts.  The power brake booster, air conditioning compressor, radiator, and various other parts look to be untouched from the factory.   The car even comes with a side mount exhaust system and a proper small block hood.
If you were satisfied with a small block car, and didn't mind spending some money, this car would likely be a good candidate for a proper restoration.  Other than the lack of big block power, this Corvette was exceptionally well optioned.  It would be great to know what type of rear end and suspension options it came with.  Thankfully, the seller tells us that the original fuel tank is still in the car.  Thus the tank sticker, which told the folks on the assembly line what options to put on the car, is likely still present.  If what we are told about the drivetrain being original, then this car should be restored to factory correct.
So, for a $7,500 Buy It Now price, you can get a very original 1969 Corvette with a bad paint job and a blown engine.  While it doesn't sound like a bargain on the surface, serious Corvette enthusiasts are probably calling the bank right now.  It is hard to find intact Corvettes this well optioned that haven't been restored already.  I just wish I had the cash and the room for this one.
What do you think?  Is it the bargain of the year or a money pit?
Have something to sell? List it here on Barn Finds!