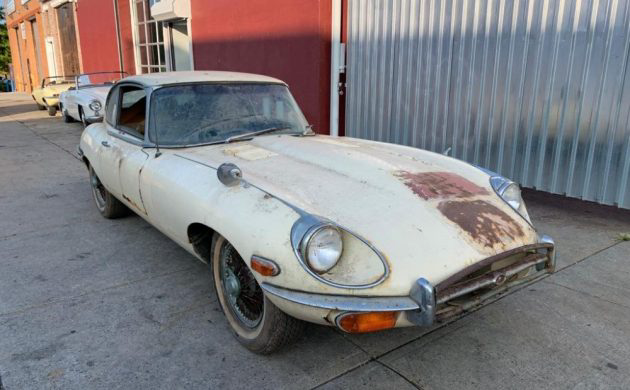 It's not a knock to say that, 20 years ago, a Jaguar XKE Series II 2+2 automatic in derelict condition would be a parts car. This 1970 example for sale here on Gullwing Motor Cars in Astoria, New York for $19,950 is both the least-desirable E-Type that year and in fairly dire condition. But, today, the price is probably not completely unreasonable. It's an affordable XKE project, and Jaguar's eye-popping sports cars are still riding high in the marketplace.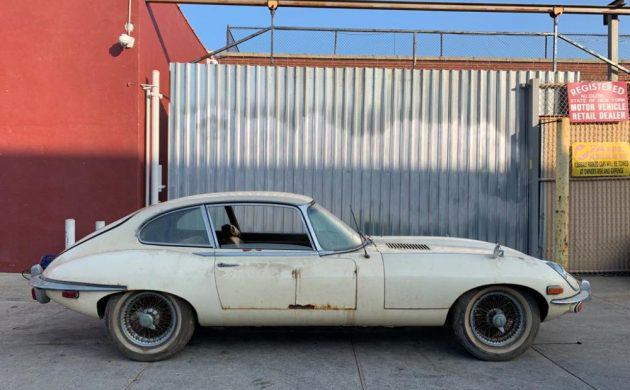 These cars later got Jaguar's own V-12 engine, but this one sports the powerful 4.2-liter version of the classic six. The cream-colored car looks to be very complete, and has matching numbers. It has both an automatic transmission and air conditioning, but "is not currently running, as it has been sitting for quite some time." Oddly, the listing doesn't include the odometer reading, but if I'm reading the gauge correctly it's only gone 11,757 miles.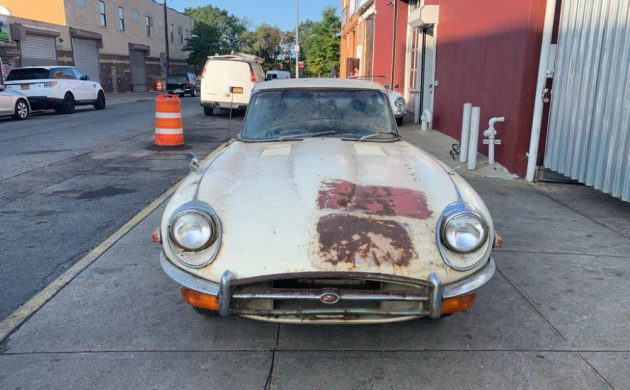 The automatic E-Types have been creeping up. Keith Martin of Sports Car Market recently bought a 1971 S3 coupe with 5.3-liter V-12 and three-speed Borg-Warner automatic, and has $42,000 invested so far, his blog says. He seems happy. "It cruises effortlessly at 80 mph," he says.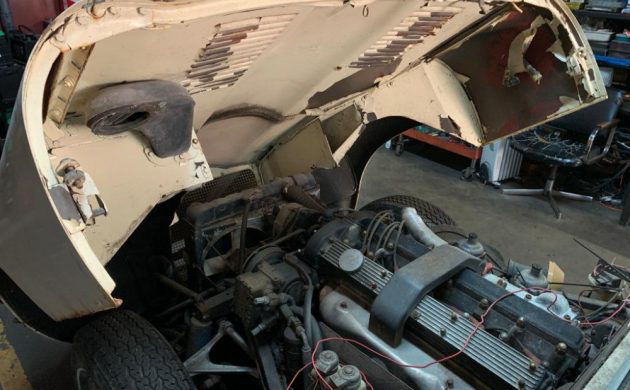 Martin's car is much nicer than this one. "Just out of long-term ownership and storage," it says, and the years have not been kind. The exterior shows quite a bit of rust, though most of it seems to be of the surface type and confined to the hood. The door bottoms are also bad. An expensive repaint will be a must, unless you're into the rat rod look. My neighbor had a car like this, and it was fairly ratty, with a 350 Chevy V-8 under the hood. That's one way to go, and perhaps the cheapest. Sacrilege, I know, but engine rebuilds are expensive, and this long-slumbering power plant is an unknown.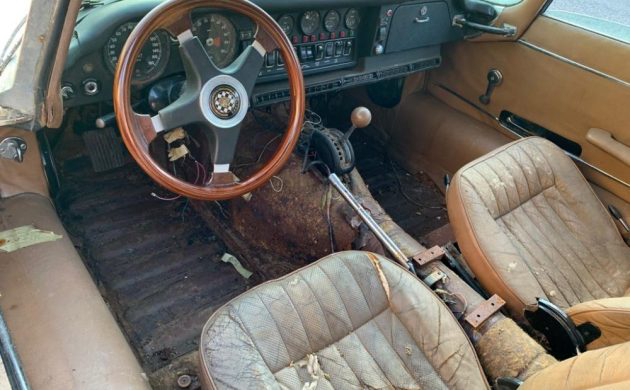 The interior of this car is particularly discouraging. It needs everything, with the bright spot being decent wind-up door panels and an intact dash (albeit with some rust on the gauges and cuts in the dash pad). The driver's seat is decomposing. There's no carpeting, and the console is missing (though it's in a box).  The wooden steering wheel looks very nice!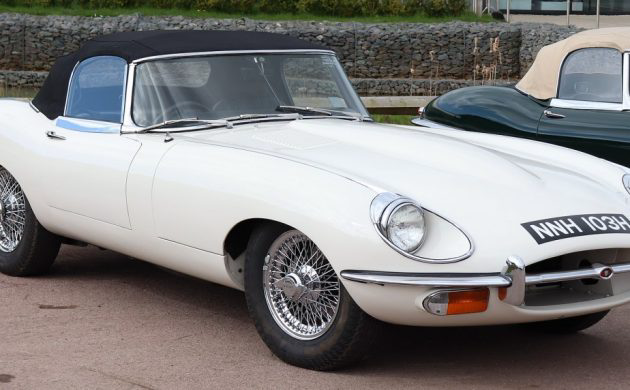 Hagerty says to reduce the value of these cars 10 percent for automatic, but also add 10 percent for air conditioning, so it's a wash. The photo above shows what a Series II 4.2 is supposed to look like. In #4 condition, these cars fetch $30,700, though the example being sold is far from that. The changes evident in the Series II E-Types were dictated by U.S. government regulation, including the loss of the distinctive glass headlight covers. Bumpers also got bigger, and uglier. On the positive side, the cooling system and brakes were improved. But emissions meant that dropped from 265 to 245 horsepower. If you're feeling adventurous, this could be a good project. But even if you do all the work yourself it won't be easy or cheap.