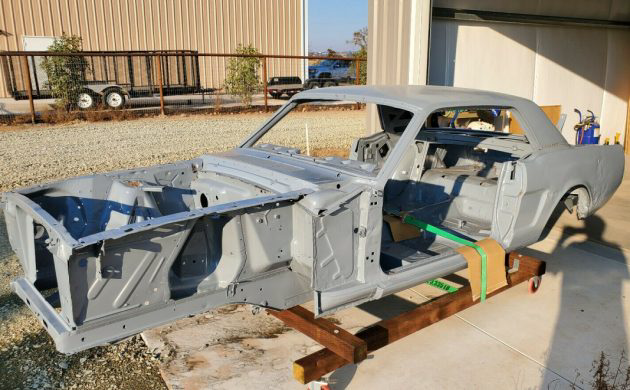 Tackling someone's half-finished project build can be a minefield, but the owner of this 1966 Mustang seems to be going out of his way to help the buyer head down the right road. Not only has its original engine and transmission been freshly rebuilt, but the owner has cataloged the removed parts so that the buyer will know exactly what he has got. Barn Finder Larry D has had his radar working overtime to spot this one for us. So thank you so much for that, Larry. The Mustang is located in Valley Springs, California, and has been listed for sale here on eBay. The owner has set the BIN at $7,999, but there is the option to make an offer.
One of the greatest advantages of considering a project like this Mustang is that buyers can see what they're getting themselves into. The vehicle has been stripped of all of its peripheral parts. The owner has had the bodyshell professionally blasted, and it all wears an epoxy coating. There has been no attempt to hide any of this car's problems, and the rust that you can see in the floors is pretty indicative of what will need to be addressed. As well as the floors, the trunk pan will require attention. The seller specifically mentions these issues but does not refer to the frame or the torque box region. That would tend to suggest that these areas are sound, but it won't be hard to confirm this with an in-person inspection. All of the panels are present, except for the trunk lid. The rear quarter panel will also require replacement, but the rest of the steel looks pretty respectable. It seems that most of the exterior trim and hardware can be salvaged, and the owner has compiled a list of parts so that the buyer knows exactly what they will be receiving.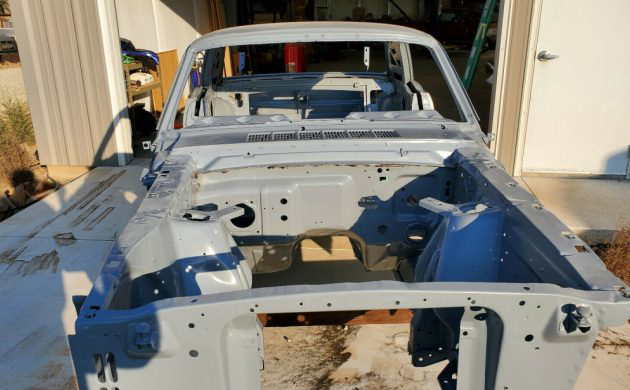 The engine bay is currently empty, but this isn't bad news. The Mustang rolled off the production line equipped with an A-Code 289ci V8 and an automatic transmission. This sweet little engine would have been punching out 225hp, which was enough to send the vehicle down the ¼ mile in 15.8 seconds. There are plenty of positives here because the Mustang remains a numbers-matching classic. Not only is the original drivetrain included in the sale, but the engine is freshly rebuilt. The transmission has come in for the same treatment and has been fitted with a shift kit. Also included is a collection of new suspension components. As well as shocks, there are bushes, control arms, and even a new set of tires. If you are worried about bringing the whole thing to a halt, you can stop worrying right now. All new brake lines are included, along with a 4-piston disc brake conversion. This baby will stop…yesterday!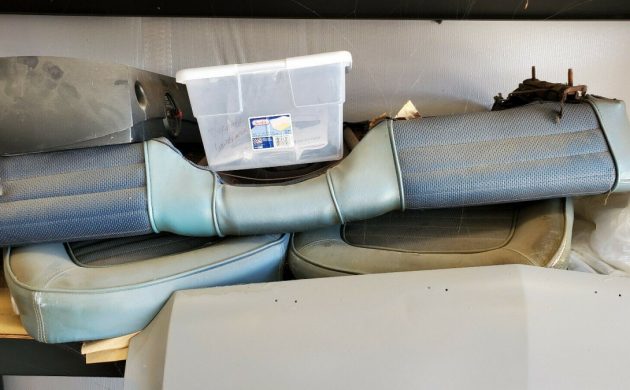 It appears that all of the interior trim is present, although its condition is unclear. Sourcing parts is not a problem with 1st Generation Mustangs, and interior trim is affordable. That could make this one of the cheapest aspects of the restoration process. However, this is an interior with a point of difference that will make it stand out in a crowd. As well as being initially ordered with air conditioning, the original owner chose to tick the box beside the bench seat option. In the grand scheme of things, this isn't that rare. Ford produced 21,397 Mustang Coupes in 1966 with that option. However, as a "take-up" rate, they are interesting. The company built 607,568 Mustangs in that model year. The figure of 21,397 equates to a mere 3½% of buyers choosing that option. It isn't clear how many survive today because it was quite common for subsequent owners to pull the bench and slot a pair of buckets in their place. However, it still represents an excellent potential conversation starter.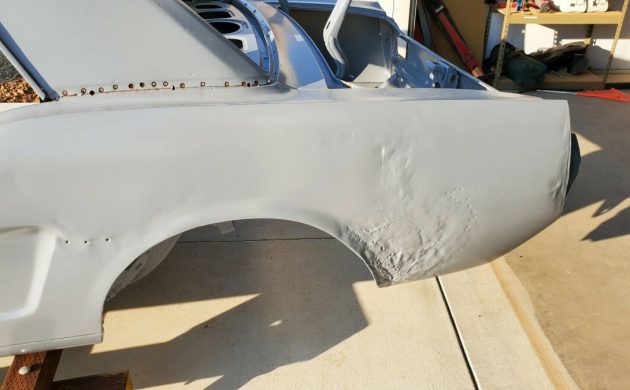 Tackling a partially completed project build can be a minefield. Sometimes potential buyers can see a vision of the finished product in their head, but that makes them miss some of the potential shortcomings that might be staring them in the face. There is potential for that with this 1966 Mustang, but at least the buyer will be able to confirm that the body is structurally sound before they part with their cash. The freshly rebuilt engine and transmission, along with all of the shiny new suspension components, should help this classic to be at its best when it finally graces our streets once again. However, it is going to take a dedicated and patient person to achieve that. Does that sound like you?