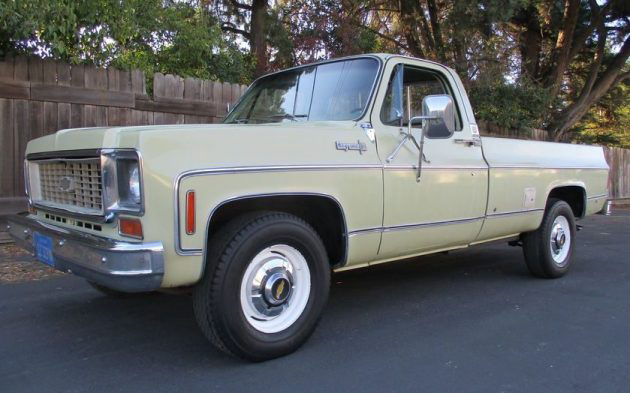 Big block pickups usually sell quickly; heightened pulse rate, sweaty palms, and impulse purchases may result from dreaming about engines displacing more than 400 cubic inches. Potential buyers for this rig include people who woke up this morning with no idea that they needed a pickup truck, but can't resist the thought of twisting the key on that 454 and burning the tires off. This super-clean looking 1973 Chevrolet 2500 Cheyenne Camper Special 454 awaits a new owner in Sacramento, California, with a listing here on eBay.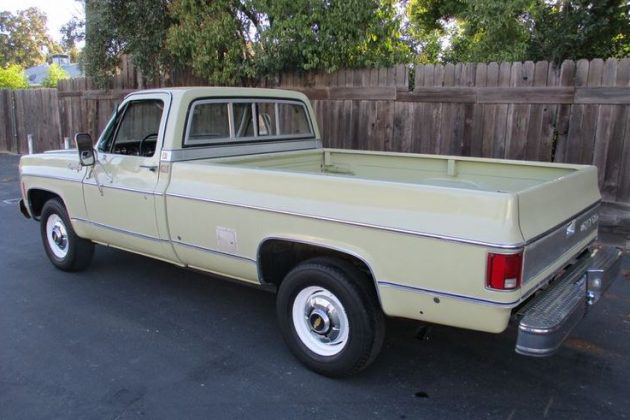 I've thoroughly enjoyed driving a very similar truck, a later 454 Trailering Special belonging to the family of my buddy and his sister, my high school girlfriend. During a time when most V8s could barely squeal a tire, you could get the Trailering Special rolling about 15 MPH and then roast the tires, quickly silencing the local parking lot posers. I could write a short-story collection about the 454 Trailering Special, but I digress. This Cheyenne Camper Special model sports additional features including more trim, fancier door panels, dual horns, and a better steering wheel. Chevy installed seat belts for three, and while officially I cannot endorse transporting more passengers than seat belts, I can confirm that this cab will hold at least four close friends comfortably. Once we had four-across and a couple more sitting on the dash. Don't try that at home, kids.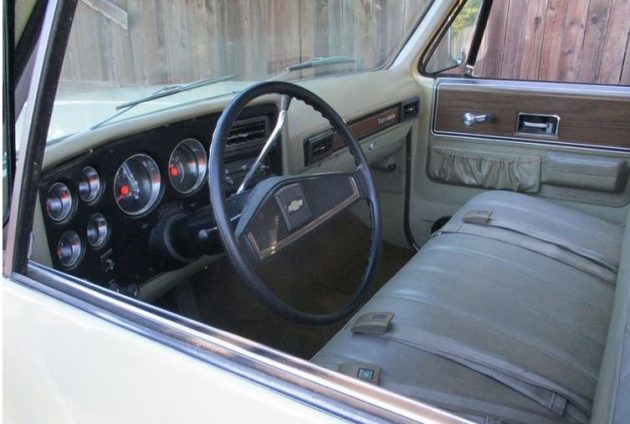 Interestingly you can view the complete dealer selector sheet at gmheritagecenter.com and geek out on details like gear ratios. This pickup would have come with a 3.73:1 rear axle ratio unless the buyer chose the optional 4.11 or snow-tire incinerating 4.56 gears. If you're wondering why this truck looks a little more "boss" than the usual '70s Chevy pickup, it's the 16 inch wheels with the dog-dish hubcaps. Most '70s pickups came with 15s. I wouldn't swap these wheels for anything custom, and certainly not for anything smaller.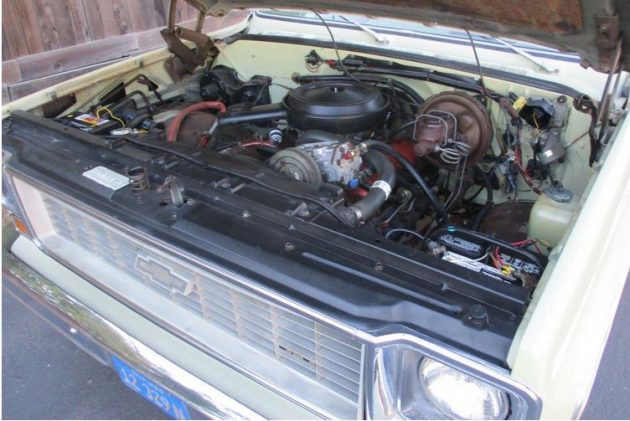 One of the best features of a '73 big block Chevy pickup is the "454" script in the grille. As a youth I always scanned these grilles for the engine badge, usually "350" with the occasional "292" or this truck's testosterone-boosting "454." Rated at a smog-era 240 HP, it's the big-block's 355 lb-ft of torque that get the job done. The big block's three-speed automatic will walk up any hill without downshifting – unless you need to bust a move on someone. According to the seller this truck offers little to complain about. Even the A/C is converted to R134a and working fine. Is this honest-looking big block Camper Special calling your name? What do you think of the Buy It Now price of $7900?