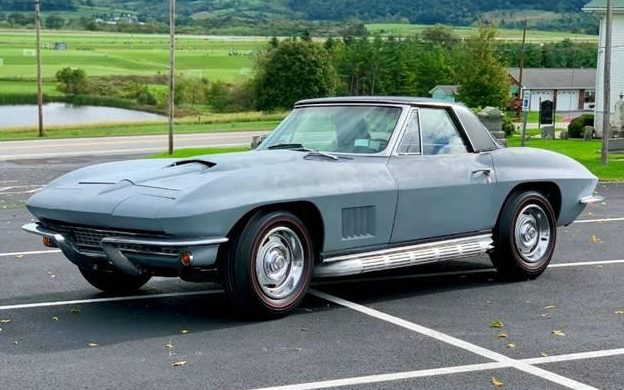 While it might not still retain its original engine, this 1967 Corvette Convertible does feature a freshly rebuilt replacement big-block. It is a restoration project that has stalled, but it is a running, driving car that appears to only need cosmetic work to bring it back to its best. The Corvette is located in Bedford, Pennsylvania, and is listed for sale here on eBay. The owner has set a BIN price of $52,500 for the Corvette, but the option is available to make an offer.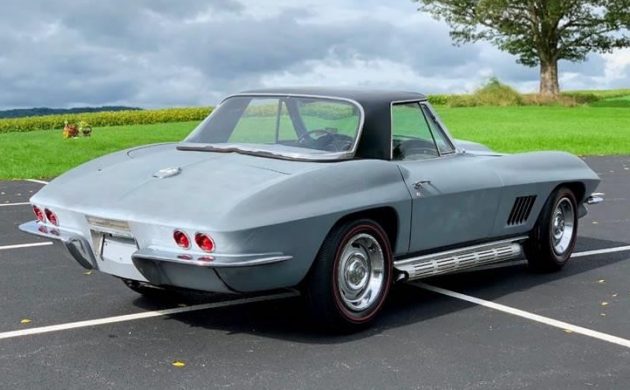 The Corvette started life finished in the very attractive Lynndale Blue, but as you can see, it now wears a coat of grey primer. The restoration on the Corvette is said to have commenced in the 1990s and has been stalled for some considerable time. There is still plenty to do on the body before it is ready for a fresh coat of paint. Having said that, what has been done to this point constitutes a frame-off restoration, so you would have to assume that the frame is in decent condition. The only thing that raises alarm bells with me is that the approach to tackling the body seems to have been a bit haphazard, so I would really want to get a good look underneath the car.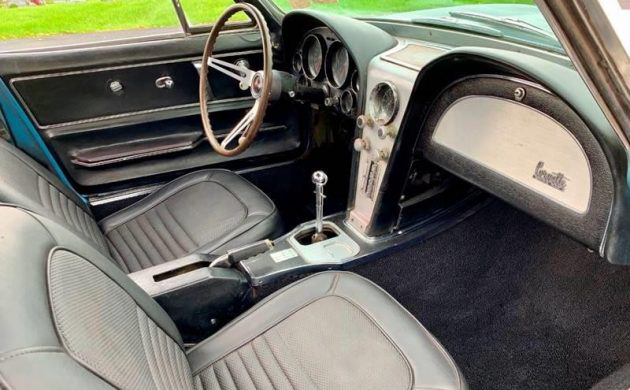 To me, the interior is a major disappointment, because what should be here is beautiful, Teal Blue leather upholstery. Maybe I was setting my expectations too high because I think that Teal Blue is a great interior color. There really is nothing major wrong with the black interior fitted to this car, but the original trim color is significantly rarer than black. There are a few detail items to attend to before the interior could be classed as perfect, but the new owner will be undertaking these tasks from a pretty solid base. The owner also includes one of the biggest collections of documentation that I have ever seen with a classic car, and it documents not only every step of the restoration to this point but the history of the car back to 1972.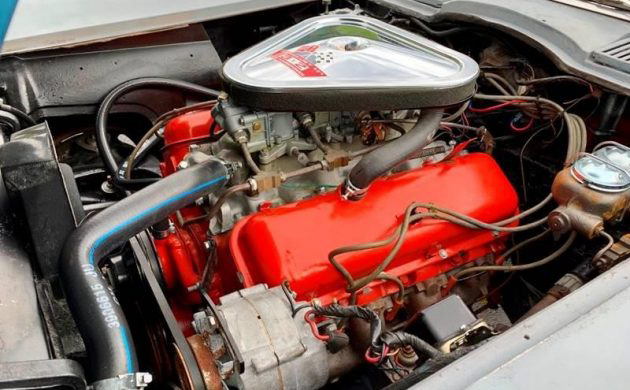 The original 427ci, tri-power, 435hp V8 engine no longer graces the engine bay of the Corvette, but the owner does hold all of the documentation verifying that this was what was there originally. In its place is a date-correct replacement, which presents nicely. Of course, an engine like that is less about looks than performance, and in this area, the Corvette doesn't let us down. That 427 was rebuilt during the restoration and has done no real miles since. After the rebuild, it was stored properly to protect what would have been a major investment. The engine has now been thoroughly checked, and after receiving new plugs, wires, a distributor, and a rebuild of the carburetors, it starts and runs. Sending the power to the rear is the responsibility of a 4-speed manual transmission, and with that also working properly, the car is said to run and drive well. Stopping duties have been given a helping hand with the fitting of new calipers and a new master cylinder.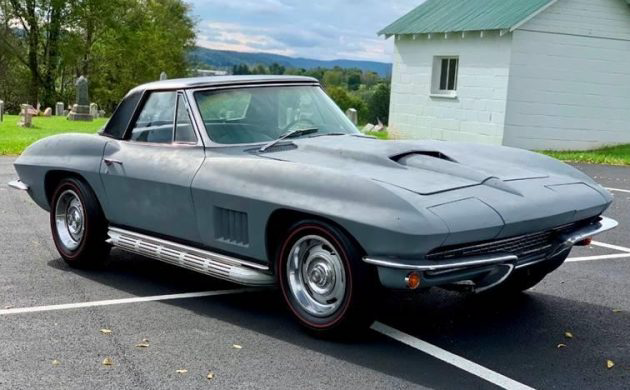 While it might not be a numbers-matching car, this Corvette Convertible has been a project that has been undertaken to be as period-correct as possible. There are a few question marks over the way the work on the body has been tackled, but if the vehicle is solid, then completing the restoration shouldn't be a huge undertaking. Once this has been done, the next owner will have an attractive and desirable car that would be an absolute blast to drive.
Have something to sell? List it here on Barn Finds!