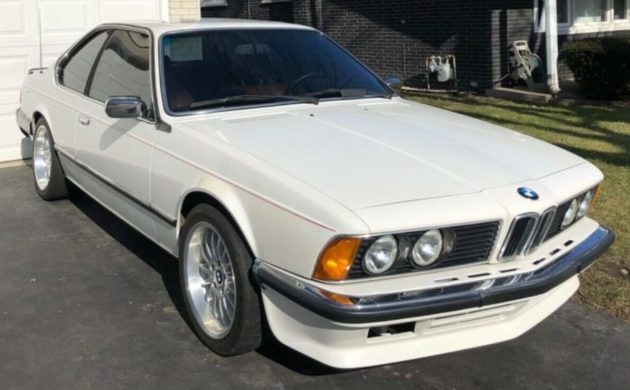 This 1987 BMW 635CSI is an attractive example of BMW's premier grand touring coupe, with just under 100,000 miles and lots of spare parts included. It also has some visual enhancements that may indicate this is a European-market specimen, but it's not disclosed in the listing. Regardless, the condition looks tidy and the 6-Series wears a desirable color combination of Alpine White over a Cardinal Red interior. The BMW is located in Mount Prospect, Illinois, and is listed here on eBay with bids to $9,100 and the reserve unmet.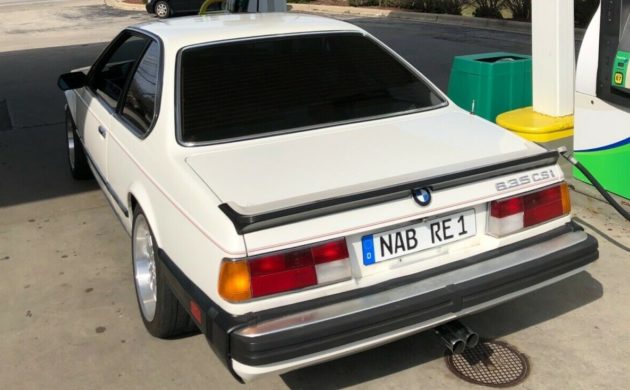 Now, out back you get the tell-tale sign that this is an "ordinary" U.S.-model – the huge, park bench-like rear bumper. The front of the coupe has been modified to accept a European-market bumper, which is way slimmer / lighter / and far prettier than the standard units fitted to cars bound for the U.S. This is a common modification among owners of any number of BMW models from this era, helped by the fact that you can still track down the original European-market parts and that the conversion itself isn't too difficult. However, this owner stopped sort of modifying the rear bumpers, and the next owner would be wise to complete the job.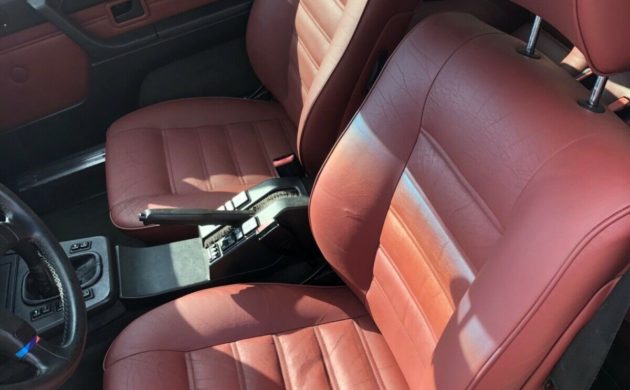 The interior features standard issue seats in a great color, and it looks to be incredibly well preserved. This, to my mind, is the preferred shade of red you want to find in an E24, as the other color – known as Cherry – is a bit in-your-face by comparison. The backseat is in similar condition, and contrasting black carpets show no apparent issues. The 6-Series also has the preferred three-spoke sport steering wheel, and listing photos show an uncracked dash and clean carpets in the trunk. No other major modifications are noted inside the car, but it's worth noting the 6-Series does ride on aftermarket wheels that are clearly larger than stock.
That's not a major issue, but I can't help but wonder if the 635CSI would be doing better bid-wise if it featured standard bumpers front and rear and its original wheels. Either that or go all the way with the Euro conversion and complete the bumper swap, along with sourcing some factory sport seats and a BBS-style wheel in a one-inch larger diameter. Of course, all of these changes are superficial in nature, and the next owner will be in a good position to take it fully in one direction versus another, especially since it looks to be quite solid underneath and along the edges of all body panels. I'm curious to see if the bidding clears reserve or if the unfinished bumper swap scares off buyers.