This seventh generation drop-top Eldorado isn't quite ready for prime time but it's ready for summer fun. It's time to take the blankets off your bed and put them on the seats, drop the holey top (it works!) and hit the road. This Cadillac is listed on Craigslist in Tracy, California for the not so unreasonable sum of $9999. The seller says he needs the space and I can understand that. It is said to run and drive well. The 500 CID engine is claimed to get you to 60 mph in less than 10 seconds and go almost 10 miles on a gallon of gas. The claim of only 49,000 miles is difficult to believe, but even after 149,000 miles, this Caddy should still have a lot of life left.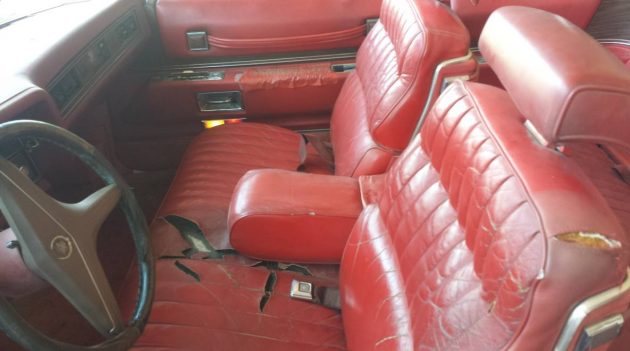 The upholstery will need a lot of help or at least several large blankets. The door panels might need some more red duck tape as well.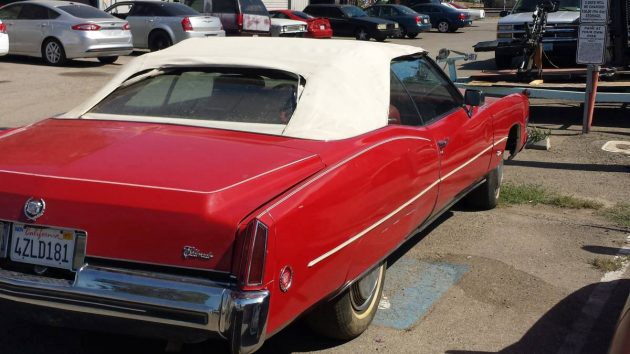 This old Caddy certainly looks nice from a distance. If you're looking for something big and red but don't quite have room for a fire truck, this might be for you. The $10,000 asking price is low retail and this big drop-top looks better than the worst of them. It's likely rust free based on the pictures and location. A picture of the engine would have been nice. This could be a nice driver the way it is and with a little work, it might even be a nice car. The top and upholstery would be the major expense, of course, but you could work on those things over the winter. What do you think? Does this look like summer fun?