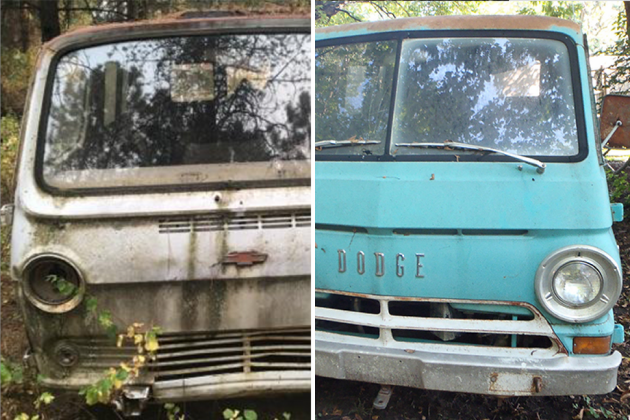 It's already been established that I was raised on schlocky old kids' TV shows, so the direction my mind went when I saw this pair of field find vans should come as no surprise.That's the great thing about cars that clearly need restoration, but aren't necessarily significant enough to have to be done "correctly"—and especially vans, which are basically rolling blank canvases with tons of slab-sided metal to play with—your imagination can go wild! So, I'll introduce you to my demented vision for these vans, a 1965 Chevrolet G20 panel and a 1967 Dodge A108, and you can let loose with yours in the comments. Both vans can be seen on eBay, the Chevy out of Kalispell, Montana with a $750 Buy-It-Now, and the Dodge from Topeka, Kansas with a $2,000 BIN.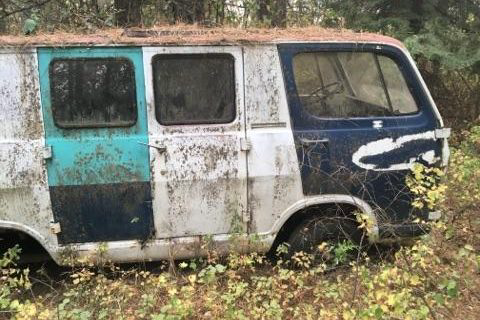 Let's start with the Chevy, which is presented with a few curiosities. The ad lists it as a '68, but we can tell from the photo at the top of this post that it predates the G-series vans' 1967 facelift, which moved the headlights down next to the grille. The ad also claims that this van sports a small-block V8 of indeterminate displacement, possibly 350 cubes, but that same '67 facelift included enlarging the doghouse to make room for a V8 option, so if this is an earlier van, I'm not sure that such a mill would fit. We can solve the year mystery, as the seller has helpfully included a photo of the VIN—it's a '65—but the engine is a different matter. It doesn't run, whatever it is, having sat for the last 20 years (the last two outside) and the van wouldn't get far anyway, as it's missing its rear axle. It's also missing a title and, from the looks of things, its seats. The upside is that the body is said to be rust-free, and the general aura of mystery seems to be pointing this van toward its ultimate destiny: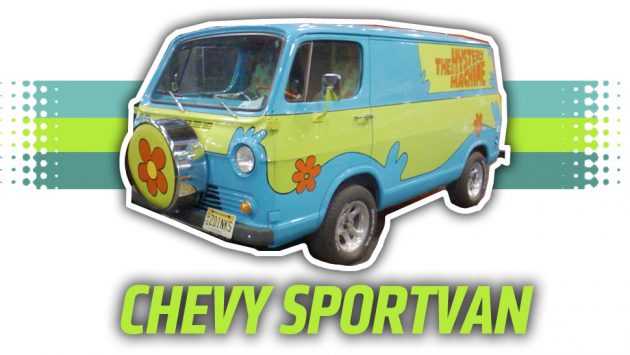 Yes, the highest authorities in the land have determined that the '64-66 Chevrolet G20 is the most likely candidate to serve as the basis for the Mystery Machine used by the gang from Scooby Doo, Where Are You? I can smell the wet dog and taste the Scooby Snacks already!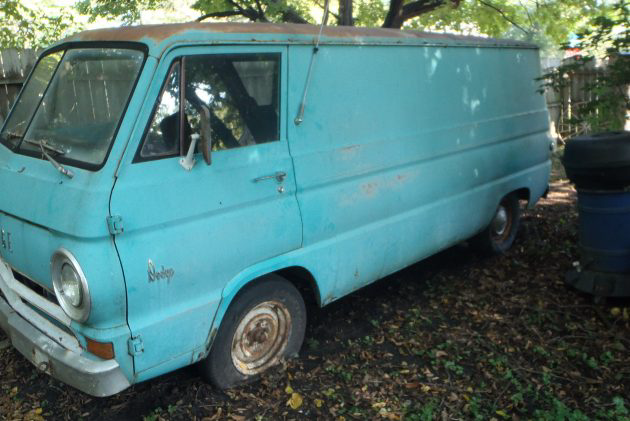 Let's move on to the Dodge. This '67 is an A108, which means its wheelbase extends 108″, as opposed to the 90″ of the better-known A100. It's still sporting its original paint, and looks quite a bit straighter and more complete than the Chevy, as befits its higher asking price, although the seller only claims "very little" rust in this case, not rust-free. It's not a runner, either, but in this case the 225-CID slant six is not only believable, it's actually pictured. It's also been home to some rats for a while, but they are not thought to have gotten to the wiring, or to have gotten inside the cabin of the van, which isn't pretty but looks more complete than the Chevy's. Overall, looks like pretty solid bones to start from; I immediately thought of one of my very favorite TV shows, and one of the very best accounts on Twitter:
ANTI-LUNATIC SQUAD pic.twitter.com/6JJgzY2uN1

— Batman 66 Labels (@BatLabels) September 1, 2017
A single Dodge A100 van (recognizable by the fact that one of its brake lights didn't work for some time) was used extensively in the 1966-68 Batman TV series, repainted and repurposed from episode to episode and often transporting the week's villain and his or her henchmen as they wreaked mayhem around Gotham City. Of course this is a longer A108, but that just means even more space for cryptic, yet oddly specific messages to be emblazoned on its sides!
What do you envision for either of these vans?