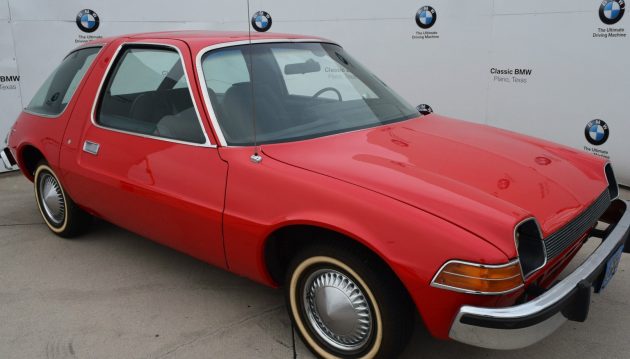 Here's something you don't see everyday: a pair of AMC Pacers sitting in the staging area of a BMW dealership. If you notice the signs in the background, this red 1976 AMC Pacer here on eBay ended up at a BMW dealer in Texas. It also came in with a second car, seemingly a pair of Pacers for the couple that does everything together. Both examples have relatively low mileage and remain in great survivor condition.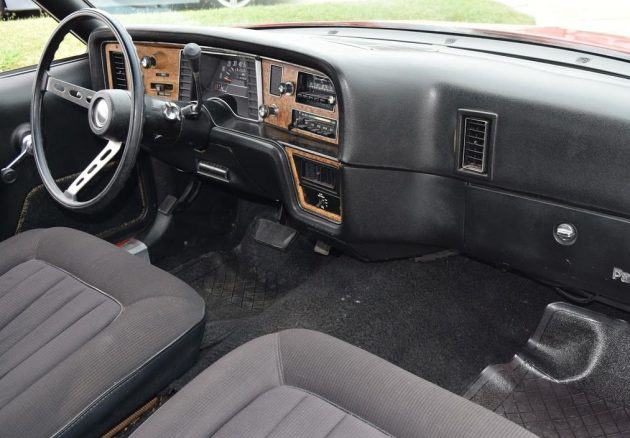 The Firecracker red paint of the first car certainly got my attention, but so did the excellent interior. However, be warned – it doesn't hold a candle to the cockpit of the second car. The red car is an automatic with just over 60,000 miles, but the dealer doesn't let on as to whether it's been restored or simply preserved. I can't imagine a scenario where the previous owner felt like a dealer would give them a better price on a classic car than the collector market, other than if the owner passed away and the heirs decided to cash in on a late-model German luxury sedan.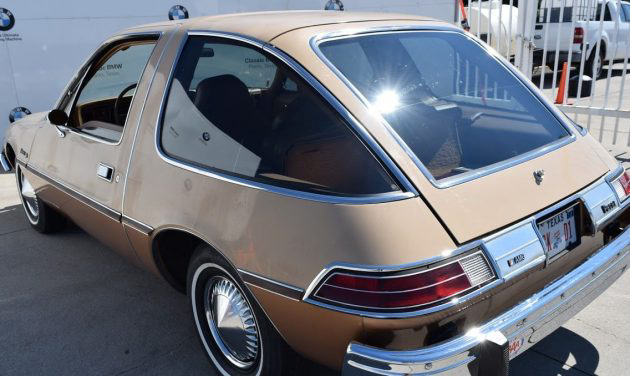 Still, they could have done better having a little patience and selling the Pacers privately. The second car, a "Sand Tan with Dark Cocoa Metallic Bottom and 2 tone Brown Navajo Design interior" here on eBay  has even lower mileage with just over 40K on the clock. The polished hubcaps and chrome bumpers look great, and the paint looks just as good (if not slightly better) than the red car. The AAA sticker on the rear bumper is a nice touch, seemingly indicative of a honest car that hasn't been messed with.
As someone who studies the BMW brand fairly carefully, I can tell you none of their current interior offerings have anything on this Pacer. We need more cars to come with custom center inserts like these. The selling dealer says both of these cars come from a "private collection," but whether that's the one belonging to the dealer's owner or an older Texas couple now tooling around in a new 7-Series is left unsaid. The red Pacer has a $6,837 Buy-It-Now while the tan car is listed for $7,685; which one is the better deal?