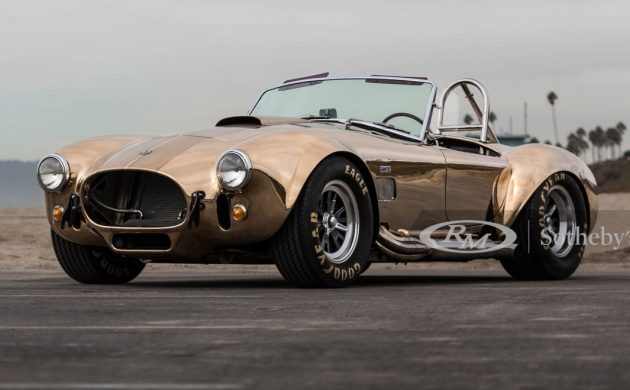 Cars are traditionally formed from steel. Of course, fiberglass, aluminum, composites, and carbon fiber have made appearances too. So how about bronze? You know, that heavy dense, copper-based metal that is more suited to a P.J. Mene sculpture than a fender. Well, thanks to barn finder Montana, today we have not only a bronze automobile to review, but a bronze, 1965 Shelby Cobra 427 to boot! It's located in New York, NY and is available, here on RM Southeby's for $475,000.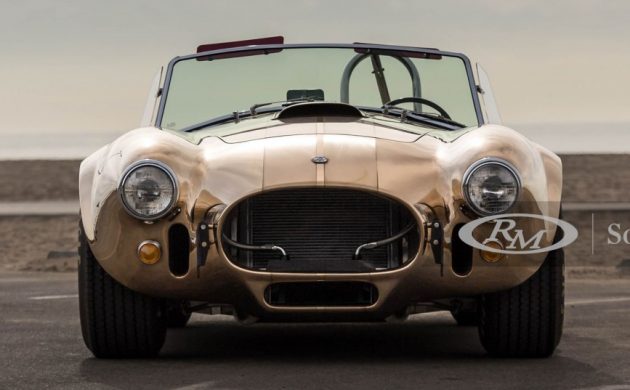 OK, so the price tells you something is up. Forget the bronze body business, a real 1965 S/C 427 is going to trade well north of $475K. This Shelby is a member of Shelby's "continuation series", an authorized Cobra that even gets its own Carroll Shelby Enterprises chassis number, in this case, CSX 4600. The continuation series Cobras are generally available in either steel or aluminum bodies. But in this case, Provo, Utah's Kirkham Motorsports has constructed a Cobra body in highly polished, unfinished bronze. Of note, Kirkham's bodies actually originate from Poland.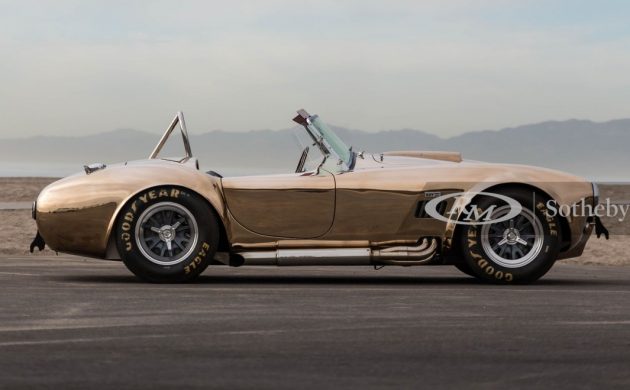 The appearance of this Cobra is immediately attention-getting, almost alarming, sort of like returning to your Miami Beach hotel room and finding a dead body covered entirely in gold paint. It's just peculiar-looking! No doubt, the craftsmanship is brilliant. Interestingly, the racing stripes are "brushed" into the bronze finish as opposed to being painted or composed of tape. To maintain an air of originality, Halibrand knock-off wheels are found on all four corners. Kirkham will also form a Cobra from copper (a copper Cobra?) if a prospective buyer so desires – I wonder if those turn green with weather exposure?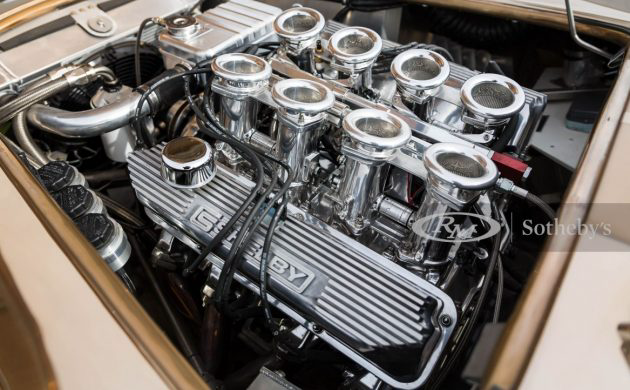 Power is provided by an FE architecture, all-aluminum, 427 CI V8 engine that has been stroked to 511 CI. Incorporating eight Borla induction units, this fuel-injected monster of a motor develops 650 HP. Power to the 3.54:1 rear differential happens via a five-speed manual gearbox. There is no reference to how this Cobra performs but it's easy to imagine that it is over the top!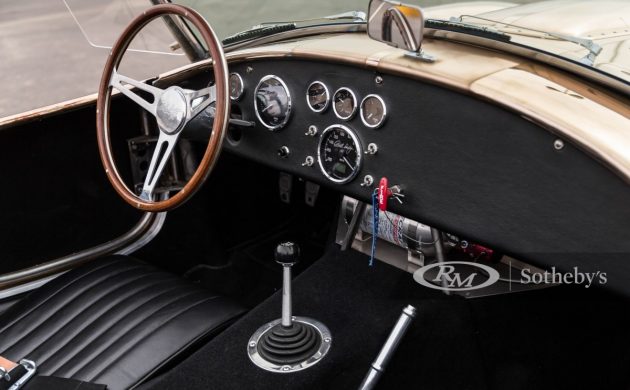 The interior is typical Cobra minimalist fare. It is a beautifully clean functional environment that is all business. Not only are the seats tailored in black leather, so is the dash. Parked beneath the dashboard is what I initially thought was a fire extinguisher but it's actually the bottle for the fire suppression system.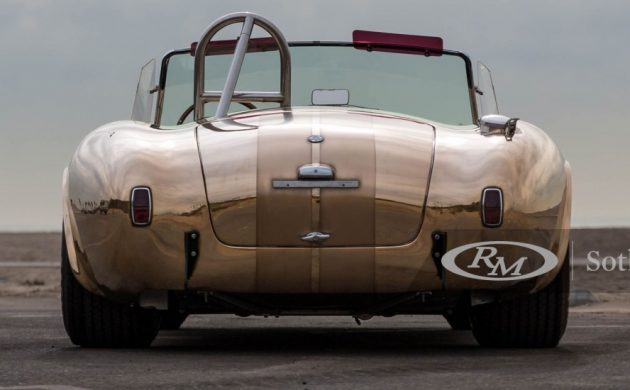 Having never encountered an automobile body crafted in bronze, makes me wonder how it will hold up. Thoughts abound around how to maintain it and, just as importantly, how do you repair it when the inevitable boo-boo occurs – will it have to be sent back to Poland? Now I guess that wouldn't be an issue if the next owner of this most unique Shelby just squirrels it away in a collection or a museum. And that begs yet another question, what does the next owner do with this bronze bomber? My thought is if you can't drive it and enjoy it, what's the point, right?