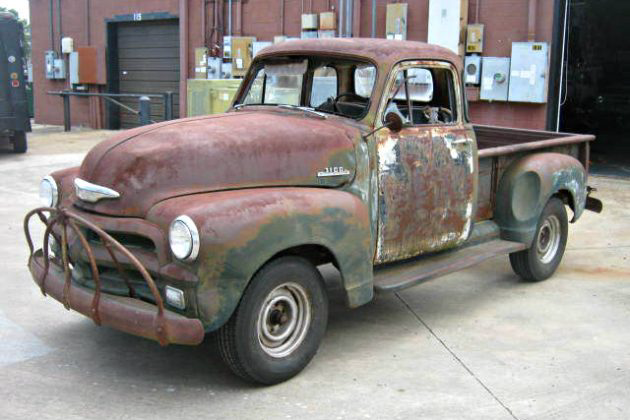 How many times have you seen a classic car or truck with no drive-train and planned in your mind what exactly you would do it? Well this '54 Chevrolet pickup is lacking its engine and transmission, but a drive-train of your choice would be right at home in this charming old roller. Solid with a cool weathered appearance, this Chevrolet is currently bid up to $1,600. Check it out here on ebay out of Richardson, Texas.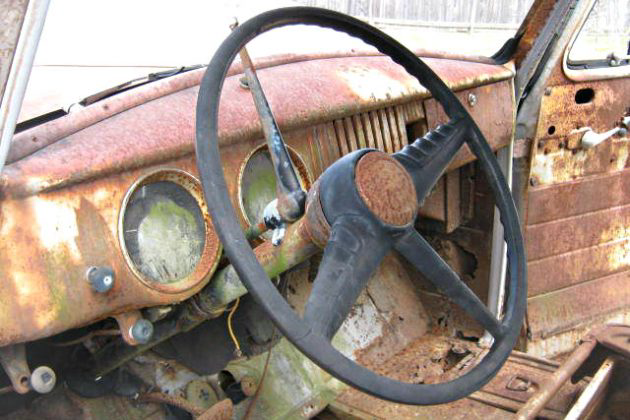 Having spent some obvious time without a windshield, or passenger glass, there are some holes in the floor, and some green mold on the gauges as well as on the center section of the floor. For those that are really into the weathered look, this truck only needs minor metal work on the interior, and some fresh gauges, wiring, and a seat for cruising in. The engine bay is empty, only having some left over wiring, from its past engine.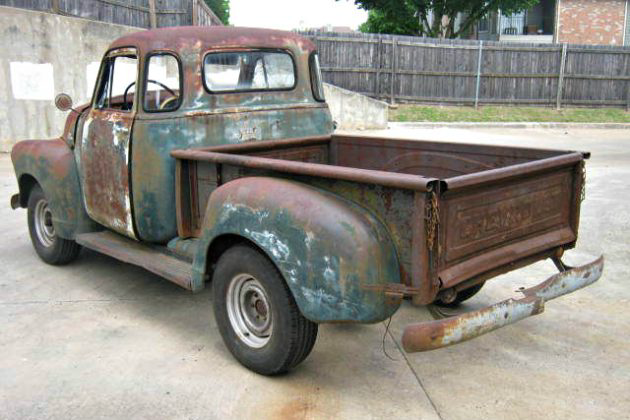 Although wearing a lot of surface rust, there is still some paint left on this truck. Aside from its weathered looks, this old truck is fairly straight and solid. The only real cancer to point out is on the passenger door, but the seller is providing a solid passenger door with a similar patina. The wood bed is long gone, and the rear bumper appears to be split. The cab corners are solid with some minor rust developing. Also the fenders are in remarkable condition really making for little body work on this pickup. There is also an awesome grill guard on this truck which is a truly unique and interesting item resembling an old steel bed headboard. Appearing as a patina enthusiasts blank canvas, what would you do with this project worthy pickup?